The NEBOSH National Diploma in Environmental Management is a useful qualification for those aiming to develop and implement effective environmental management systems within their organisations. The qualification focuses on the main elements of UK and EC legislation for environmental protection and general principles of the management of environmental and pollution control.
It also looks at the key components and structure of an environmental management system. It is designed for those whose careers focus strongly on environmental management at work.
Those who hold the NEBOSH Environmental Diploma are able to implement strategies and systems that help their employers demonstrate environmental excellence and social responsibility, as well as avoiding prosecution, litigation and loss of reputation.
Holders will have a set of high level skills that bring real value to the modern workplace.
Those who pass their Environmental Diploma are entitled to use designatory letters EnvDipNEBOSH.
Our qualifications are developed based on extensive research with health and safety professionals, employers, professional bodies and regulators to ensure that they remain relevant, rigorous as well as achievable and practical.
You will be assessed on your ability to apply your skills and knowledge to a wide range of issues and how to deliver positive change to a real workplace.
National Environmental Diploma
---
Who is it for?
Individual
The Environmental Diploma is designed for aspiring environmental management professionals, building directly upon the foundation of knowledge provided by the NEBOSH Certificate in Environmental Management.
Health and Safety practitioners commonly have environmental managements as an additional responsibility. The National Environmental Diploma can equip the Health and Safety Practitioner with the knowledge and understanding required to fulfil this part of their role.
"I knew of NEBOSH from the health and safety side, so that's why I decided to look more closely at the NEBOSH Diploma in Environmental Management. I thought if I was going to do something, it may as well be something that was recognised as a proper qualification. The qualification has helped immensely."
Melanie Eaves, Quality & Environmental Systems Manager, Dr Oetker
Employer
People with the NEBOSH Diploma in Environmental Management help their employers not only avoid prosecution, litigation and loss of reputation, but demonstrate key social responsibility and ethics.
Holders of this Diploma can advise their employers on the environmental impacts of their activities, on their legal obligations and on the means of continuously improving their environmental performance. They could also help the organisation to integrate the environmental management with other key management systems.
This qualification also provides professional level environmental assurance which can help employers achieve certification against recognised management standards such as ISO 14001, which in turn could help to win new business.
---
What you will learn
What does the course cover?
The NEBOSH National Diploma in Environmental Management covers environmental management principles, multilateral treaties relating to environmental management and ways to prevent and control pollution. The syllabus is designed to provide learners with the relevant expertise and to empower them to positively influence environmental management standards and practice at every organisational level.
Key topics covered by this qualification include:
Benefits, limitations and structure of an environmental management system
Environmental aspect identification and control
The principles and drivers for environmental sustainability
Waste minimisation strategies
The qualification is divided into two units, each of which is assessed separately:
Unit ED1: Controlling environmental aspects
Unit NDEM2: Environmental Regulation
The syllabus is mapped to the Environmental awareness and management published by Lantra. These are maintained on a database which is managed by Skills Development Scotland www.ukstandards.org.uk/Pages/Search.aspx
Further details can be found in the syllabus guide which can be downloaded from the 'Resources' section.
How is the qualification assessed?
Further details can be found in the syllabus guide which can be downloaded from the 'Resources' section.
Managing environmental aspects: Unit ED1 is assessed by a three-hour written examination. Students choose to answer 5 out of 8 questions. Examination papers are marked by external examiners appointed by NEBOSH.
Environmental regulation: Unit NDEM2 is assessed by a written assignment of approximately 8000 words, designed to test knowledge across the syllabus. The assignment is marked by external examiners appointed by NEBOSH.
Students must successfully complete both parts of the assessment (assignment and examination) within five years of the result declaration for the first unit successfully completed in order to achieve the qualification.
A copy of the syllabus guide or further guidance concerning Unit NDEM2 can be downloaded from the 'Resources' section
---
Entry requirements and exemptions
Entry requirements
There are no formal entry requirements for this qualification, however learners should consider that this is professional level qualification, equivalent to SCQF Level 10. Achievement of the NEBOSH Certificate in Environmental Management or direct equivalent prior to undertaking the Environmental Diploma course is highly recommended.
It is also vital that learners have an appropriate standard of English language in order to understand and articulate the concepts contained within the syllabus.
NEBOSH recommends that learners undertaking this qualification should reach a minimum standard of English equivalent to an International English Language Testing System (IELTS) score of 6.0 or higher in IELTS tests.
For further information please see the latest version of the IELTS Handbook or consult the IELTS website.
Learners wishing to assess their own language expertise may consult the FAQs on the IELTS website for information on taking the test.
Exemptions
Unit ED1 is a 'common unit' and also forms part of the International Diploma in Environmental Management. Learnersare able to use Unit ED1 as an exemption against the same unit of the International Diploma in Environmental Management (September 2016 Specification) as long as the declaration date for Unit ED1 is within 5 years of the submission date for Unit IDEM2 of the International Diploma in Environmental Management.
---
How to study
Choosing a Learning Partner
Every learner must register with a NEBOSH accredited Learning Partner and undertake the relevant learning before taking an assessment and gaining a qualification. It is not possible to self-study for a NEBOSH qualification.
Our global network of Learning Partners provide excellent learning and support and will help you prepare for your assessments. You can search for Learning Partners in our Where to Study section, and can filter the results by multiple factors, such as location and mode of study.
You should ensure that the Learning Partner you choose offers the qualification in the way you want to study. We recommend that you explore your options before selecting a Learning Partner as it is an important personal choice.
The factors you may wish to consider include:
Mode of Study – Options available include face to face, distance learning, in-company training and eLearning. Has one method of learning been more effective for you in the past?
Course Structure – If you opt for classroom training, would you prefer day or evening classes, block release or a modular course?
Location – Being able to study and sit your examinations locally may be an important consideration for you. NEBOSH examinations are taken in over 130 countries.
On-going support – Will the support provided during your course and in the run up to your assessments match your expectations?
Cost
Each Learning Partner sets their own fees to reflect the service offered. We recommend you contact a number of Learning Partners to establish what their fees are and what is included in the fee. Costs can vary depending on the mode of study, the level of support given, and the inclusion of examination registration fees, for example.
Read more about our Learning Partner Programme and how to choose the right Learning Partner for you: Choosing a NEBOSH Learning Partner.
---
What does it cost and how long does it take?
Course fees are determined by individual learning partners and vary depending on the format of the course.
For this qualification you should plan your study around a minimum of 119 taught hours and approximately 112 hours of private study.
Further information on taught hours can be found in the syllabus located in the 'Resources' section below.
---
Professional recognition and SQA accreditation
Maintaining professional standards
In the UK – and, increasingly, worldwide – regulatory accreditation is recognised as a badge of quality, allowing our qualifications to retain their highly regarded professional status.
UK accredited qualifications provide you with certain guarantees that the qualification:
Meets specific quality criteria that ensure it is fit for its purpose
Includes relevant content
Uses appropriate assessment methodology
Is mapped to relevant National Occupational Standards (NOS)
Is supported by relevant stakeholders including employers
The NEBOSH National Diploma in Environmental Management has been accredited and credit rated by the Scottish Qualifications Authority (SQA) Accreditation. It sits in the Scottish Credit and Qualifications Framework (SCQF) at SCQF Level 10 with 24 SCQF credit points.
SCQF Level 10 is comparable to RQF Level 6 in England, Wales and Northern Ireland.
See the Qualifications Can Cross Boundaries chart issued by the UK regulators.
Where appropriate, the SQA Accreditation logo will appear on certificates awarded for this qualification. The SCQF logo, credit and level information will appear on the unit result notification. Please click here for further information on SCQF credit and levels.
Valued by Employers
NEBOSH qualifications can play an important part in ensuring that the health and safety provision businesses have in place is effective. This may explain why so many organisations choose to include NEBOSH qualifications on their competency matrices.
Professional Body Recognition
The NEBOSH Diploma in Environmental Management meets the requirements for:
Specialist Membership (SIIRSM) of International Institute of Risk and Safety Management (IIRSM).
IOSH CPD Participants may allocate CPD credits for attendance at this course.
Those who pass their NEBOSH Diploma in Environmental Management are entitled to use the designatory letters EnvDipNEBOSH.
The Environmental Diploma provides a sound basis for progression to MSc level: A number of UK universities offer MSc programs that accept the NEBOSH Diploma in Environmental Management as a full or partial entry requirement.
---
Examinations
Examination registration
Learners must be registered before they can take an examination. All examination registrations must be completed by an accredited learning partner.
Examination entry confirmation
Once your learning partner has registered you to an examination, they will send you an Examination Entry Confirmation that includes your learner number, and important information relating to your examination and results process. Please ensure that you check your name is spelt correctly and report this to your learning partner and NEBOSH if any changes are required.
The Examination Entry Confirmation is essential to gain entry to the examination room, you will need to show a form of photographic identification to the invigilator and then sign the Examination Entry Confirmation. Please contact your learning partner if you have not received your Examination Entry Confirmation.
Examination Dates
Examinations for Unit ED1 will now be held on the below dates.
| | | |
| --- | --- | --- |
| Date | Qualification | Unit |
| Monday 10 July 2023 | International Diploma in Environmental Management | ED1 (2016 Specification) |
| Monday 08 January 2024 | International Diploma in Environmental Management | ED1 (2016 Specification) |
| Monday 15 July 2024 | International Diploma in Environmental Management | ED1 (2016 Specification) |
For written examinations, the date by which you should receive a written result notification is stated on your assessment registration confirmation.
Practical Submission Dates
The NDEM2 Assignment must be submitted using the NEBOSH online assessment platform. Assessments are due by 12pm (midday) UK time on the submission date shown. The confirmed submission periods available are specified below:
| | | | |
| --- | --- | --- | --- |
| Unit | Submission Period Opens | Submission Date | Result Notification Date* |
| NDEM2 | 01 February 2023 | 22 February 2023 | 09 May 2023 |
| NDEM2 | 03 May 2023 | 24 May 2023 | 03 August 2023 |
| NDEM2 | 02 August 2023 | 23 August 2023 | 02 November 2023 |
| NDEM2 | 08 November 2023 | 29 November 2023 | 15 February 2024 |
| NDEM2 | 07 February 2024 | 28 February 2024 | 13 May 2024 |
| NDEM2 | 30 April 2024 | 22 May 2024 | 01 August 2024 |
| NDEM2 | 07 August 2024 | 28 August 2024 | 06 November 2024 |
| NDEM2 | 06 November 2024 | 27 November 2024 | 14 February 2025 |
Further guidance about this Assignment and how to submit it, is available within the Resources section.
---
What next?
Graduation
Successful learners are invited to attend the NEBOSH Graduation and Awards Ceremony in the summer following successful completion of their Diploma.
For further details please click here.
Other NEBOSH qualifications
NEBOSH offers a range of qualifications that bring you success and advancement in your chosen field.
Environmental Diploma holders wishing to develop their health and safety expertise may consider taking the NEBOSH National or International Diploma in Occupational Health and Safety qualifications.
In addition, NEBOSH offer specialist qualifications for the Construction, Fire, Oil & Gas and Process Industry sectors, as well as a Leadership Excellence and Management of Health and Well-being.
Learning at Masters level, with an emphasis on practice-led research
In partnership with NEBOSH, the University of Hull is offering Masters Degrees in Occupational Health, Safety and Environment subjects.
The following taught MSc qualifications in Occupational Health, Safety and Environmental Management are available to NEBOSH Diploma holders:
MSc in Occupational Health, Safety and Environmental Management
MSc in Occupational Health and Safety Management
MSc in Environmental Management
Master of Research (MRes) qualifications have been designed to complement the learner's career through research directly relevant to their own work. The following qualifications are available to Diploma holders:
MRes in Occupational Health and Safety Management
MRes in Occupational Health, Safety and Environmental Management
MRes in Environmental Management
For more information please click here.
Additional Masters Programmes
A number of universities offer MSc programs which accept the NEBOSH Diplomas as a full or partial entry requirement. Some MSc courses may require additional qualifications/expertise, such as a degree, further significant work experience or expect learners to complete specific modules e.g. in environmental management.
Listed below are some universities that accept NEBOSH Diplomas for entry. Prospective learners should contact their chosen university directly to confirm the entry requirements and check that their specific qualifications are appropriate.
Environmental Diploma
Please note that there are a number of additional relevant university MSc courses not listed above. Their positions in relation to NEBOSH qualification were unavailable at the time of publishing this page and will be updated in due course.
The connections between our qualifications are illustrated in more detail in the Qualifications Progression Leaflet found in the Resources section below.
---
Resources
This section provides guidance and useful information in support of this qualification.
If you would like any further information please get in touch through our Contact Us page - our Customer Enquiry Team will be happy to help.
Syllabus Guide (2016 Specification)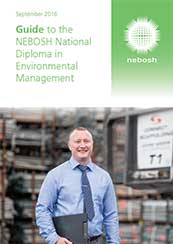 NEBOSH is delighted to announce the publication of the new specification for the National Diploma in Environmental Management. We are also launching a new international version of the qualification (the NEBOSH International Diploma in Environmental Management). This is an environmental qualification for students who are based overseas. The National and International qualifications share a common unit ED1 (the examination unit). For further information on this International qualification please click here
The syllabus has been revised in line with its normal development cycle and following consultation with employers and NEBOSH's accredited course providers.
The Guide to the NEBOSH National Diploma in Environmental Management (September 2016 specification)

NEBOSH has also tried to anticipate some of your queries by producing a guidance document on the syllabus changes.
This Guide remains the copyright of NEBOSH. The information in this publication may be reproduced in support of NEBOSH qualifications. If it is reproduced, NEBOSH should be clearly acknowledged as the source. If it is to be used for any other purpose, written permission must be obtained from NEBOSH.
The first assessments for the 2016 specification will take place in 2018:
Examination sittings will take place in January and July each year from January 2018 onwards.
Assignment submissions will take place in February, May, August and November each year from February 2018.
Download the Leaflet
Diploma Digital Assessments Resources
We have introduced a quick and easy way to submit DNI, NDEM2 and IDEM2 assignments, this has streamlined the process for everyone's benefit. Find out more:
NDEM2: Practical Application (2016 Specification)
This document provides comprehensive guidance on the presentation and submission of the Unit NDEM2 practical application. It includes guidance on the structure and style of the report. Learners should study this document carefully before submitting their practical application.
The guidance should be read carefully in conjunction with the practical application mark scheme, which is attached at the end of this guidance document, to provide a clear guide to the requirements of the practical application.
Examiners' Reports (2016 Specification)
These reports provide feedback on the following key areas; examination technique, command words and learning outcomes and is designed to assist Learners and Learning Partners in preparing for future assessments.
If you would like any further information please do not hesitate to contact our Customer Enquiry Team; Contact us.
Guidance on Command Words
Qualification Progression Leaflet