NEBOSH is the Gold Standard for Health and Safety for me
Case Study: Russel Drakeley, Health Safety & Environmental Consultant at FPA Consulting Ltd
NEBOSH spoke to Russel Drakeley, Health Safety & Environmental Consultant at FPA Consulting Ltd about his NEBOSH experience.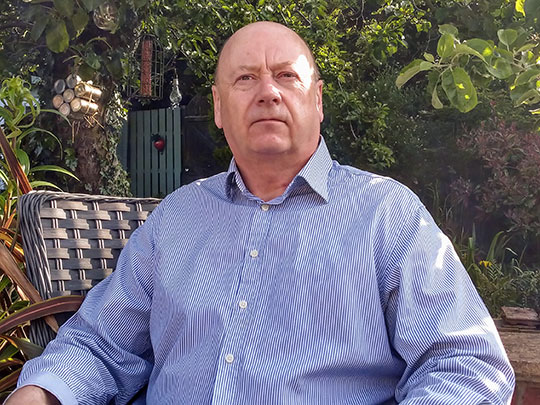 After 20 years in the rail industry, your decided to change career direction. Can you tell us how this came about and what you chose to do?
After achieving 20 years' service in rail, I asked myself if I wanted to spend the next 20 years working in the same industry. I decided I would prefer to take a chance and look for a new challenge, but when I left I did not have a definite plan of what I wanted to do instead. You might say I was drifting from job to job until health and safety found me. The QHSE Manager left the company I was working for and it was suggested that the role was a good fit for me. I have a lot to thank the colleagues who encouraged me to take that job as, nearly 30 years later, I am still working in Health and Safety and thoroughly enjoy it. Many health and safety practitioners say they didn't actively choose the profession, and this certainly applies to me.
I can see that the first NEBOSH qualification you took was the NEBOSH General Certificate. When and why did you take this qualification?
When I was working as an Operation Manager, ensuring the health and safety of my team was an integral part of my role. After recognising the importance of this responsibility, I wanted to develop a deeper understanding of human behaviours and how this related to safety performance in the workplace. This motivated me to take the NEBOSH General Certificate.
For 7 years in the 2000's, you worked as a Health and Safety Manager for a UK airport, which must have been really interesting. Did you enjoy this role, and what did you learn?
Coming from an engineering/manufacturing background, being given the opportunity to work for an international airport was unbelievable. There was a whole new skill set to learn, with a particular focus on people. We had thousands of passengers passing through the airport each day, and it was my responsibility to ensure they all arrived and left safely. My time at the airport really highlighted the importance of providing clear information and instructions if you want people to perform in a certain way. You could say my communication skills were enhanced from my time there!
2014 seems to have been a pivotal year for you in terms of your NEBOSH studies! In one year, you completed the NEBOSH Fire, Construction and Wellbeing Certificates and the National Diploma! How did your juggle your studies, and what was the motivation for this focus?
I am still not sure how I managed to complete all four qualifications in the timeframe I set myself. As we all know, NEBOSH qualifications are not the easiest to achieve; but that is why they are valued so highly. All I can say is many years of practical experience backed up with hours of study, often very late into the evening, paid off for me.
Did you enjoy the qualifications, and how did they help you?
I enjoy studying. I found the courses interesting and relevant to my career aspirations. In particular, the Health and Wellbeing certificate showed me a different aspect of health and safety and how closely the Human Resources profession is entwined with the Health and Safety profession.
Why did you choose NEBOSH qualifications specifically?
After I decided to leave the airport to further my career, I felt I needed to back up my hands on experience by completing other health and safety qualifications. I chose to complete NEBOSH qualifications specifically because they are recognised and valued by employers.
It seems that ever since 2014, you have been using your extensive mix of operational expertise, health and safety practical experience and qualifications to help businesses improve their safety management. Do you enjoy this consultancy role?
Consultancy is so varied and the fact that no two days are the same is why I enjoy it so much. There is always someone out there with a problem. Being able to solve that problem brings an immense degree of satisfaction and job fulfilment.
You have continued to develop and enhance your own skills and knowledge, including by completing the NEBOSH Environmental Diploma in 2018. What made you take this qualification?
Environment and sustainability are a vital issue for all of us and we all must do more to combat climate change. The NEBOSH Environmental Diploma gave me a much broader understanding of the issues associated with climate change. It has helped me to help my clients make improvements which means I am contributing to achieving a zero-carbon economy.
Can you tell us a little bit about how you studied and how you chose your learning partner?
I have completed most of my NEBOSH qualifications with Gold Learning Partner RRC. I do not have a regular 9-5 job, which makes it difficult to commit to classroom courses. The e-learning package RRC offers has always been a good option for me because of the flexibility it provides. I can plan my study time around my other commitments and can take things at my own pace. I would recommend eLearning as being a good option for anyone who struggles to get time away from work or who would benefit from more time to understand and absorb the content.
What impact has having NEBOSH qualifications had on your career?
Without doubt, NEBOSH is the Gold Standard for Health and Safety for me. In a Consultancy role, NEBOSH is seen as an assurance that the practical advice you give is based on sound academic principles developed through a course of study backed up with years of experience.
What do you enjoy most about your SHE career?
For me, the most rewarding and enjoyable aspect of the career is seeing and experiencing the value your colleagues have for the advice and the help and support you give to them.
What advice would you give someone who is considering health and safety as a career?
Health and safety is a career like no other! I recommend you get to know and understand what it is all about by talking to other people in the profession to find out more. NEBOSH qualifications have been the foundation upon which I have built my career and I therefore have no hesitation in recommending them to others. I started with the General Certificate but there is the option to start with the introductory NEBOSH Health and Safety at Work Award qualification too. If you choose to pursue this career, I hope you find it as rewarding as I have!