The NEBOSH National General Certificate is the most popular and recognised health and safety qualification of its kind. First introduced in 1989, it is held by more than 190,000 people.
Holders of this accredited qualification are able to identify, evaluate and control a wide range of workplace hazards. The qualification encourages a pragmatic approach to managing risk and covers the main legal requirements for health and safety in the UK.
Many employers find that the National General Certificate can improve the safety culture of their organisation by providing line managers and staff with a sound understanding of the principles of risk management.
Our qualifications are developed based on extensive research with health and safety professionals, employers, professional bodies and regulators to ensure that they remain relevant and rigorous as well as achievable and practical.
You will be assessed on your ability to apply your skills and knowledge to a wide range of issues and ability to deliver positive change to a real workplace.
National General Certificate in Occupational Health and Safety
---
Who is it for?
Individuals
This qualification is for anyone who needs to gain a sound understanding of the principles of workplace health and safety. It also covers UK specific health and safety law.
For some, the National General Certificate is a crucial first step towards establishing a lifelong professional career in occupational health and safety. Many who take their National General Certificate progress on to one of our Diploma level qualifications. However, around three quarters of people who hold a National General Certificate are employed in roles whose primary function is not health and safety.
The National General Certificate is seen as a very useful qualification for managers, supervisors and those who need to have a sound understanding of their health and safety responsibilities and who wish to implement sustainable health and safety improvements.
"Not only did my National General Certificate fill in so many blanks as far as my knowledge was concerned, the qualifications gave me so much confidence and helped me, and still does help me almost every day, to demonstrate my competence."

Victoria Casey, Risk Consultant, Aviva
Employer
The National General Certificate is used by many organisations to improve the health and safety skills and knowledge of managers, supervisors and staff in order to gain sustainable health and safety improvements. Quite simply, the National General Certificate is a qualification that leads to safer workplaces.
People who hold the National General Certificate will understand organisation's legal requirements, will know how to reduce absence costs and loss of reputation from health and safety incidents, in whatever industry they operate. Employing people who hold a NEBOSH qualification demonstrates a commitment to health and safety and an assurance to others. It can even help you achieve recognised standards and win new business.
The National General Certificate is for anyone who needs to gain a sound understanding of the principles of workplace health and safety. It covers the principles of health and safety according to UK specific law.
"We chose NEBOSH because it is recognised globally and that has made it an easy sell for us, in terms of saying 'why wouldn't you take this course?'. It's intense, as our managers have discovered, but it is certainly worth the effort, both for them and for Thames Water."
Karl Simons, Thames Water Head of Health, Safety, Security and Well-being Director
---
What you will learn
What does the course cover?
The National General Certificate covers how health and safety can be effectively managed, the main legal requirements for health and safety in UK, identification and control of workplace hazards, and the practical application of this knowledge. Crucially, the practical element of the course requires learners complete a health and safety inspection of their workplace before producing a management report outlining inspection findings and recommendations.
The key topics covered by the qualification are:
The key legal requirements for managing health and safety at work
The importance of and key elements of health and safety management systems
Principles and practice of risk assessment
The identification of workplace hazards such as those associated with general workplace issues, fire, electricity etc.
Methods for controlling identified workplace hazards
No previous health and safety knowledge is required. Learners should note that the assessment includes a requirement to write a short report.
The qualification is divided into three units, each of which is assessed separately:
NGC1: Management of health and safety
GC2: Controlling workplace hazards
GC3: Health and safety practical application
The syllabus is mapped to the National Occupational Standards for Health and Safety. These are maintained on a database which is managed by Skills Development Scotland www.ukstandards.org.uk/Pages/Search.aspx
Further details can be found in the syllabus guide which can be downloaded from the 'Resources' section below.
How is the qualification assessed
Assessment is a three-step process:
NGC1 - An open book examination to assess what you know. This is scenario based and will include a closing interview, you will be asked questions about your submission.
GC2 – A paper-based two hour written examination. This examination consists of ten 'short-answer' questions and one 'long-answer' question
Assessments are marked by external examiners appointed by NEBOSH. These examiners are chosen for their experience and expertise to ensure that learners are assessed by the very best from our industry.
GC3 - Assessed by one two-hour practical examination carried out in the learner's own workplace (2 hours). The aim of this unit is to assess your ability to complete a safety inspection of your workplace and prepare a report to management with recommendations and improvements. The assessment must normally be taken within 10 working days of a written examination. The practical examination is internally assessed by your course provider and externally moderated by NEBOSH.
Our unit based approach
Our unit-based approach allows you to achieve new qualifications without having to study or be assessed on topics that you have already passed.
Some of our Certificate-level qualifications include 'common units'. For example, Unit NGC1 forms part of our National Certificate in Construction Health and Safety, and also part of the National Certificate in Fire Safety and Risk Management and the National General Certificate in Occupational Health and Safety.
If you have already passed unit NGC1 as part of your previous studies you will not be required to pass NGC1 again when studying for another certificate qualification it features in, provided that the declaration date (the date printed on your unit certificate) is within five years of the examination date for the new qualification.
This applies to all Certificate-level qualifications with common units, and also in some cases across our national and international variants. See Exemptions below for further information.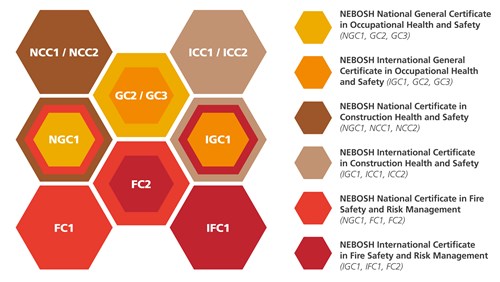 ---
Entry requirements and exemptions
Entry requirements
There are no entry requirements for this qualification, however it is important that learners have a suitable standard of English language in order to understand and articulate the concepts contained in the syllabus.
NEBOSH recommends that learners undertaking this qualification should reach a minimum standard of English equivalent to an International English Language Testing System (IELTS) score of 6.0 or higher in IELTS tests.
For further information please see the latest version of the IELTS Handbook or consult the IELTS website: http://www.ielts.org/institutions/test_format_and_results.aspx.
A chart mapping IELTS scores to the Common European Framework for Languages (CEFR) can be found on the British Council and IELTS websites at:

https://takeielts.britishcouncil.org/find-out-about-results/understand-your-ielts-scores/common-european-framework-equivalencies
https://www.ielts.org/ielts-for-organisations/common-european-framework
Learners wishing to assess their own language expertise may consult the IELTS website for information on taking the test: http://www.ielts.org/faqs.aspx
Exemptions
Exemptions are available for Unit NGC1 from:
National Certificate in Fire Safety and Risk Management - mark achieved for Unit NGC1
National Certificate in Construction Health and Safety - mark achieved for Unit NGC1
National Diploma in Occupational Health and Safety - capped at 45%. See our FAQ's for more information on this.
Exemptions available for Unit GC2 from:
International General Certificate in Occupational Health and Safety - mark achieved for Unit GC2 or IGC2
Exemptions available for Unit GC3 from:
International General Certificate in Occupational Health and Safety - mark achieved for Unit GC3 or IGC3
However, you will need to have passed the above qualifications within the last five years. The five years start from the results declaration of your first successful unit or qualification.
---
How to study
NEBOSH recognises that great learning experiences equip learners to make a difference to health, safety and the environment in the workplace. We are therefore committed to ensuring that our qualifications and courses offer the best learner experience by putting your needs first.
We rely on our global network of Learning Partners to provide excellent learning and support to our learners and to help you prepare for your assessments. Our Learning Partner Programme is a quality assurance programme that aims to recognise those Learning Partners who can prove that they meet the principles that represent global best practice in the provision of course tuition and support. You can find further information on our Learning Partner Programme by clicking here.
The Learning Partner Programme introduces a standard that must be met by all Learning Partners and we also ask our Learning Partners to commit to continuously improving the learner experience. This will allow us to recognise our leading Learner Partners for their quality tuition, innovative delivery and excellent learner support.
You should ensure that the Learning Partner you choose offers the qualification in the way you want to study. We therefore recommend that you explore your options before selecting a Learning Partner as it is an important personal choice.
The factors you may wish to consider include:
Mode of Study – Options available include face to face, distance learning, in-company training and eLearning. Has one method of learning been more effective for you in the past?
Course Structure – If you opt for classroom training, would you prefer day or evening classes, block release or a modular course?
Location – Being able to study and sit your examinations locally may be an important consideration for you. NEBOSH examinations are taken in over 130 countries.
On-going support – Will the support provided during your course and in the run up to your assessments match your expectations?
Cost – Each Learning Partner sets their own fees to reflect the service offered. We recommend you contact a number of Learning Partners to establish what their fees are and what is included in the fee.
The Where to Study search facility can help you to shortlist Learning Partners that match your personal requirements. You can search for partners accredited to offer courses leading to specific qualifications. Location and mode of study preferences can also be factored into your search.
---
What does it cost and how long does it take?
Course fees are determined by individual learning partners and vary depending on the format of the course.
For this qualification you should plan your study around a minimum of 80 taught hours and approximately 53 hours of private study and background reading.
Further information on taught hours can be found in the syllabus located in the 'Resources' section below.
Details of learning partners accredited to offer this qualification are available in the Where to Study section.
---
Professional recognition and SQA accreditation
Maintaining professional standards
In the UK – and, increasingly, worldwide – regulatory accreditation is recognised as a badge of quality, allowing our qualifications to retain their highly regarded professional status.
UK accredited qualifications provide you with certain guarantees that the qualification:
Meets specific quality criteria that ensure it is fit for its purpose
Includes relevant content
Uses appropriate assessment methodology
Is mapped to relevant National Occupational Standards (NOS)
Is supported by relevant stakeholders including employers
The NEBOSH National General Certificate in Occupational Health and Safety has been accredited and credit rated by the Scottish Qualifications Authority (SQA) Accreditation. It sits in the Scottish Credit and Qualifications Framework (SCQF) at SCQF Level 6 with 15 SCQF credit points.
SCQF Level 6 is comparable to RQF/CQFW Level 3 in England, Wales and Northern Ireland.
See the Qualifications Can Cross Boundaries chart issued by the UK regulators.
Where appropriate, the SQA Accreditation logo will appear on certificates awarded for this qualification. The SCQF logo, credit and level information will appear on the unit result notification. Please click here for further information on SCQF credit and levels.
Valued by employers
NEBOSH qualifications can play an important part in ensuring that the health and safety provision businesses have in place is effective. This may explain why so many organisations choose to include NEBOSH qualifications on their competency matrices.
Professional body recognition
Holders of the NEBOSH National General Certificate are entitled to:
Associate Membership (AIOSH) of the Institution of Occupational Safety and Health (IOSH). The qualification also meets the academic requirements for Technical Membership (Tech IOSH) of IOSH
Associate Membership (AIIRSM) of the International Institute of Risk and Safety Management (IIRSM)
---
Examinations
Examination registration
Learners must be registered before they can take an examination. All examination registrations must be completed by an accredited learning partner.
Examination entry confirmation
Once your learning partner has registered you to an examination, they will send you an Examination Entry Confirmation that includes your learner number and the regulations for you as a learner. The learner number is the only identification that you may use on your examination scripts – scripts must not include your name.
The Examination Entry Confirmation is essential to gain entry to the examination room, you will need to show a form of photographic identification to the invigilator and then sign the Examination Entry Confirmation. Please contact your learning partner if you have not received your Examination Entry Confirmation.
Examination dates
Standard examination sittings are held four times a year in March, June, September and December as below.
Many of our learning partners may also offer on demand examinations, set and marked by NEBOSH, but held on a date chosen by the learning partners. You should contact your chosen learning partner for more information.
NGC1 - The invigilated paper-based exam is being permanently replaced by a new open-book examination (OBE) ,for English language assessments only. Other languages to follow at a later date.
GC2 - Invigilated paper-based exam dates
| | | | |
| --- | --- | --- | --- |
| Date | Time | Qualification | Unit |
| Wednesday 9 September 2020 | PM | National General Certificate | GC2 |
| Wednesday 9 December 2020 | PM | National General Certificate | GC2 |
GC3 - The practical unit GC3 will continue to be assessed as usual, please speak to your Learning Partner for further information.
Examination results
All results for assessments taken in English (including those for the practical application) should be received within 50 working days from the date of the examination or submission of assignment. The specific date is written on your examination entry confirmation.
For assessments taken in any language other than English, all results (including those for the practical application) should be received within 70 working days.
Certificate-level practical assessments must normally be taken within 10 working days of a written examination, so the practical result will be included with the result for the written examination.
What next?
Due to our unit-based approach mentioned in the 'What you will learn' section, many who pass their NEBOSH National General Certificate go on to take another more specialist certificate-level qualification, such as the National Certificate in Construction Health and Safety or the Certificate in Fire Safety and Risk Management.
In addition, many who pass also go on to seek professional recognition as per the 'Professional Recognition and SQA Accreditation' section.
Many who hold a NEBOSH National General Certificate, particularly those seeking a professional career in health safety and environmental management, progress onwards to take a NEBOSH Diploma level qualification. While successful completion of one of our certificates is not mandatory in order to enrol on a NEBOSH Diploma, it is strongly recommended given that our Diploma syllabuses assume knowledge equivalent to having undertaken such a programme of study.
The connections between our qualifications are illustrated in more detail in the Qualifications Progression Leaflet found in the Resources section below.
---
Resources
This section provides guidance and useful information in support of this qualification.
If you would like any further information please do not hesitate to contact our customer service team via email info@nebosh.org.uk or +44 (0)116 2634700.
Syllabus Guide
This Qualification Guide contains the detailed syllabus, assessment requirements and example question papers for the NEBOSH National General Certificate.
This Guide remains the copyright of NEBOSH. The information in this publication may be reproduced in support of NEBOSH qualifications. If it is reproduced, NEBOSH should be clearly acknowledged as the source. If it is to be used for any other purpose, written permission must be obtained from NEBOSH.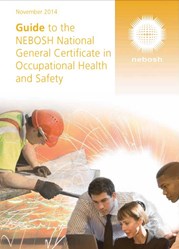 You will need Adobe Acrobat Reader to read these document - available free of charge from www.Adobe.co.uk.
If you would like any further information, please contact the Customer Services team on 0116 2634700 or email info@nebosh.org.uk
NEBOSH National General Certificate in Occupational Health and Safety Syllabus Guide.
GC3: Health and Safety Practical Application
Unit GC3: Health and Safety Practical Application - Guidance and Information for Course Providers and Candidates
This document provides comprehensive guidance on the presentation and submission of the Unit GC3 practical application. It includes guidance on the structure and style of the report, Declaration, and Work Place Risk Assessment. Candidates should study this document carefully before submitting their practical application.
The guidance should be read carefully in conjunction with the practical application mark scheme, which is attached at the end of this guidance document, to provide a clear guide to the requirements of the practical application.
English
Arabic
French
Portuguese (European)
Russian
Spanish (European)
Turkish
NG/IG Transitional Arrangements and FAQs
Launch date of the NG and IG (October 2018 specification). Assessments can be booked from this date:
30 September 2019
First assessments for October 2018 specification from:
11 November 2019
Last date that new learners* can be registered to the November 2014 specification:
29 February 2020
New learner registrations to the October 2018 specification only from:
1 March 2020
November 2014 specifications – registrations for existing learners** only from:
1 March 2020
Last assessment date for the November 2014 specification:
31 March 2022
---
* A new learner is classed as a person who has not been registered for an assessment of the November 2014 specification.
** An existing learner is a person who has been registered for at least one unit of the 2014 specifications (status must be either studying, absent, Pass or Refer).
---
FAQs
Sample New-look Questions Papers
Guidance on Command Words
Preparing learners for Assessment Guide
Good preparation, as well as study, is often the key to passing assessments leading to NEBOSH qualifications.
This guide is designed to assist in your preparation for NEBOSH Certificate and Diploma written assessments. The aim is to improve assessment performance and also to give learners a helpful boost in confidence ahead of their examination sitting.
Please click here to download a copy of the guide.
Download the Leaflet
Qualification Progression Leaflet
Learner Terms and Conditions
Please see our Learner Terms and Conditions below.
Learner Fees List
The NEBOSH Learner Fees List from 1 April 2019 is available to download below. Please use these documents in conjunction with the Question and Answer Supplement.
Learner Fees List 2019 onwards
Learner Fees List Q&A 2019 onwards
Please note that these are the fees that NEBOSH charges. Some Learning Partners may incorporate these fees within the overall fee you have paid to them.
For further information please contact your chosen learning partner or contact our Customer Experience department on +44 (0)116 263 4700.