Great leaders never stop learning
Case Study: Neil Fisher - Network Rail
Harvard Professor of Leadership, Amy Edmondson, once wrote: "Learning is not a onetime event or a periodic luxury. Great leaders in great companies recognise that the ability to constantly learn and improve is vital to their success."*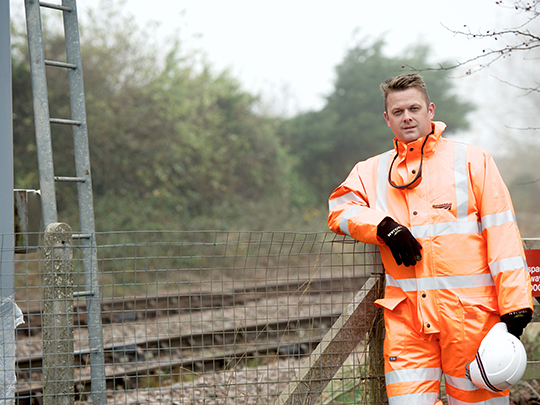 It's a message that Neil Fisher believes in passionately. Neil is currently a Health, Safety and Environmental Advisor at Network Rail. He supports colleagues working on special projects on the London North Eastern and East Midlands routes as well as the East Coast mainline between Berwick and London. His role is to ensure their safety, health and well-being whilst they are working on the railways. Neil is also an aspirational leader and an advocate of continuous lifelong learning, which he hopes will now take him to the next stage of his career.
A former railway engineer, Neil first decided health and safety was for him in 2012 when he was working on the London Underground. "I spoke to the health and safety contacts I knew and found that the NEBOSH National General Certificate in Occupational Health and Safety was the go-to-qualification they recommended. So I took the plunge and self-funded my studies. That decision and investment in myself paid off because it got me my first safety advisor position. After that, I just kept taking more NEBOSH qualifications and the learning has never really stopped since."
"I really love what I do," said Neil. "Going home every week knowing I've made a difference to front-line safety gives me real satisfaction. I've now made it my goal to move into a senior safety management role within the next 12 to 18 months. I definitely want to have a bigger influence at a corporate level, because I'd like to make even more of a difference."
To help him achieve this goal, Neil signed up to take the new NEBOSH HSE Certificate in Health & Safety Leadership Excellence.
"The Leadership Certificate is different to the other NEBOSH qualifications I've taken previously," Neil told us. "You could say the others are more technical, which has really helped me in the practitioner roles I have had to date. The Leadership Certificate focuses more on increasing your personal impact as a leader in a health and safety context. For an aspiring leader like me, understanding how my actions and behaviours can effect performance, will only help me to champion health and safety better in the future."
He added: "On the course, I was sat with a finance director and a managing director from other companies and it was fascinating to get their perspective. I have to say, we all took a lot from the day and I am sure the experience will help us be better influencers in the future. I cannot praise this new qualification enough and I've been recommending it within my own organisation. I would challenge anyone not to take something away from it that will be valuable to their business."
Neil recently achieved CMIOSH status, but he doesn't see this as the culmination of his professional development. He told us: "CPD should never just be seen as a tick box exercise. I genuinely believe that every day is a school day. At no point am I going to just sit back and think I've made it. I'd stop growing and would never get any better if I did this. We always need to look for ways to improve and progress."
Judging by Amy Edmondson's viewpoint, it would appear Neil is already demonstrating at least one of the traits of an effective leader.
---
* Amy C. Edmondson, 2012 'Teaming: How Organizations Learn, Innovate, and Compete in the Knowledge Economy' Harvard Business School
---