From armed forces to civilian life, change your career with NEBOSH!
Monday, 18 November 2019
Stepping into civilian life and finding a whole new career path can be challenging. However, for service leavers Adam King, Luke Strudley, Mark Stevens and Pete Neville this was made much easier with a NEBOSH qualification to their name.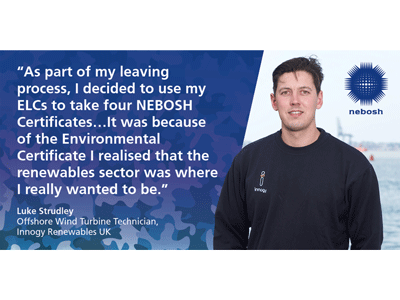 We spoke to four NEBOSH learners to find out about the impact NEBOSH qualifications have had on their new career…
From Marine to SHEQ Director
Former Royal Marine Commando, Adam King, now works for Renewi, a leading waste-to-product business. With the help of NEBOSH qualifications he has established a successful new career in health and safety – he is now a Group SHEQ Director.
Adam gained his NEBOSH National General Certificate in Occupational Health and Safety which helped him into his first safety role. He has gone on to achieve three further NEBOSH qualifications and told us: "Thanks in no small part to NEBOSH, I've been handed the kind of challenging position I've really been seeking as a qualified SHE professional."
A caring profession
Pete Neville, who served for over 20 years with both the RAF and the British Army, worked as a Security Manager before moving into health and safety with the help of a NEBOSH General Certificate. He now also holds the NEBOSH International Diploma in Occupational Health and Safety, NEBOSH National Diploma in Environmental Management and the NEBOSH International Technical Certificate in Oil & Gas Operational Safety.
However, it is the addition of the NEBOSH Certificate in the Management of Health and Well-being at Work that has been the most life changing for Pete. Having dealt with depression himself in the past, he is keen to promote this Certificate to help support others with their mental health, adding "if you apply the knowledge it gives you and develop that, it really underpins the concept of health and safety being a deeply caring profession."
A foot in the door
The Ministry of Defence's Enhanced Learning Credits Scheme (ELC) promotes lifelong learning amongst members of the armed forces, helping ex-military have a much needed head start into their new career. It provides financial support for service leavers wishing to undertake recognised qualifications at Level 3 (NEBOSH Certificate level) or above.
Luke Strudley, former Royal Engineer in the British Army, recently took the plunge into civilian life by using the ELC scheme to fund four NEBOSH Certificates. Taking his NEBOSH qualifications at the end of his time in the Army really paid off for Luke as he is now an Offshore Wind Turbine Technician with Innogy Renewables UK, a company responsible for £4billion of new UK renewable energy investment in the last 5 years.
Luke said: "At the interview stage, as well as talking about the environment, I faced a lot of questions about safety procedures, so all of my NEBOSH qualifications were invaluable. Because of the risks surrounding the work, such as working at height, changing weather conditions and high-hazard remote locations, NEBOSH turned out to be a big foot in the door for me."
Mark Stevens, also funded his transition from a career in the military to health and safety using the ELC scheme. "Health and safety seemed to be a popular option when it came to resettlement training. Those that had made this choice before me seemed to have gone on to have successful careers outside the army too."
With this advice under his belt, Mark took the NEBOSH National Certificate in Fire Safety and Risk Management first and then went on to gain three more NEBOSH Certificates. The result? He is now Principal Safety Adviser for the Building Safety Group. He told us: "I always recommend the NEBOSH route as it's the most well recognised and regarded option. NEBOSH qualifications are what employers and recruiters want."
Find out more about how to start your health and safety career with a NEBOSH qualification funded by the ELC scheme: http://www.enhancedlearningcredits.com/
There are currently 50 NEBOSH Learning Partners approved to the ELC scheme. You can search for a Learning Partner or a course on the ELC website: http://www.enhancedlearningcredits.com/learning-provider/provider-search