A 'foot in the door' to civilian life
Case Study: Luke Strudley
Whenever military service is coming to an end it's always good to have a plan. However, it also helps to do something that has the power to open up several different doors.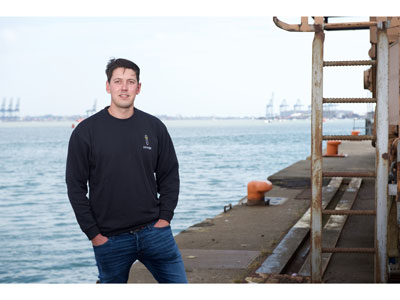 For Lance Corporal Luke Strudley, his plan was to carry on in civilian life as an electrician, the trade he had learnt as part of the Royal Engineers in the British Army. But he also wanted to add a brand-new set of core skills that would be useful in any kind of working environment.
"Everyone recognises the importance of safety in the military and so NEBOSH is something that's talked about a lot when people start looking for a new career. That's why, as part of my leaving process, I decided to use my ELCs (Enhanced Learning Credits) to take the NEBOSH Construction Certificate as it linked in well with the trade I already had.
"At the same time I chose to take three more NEBOSH Certificates, the General, Fire and Environmental as well, to really keep my options open and to stand out a bit. It was because of the Environmental Certificate I realised that the renewables sector was where I really wanted to be."
Renewables now provide almost a third of the UK's power and around half of this is generated by wind energy*. Britain has become the world leader in offshore wind, making it an attractive industry to get into; large investment has led to the creation of thousands of jobs in the sector. Indeed, it's estimated that there will be 27,000 skilled jobs in the sector by 2030.**
Luke explained; "Something my NEBOSH tutor told us really struck a chord. He said that to protect the planet people needed to 'act locally, think globally'. It's that idea that if everyone contributes in their own small way, then collectively we could avoid environmental catastrophe."
Taking his NEBOSH qualifications at the end of his time in the Army really paid off for Luke. He is now an Offshore Wind Turbine Technician with Innogy Renewables UK, a company responsible for £4billion of new UK renewable energy investment in the last 5 years.
"It's great, because I really wanted to use my skills as an electrician to do something that would benefit the environment. At the interview stage, as well as talking about the environment, I faced a lot of questions about safety procedures, so all of my NEBOSH qualifications were invaluable. Because of the risks surrounding the work, such as working at height, changing weather conditions and high-hazard remote locations, NEBOSH turned out to be a big foot in the door for me."
Luke knows he also now has other career options in the future. "While I'm really happy doing what I'm doing now, I could look towards environmental management, or safety of course, in the future. Certainly the learning will continue, because I've already seen just how valuable it can be. I'd highly recommend anyone taking the NEBOSH route with their ELCs."
*Source: RenewableUK - https://www.renewableuk.com/page/WindEnergy
**https://cdn.ymaws.com/www.renewableuk.com/resource/resmgr/publications/offshore_wind_industry_counc.pdf