'Why I'm a big fan of NEBOSH'
Case Study: Adam King - Renewi
Adam King describes himself as a 'big fan of NEBOSH' and it's not just because his qualifications have helped him develop a highly successful career.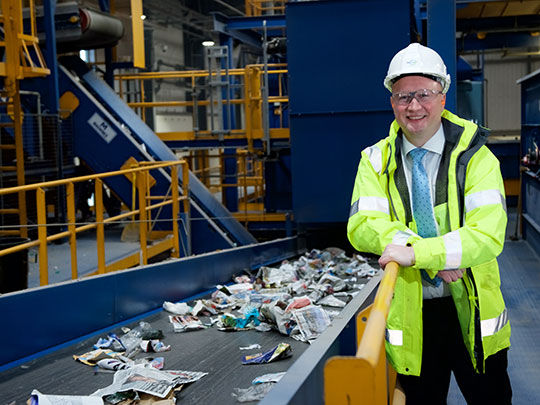 Adam, 39, who is a former Royal Marine Commando, says his "respect" for NEBOSH comes from the fact its qualifications "are not simply about gaining knowledge, but are about thoroughly testing that knowledge to show you can apply it."
"It's what sets NEBOSH apart, to be honest," Adam told us. "It's why I respect it so much, because NEBOSH never just looks for a standard answer. It gives you a scenario when it tests you and makes you apply your knowledge as a professional to that scenario, which for me is a fantastic way of testing someone's competence. After all, no matter how intelligent you are, if you're not capable of applying the right information to a real-world scenario and in real-time, how are you going to achieve a safe and sustainable environment?"
Adam works for Renewi, a leading waste-to-product business with a strong environmental goal of a "world where we waste no more." He is Group SHEQ Director and his career background, although slightly unusual, is perfect for the role. Following school, Adam began a law degree at university, but in what he confesses was a slightly "reckless moment" he changed plans and signed up for the Royal Marines. He had "a lot of fun" for four years, serving in various parts of the world and training for desert and Arctic warfare. "I'm 5th generation military, so I guess it was always going to happen at some point and I'm glad I got that it of my system early," he said.
When he left the Marines, Adam's Grandfather, who was a supervisor at a power station, helped him find work. He joked that was where he learned all the things "that shouldn't be done" from a safety point of view. In actual fact, standards were high, and Adam was given inspection responsibilities and started taking an increasing interest in health and safety matters. This culminated in him taking his NEBOSH National General Certificate in Occupational Health and Safety and moving into the role of Safety Officer.
Adam's experience grew and when his role was expanded to other more diverse sites, including chemical, nuclear and offshore locations, he added the NEBOSH Certificate in Environmental Management to his CV.
Adam continued to progress both professionally and academically; securing a new role in the construction sector and taking his NEBOSH studies to the next level. He gained both the NEBOSH Occupational Health and Safety and Environmental Management Diploma, which proved to be "fundamental" in him gaining his present position.
"Renewi were looking for someone with both NEBOSH Diplomas as well as power station and construction experience. It turned out I was the only candidate who matched their exact requirements! They're a £1.6 billion turnover organisation with 198 sites across the world. I am responsible for the Municipal division, which covers the UK and Canada, so it's a really exciting role at an inspiring and forward-thinking business.
"As someone who has a passion for both the environment and safety it is fantastic to work for an organisation with such a brilliant vision and one which is keen to play a significant role in turning the waste industry into a safer performing industry."
Adam feels he now has a significant role to play at a major global organisation. "Thanks in no small part to NEBOSH, I've been handed the kind of challenging position I've really been seeking as a qualified SHE professional."
---