The National Certificate in the Management of Health and Well-being at Work was withdrawn on 31 December 2020

The last date for new* learners to register to take the qualification was 31 December 2020.
*A new learner is classed as someone who has not previously registered for, passed or been marked as absent for a unit of the NHC either with their existing or a new Learning Partner.
Last assessment date for existing learners: 25 July 2022
There is no direct (like-for-like) replacement for this qualification. However, NEBOSH has launched the new NEBOSH Working with Wellbeing qualification which will help learners effectively influence and manage wellbeing in the workplace.
---
Who is it for?
Individual
This qualification is for anyone who needs to gain a sound understanding of the principles of health and well-being management at work.
It is particularly suited to managers, supervisors, health and safety and HR personnel, who have responsibility for, or are involved in, the health and well-being of employees as part of their day-to-day duties. This is not a qualification for occupational health practitioners or for those who deal with specific medical aspects of health at work.
"The course really emphasises the importance of HR, occupational health and health & safety all working together to move forward and actually try and change the culture of an organisation. With health, until you can change the culture and become a more open organisation, issues such as mental health can be put to one side."
Dawn Leighton
Employer
Healthy workers are almost three times more productive. That is how valuable it can be to employ someone who has the knowledge and skills to tackle and improve health and well-being at work.
The National Health and Well-being Certificate is now used by many organisations to achieve sustainable health and well-being improvements. As well as more healthy workplaces, this qualification can also lead to more efficient workplaces.
The practical evaluation of health issues in your workplace, which is a feature of the final assessment of this qualification, will add immediate value.
Organisations may wish to use it as part of their health and well-being strategy to complement their provision of occupational health services.
---
What you will learn
What does the course cover?
The National Certificate in the Management of Health and Well-being covers best practice in management of health in the workplace. After just one week of training, students can produce a health and well-being strategy that works.
The key topics covered by the qualification are:
Identifying risks to health at work
Learning how to manage sickness absence and implement a return to work programme
Management of people with musculoskeletal disorders
Dealing with mental ill health at work
Equality Act and fitness for work
Management of substance misuse in the workplace
Management of attendance
No previous health and well-being knowledge is required. Students should note that the assessment includes a requirement to write a short report to management.
The qualification is divided into two units, each of which is assessed separately:
NHC 1: Managing health and well-being in the workplace
NHC 2: Health and well-being practical application
The syllabus is mapped to both the Health and Safety (PROHSS) units and Health Trainers. These are maintained on a database which is managed by Skills Development Scotland www.ukstandards.org.uk/Pages/Search.aspx
Further details can be found in the syllabus guide which can be downloaded from the 'Resources' section.
How is the qualification assessed?
Learners are assessed by written examination for Unit NHC1 and by practical assessment NHC2.
Unit NHC1 is assessed by a two-hour written examination. The examination consists of ten 'short-answer' questions and one 'long-answer' question. Scripts are marked by competent external examiners appointed by NEBOSH.
The aim of NHC2 is to assess a learner's ability to complete successfully a health and well-being at work review of a workplace. The learner is then required to complete a report to management regarding the review with justified recommendations.
---
Entry requirements and exemptions
Entry requirements
There are no entry requirements for this qualification, however it is important that learners have a suitable standard of English language in order to understand and articulate the concepts contained in the syllabus.
NEBOSH recommends that learners undertaking this qualification should reach a minimum standard of English equivalent to an International English Language Testing System (IELTS) score of 6.0 or higher in IELTS tests.
For further information please see the latest version of the IELTS Handbook or consult the IELTS website.
Learners wishing to assess their own language expertise may consult the FAQs on the IELTS website for information on taking the test.
Exemptions
There are no exemptions available for this qualification.
---
How to study
NEBOSH recognises that great learning experiences equip learners to make a difference to health, safety and the environment in the workplace. We are therefore committed to ensuring that our qualifications and courses offer the best learner experience by putting your needs first.
Every learner must register with a NEBOSH accredited Learning Partner and undertake the relevant learning before taking an assessment and gaining a qualification. It is not possible to self-study for a NEBOSH qualification.
Our global network of Learning Partners provide excellent learning and support to our learners and will help you prepare for your assessments. Our Learning Partner Programme is a quality assurance programme that aims to recognise those Learning Partners who can prove that they meet the principles that represent global best practice in the provision of course tuition and support. You can find further information on our Learning Partner Programme by clicking here.
The Learning Partner Programme introduces a standard that must be met by all Learning Partners and we also ask our Learning Partners to commit to continuously improving the learner experience. This will allow us to recognise our leading Learner Partners for their quality tuition, innovative delivery and excellent learner support.
You should ensure that the Learning Partner you choose offers the qualification in the way you want to study. We therefore recommend that you explore your options before selecting a Learning Partner as it is an important personal choice.
The factors you may wish to consider include:
Mode of Study – Options available include face to face, distance learning, in-company training and eLearning. Has one method of learning been more effective for you in the past?
Course Structure – If you opt for classroom training, would you prefer day or evening classes, block release or a modular course?
Location – Being able to study and sit your examinations locally may be an important consideration for you. NEBOSH examinations are taken in over 130 countries.
On-going support – Will the support provided during your course and in the run up to your assessments match your expectations?
Cost – Each Learning Partner sets their own fees to reflect the service offered. We recommend you contact a number of Learning Partners to establish what their fees are and what is included in the fee.
The Where to Study search facility can help you to shortlist Learning Partners that match your personal requirements. You can search for partners accredited to offer courses leading to specific qualifications. Location and mode of study preferences can also be factored into your search.
---
What does it cost and how long does it take?
Course fees are determined by individual learning partners and vary depending on the format of the course.
For this qualification you should plan your study around a minimum of 36 taught hours and approximately 18 hours of private study.
Further information on taught hours can be found in the syllabus located in the Resources section below.
Details of learning partners accredited to offer this qualification are available in the Where to Study section.
---
Professional Recognition and SQA accreditation
Maintaining professional standards
In the UK – and, increasingly, worldwide – regulatory accreditation is recognised as a badge of quality, allowing our qualifications to retain their highly regarded professional status.
UK accredited qualifications provide you with certain guarantees that the qualification:
Meets specific quality criteria that ensure it is fit for its purpose
Includes relevant content
Uses appropriate assessment methodology
Is mapped to relevant National Occupational Standards (NOS)
Is supported by relevant stakeholders including employers
The NEBOSH National Certificate in the Management of Health and Well-being at Work has been accredited and credit rated by the Scottish Qualifications Authority (SQA) Accreditation. It sits in the Scottish Credit and Qualifications Framework (SCQF) at SCQF Level 6 with 7 SCQF credit points.
SCQF Level 6 is comparable to RQF/CQFW Level 3 in England, Wales and Northern Ireland.
See the Qualifications Can Cross Boundaries chart issued by the UK regulators.
Where appropriate, the SQA Accreditation logo will appear on certificates awarded for this qualification. The SCQF logo, credit and level information will appear on the unit result notification. Please click here for further information on SCQF credit and levels.
Valued by Employers
NEBOSH qualifications can play an important part in ensuring that the health and safety provision businesses have in place is effective. This may explain why so many organisations choose to include NEBOSH qualifications on their competency matrices.
---
Examinations
Examination registration
Learners must be registered before they can take an examination. Your learning partner will supply you with further details regarding the registration process.
Examination entry confirmation
Once your learning partner has registered you to an examination, they will send you an Examination Entry Confirmation that includes your learner number, and important information relating to your examination and results process. Please ensure that you check your name is spelt correctly and report this to your learning partner and NEBOSH if any changes are required.
The Examination Entry Confirmation is essential to gain entry to the examination room, you will need to show a form of photographic identification to the invigilator and then sign the Examination Entry Confirmation. Please contact your learning partner if you have not received your Examination Entry Confirmation.
Examination dates
NHC1 - Invigilated paper based exams.
Exam dates will be decided and arranged by Learning Partners. Please speak to your Learning Partner for the next available date and to register.
Examination Results
All results for assessments taken in English (including those for the practical application) should be received within 50 working days from the date of the examination or submission of assignment. The specific date is written on your examination entry confirmation.
For assessments taken in any language other than English, all results (including those for the practical application) should be received within 70 working days.
Certificate-level practical assessments must normally be taken within 10 working days of a written examination, so the practical result will be included with the result for the written examination.
---
What next?
If this is your first NEBOSH Certificate-level qualification, you may be interested in taking another NEBOSH qualification, such as the NEBOSH National General Certificate in Occupational Health and Safety or NEBOSH National Certificate in Fire Safety and Risk Management.
The connections between our qualifications are illustrated in more detail in the Qualifications Progression Leaflet found in the Resources section below.
---
Resources
This section provides guidance and useful information in support of this qualification.
If you would like any further information please get in touch through our Contact Us page - our Customer Enquiry Team will be happy to help.
Syllabus Guide
This Qualification Guide contains the detailed syllabus, assessment requirements and example question papers for the NEBOSH National Certificate in the Management of Health and Well-Being at Work.
This Guide remains the copyright of NEBOSH. The information in this publication may be reproduced in support of NEBOSH qualifications. If it is reproduced, NEBOSH should be clearly acknowledged as the source. If it is to be used for any other purpose, written permission must be obtained from NEBOSH.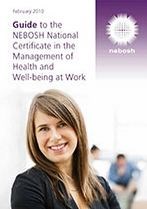 You will need Adobe Acrobat Reader to read these document - available free of charge from www.Adobe.co.uk.
If you would like any further information, please contact the Customer Services team on 0116 2634700 or email info@nebosh.org.uk
Guide to the NEBOSH National Certificate in the Management of Health and Well-Being at Work (Feb 2010 specification)
Unit NHC2: Health and Well-being Practical Application - Guidance and information for candidates
Unit NHC2: Health and Well-being Practical Application - Guidance and information for candidates
This document provides comprehensive guidance on the presentation and submission of the Unit NHC2 practical application. It includes guidance on the structure and style of the report. Candidates should study this document carefully before submitting their practical application.
The guidance should be read carefully in conjunction with the practical application mark scheme, which is attached at the end of this guidance document, to provide a clear guide to the requirements of the practical application.
NHC2 Candidate report template
Sample New-look Questions Papers
Guidance on Command Words
Download the Leaflet
Qualification Progression Leaflet
Learner Fees List
The NEBOSH Learner Fees List for 1 December 2020 onwards is available to download:
Please note that these are the fees that NEBOSH charges. Some Learning Partners may incorporate these fees within the overall fee you have paid to them.
For further information please contact your chosen Learning Partner or contact us.
Learner Terms and Conditions
Please see our Learner Terms and Conditions below.