Top tips for completing the Construction Certificate
Friday, 2 November 2018
Will Dunster, Project Engineer at British Sugar and NEBOSH's 2017/2018 Best Candidate for the National Certificate in Construction Health and Safety, provides us with his top tips for success.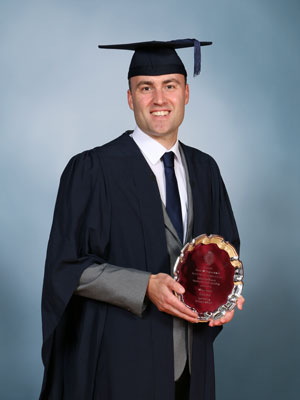 As Project Engineer, I manage the construction phase of projects from our factory capital programme. This typically includes safely managing groups of contractors to install new equipment to improve our factory operations. Examples include installation of new storage tanks, pumps, pipework, instrumentation, heat exchangers and structural steelwork just to name a few. To do this safely, it is essential that I maintain the highest level of health and safety. It is my duty to ensure that all workers return home from work to their families each day. With this level of responsibility, I wanted to advance my knowledge and after researching the options, I decided taking the NEBOSH National Certificate in Construction Health and Safety was the best choice for me.
Although the Certificate was challenging at times, it is thorough and highly informative. It has given me the confidence and knowledge to safely manage the construction operations for my projects.
The core units of the National Certificate in Construction Health and Safety are:
NGC1 Management of Health and Safety, which covers why it's essential to manage health and safety at work, your legal duties as an employee and an employer and the fundamental tools to control health and safety at work. This unit is a shared unit across many NEBOSH Certificate-level qualifications which means that you can be exempt from taking it again as long as the other units are completed within five years.
NCC1 Managing and Controlling hazards in construction activities, which provides real practical awareness of the many hazardous activities within the construction industry and what controls are available to reduce risk to an acceptable level.
NCC2 Health and safety practical application, which is a risk assessment submission highlighting risks and controls of a construction site.
I want to share with you my top tips that helped me complete the Construction Certificate and hopefully it will help you achieve your best results:
Most course providers provide options for how to study including a 2-3 week intensive course, a 16 week, day release course or e-learning. Explore the options and pick what is best suited to your learning style, family and work commitments.
Go onto the NEBOSH website before starting your studies to familiarise yourself with the resources available to help you on your NEBOSH journey.
If attending group classroom learning sessions, get to know those on your course. Sharing your personal experiences of construction safety in the workplace, and listening to real life scenarios from others helps significantly with understanding and relating your new knowledge.
During the course do not be afraid to ask questions, it's likely that the rest of the group will benefit from the clarification too.
Structure and plan your revision wisely. Finding dedicated time to revise is a challenge for us all with busy work and family lives, but creating a revision plan and keeping to it will prevent you from falling behind and causing unnecessary stress as the final exam date gets closer.
Buy a revision guide. This was a great help when revising for my exams, it provides condensed information on key subjects and because of my busy schedule this allowed me to revise on the go.
Test your understanding of each module by answering as many example questions as you can. You can find them either in your course text book or directly from the NEBOSH website.
Attempt a practise exam paper and ask your course provider to mark it. This will allow you to attempt some previous real-life questions and help familiarise yourself with the level of detail required.
The Health and Safety Executive (HSE) website has many practical guidance notes on construction safety subjects that really helped me with my understanding.
Most importantly have fun and enjoy yourself!
The NEBOSH Certificate in Construction Health and Safety is a fantastic worthwhile qualification and I would highly recommend it to anyone thinking about taking it. My eyes and ears are now wide open to all the construction hazards in the workplace and the many control measures available as a manager to reduce risks to an acceptable level.
Good luck to those doing their studies!
Will Dunster CEng MIMechE
Project Engineer
British Sugar