NEBOSH has worked with Great Britain's Health and Safety Regulator, the Health and Safety Executive (HSE) to develop a one-day health and safety qualification for senior business leaders and anyone aspiring to this role.
The NEBOSH HSE Certificate in Health and Safety Leadership Excellence is interactive and thought provoking. The course content highlights the moral, legal and financial reasons for good health and safety leadership and offers guidance on the key areas to focus on to achieve it.
---
Who is it for?
Employer
Employers will gain a number of benefits from giving their business leaders the opportunity to take this qualification, including:
Leadership that reflects the HSE's model of effective health and safety leadership,
Health and safety will be factored into business decisions in the future,
Leaders who recognise how their own behaviour's impact on health and safety culture.
Individual
This qualification is for senior business leaders or anyone who aspires to this role in the future.
It will help you become a better health and safety advocate and influencer by highlighting the key areas to focus on to make a difference.
It is relevant for all business leaders working in any sector, anywhere in the world.
"The qualification content was a good mix of health and safety 'need-to-knows' and leadership tools to both improve our culture and performance. The assessment was a good way to reflect on the day and develop ideas which leaders can now use in their daily work." Tom Wike, Health & Safety Adviser, The FA
---
What you will learn
What does the course cover?
The NEBOSH HSE Certificate in Health and Safety Leadership Excellence has been designed to help you become a better influencer of health and safety in your business. The course content covers the following topics:
What health and safety leadership means,
The moral, legal and financial reasons for good health and safety leadership,
The links between health and safety leadership and culture,
What the different leadership styles are,
How human failures can impact performance and culture,
The HSE's model of effective health and safety leadership,
How leaders can build effective relationships with the workforce.
How is the qualification assessed?
The assessment will be in the form of reflective statements undertaken throughout the course.
These show how the learner's knowledge, skill and behaviours may have both positive and negative effects on health and safety performance in their organisation.
Learners will also need to make a commitment to a leadership intervention that will improve health and safety management within their sphere of influence at work.
---
Entry requirements and exemptions
Entry requirements
There are no specific entry requirements but it is important that learners have a suitable standard of English language in order to understand and articulate the concepts contained in the syllabus.
NEBOSH recommends that learners undertaking this qualification should reach a minimum standard of English equivalent to an International English Language Testing System (IELTS) score of 6.0 or higher in IELTS tests.
For further information please consult the IELTS website.

A chart mapping IELTS scores to the Common European Framework for Languages (CEFR) can be found on the British Council and IELTS websites:
Exemptions
No exemptions are allowed for Unit HSL.
---
Where to study
Choosing a Learning Partner
Every learner must register with a NEBOSH accredited Learning Partner and undertake the relevant learning before taking an assessment and gaining a qualification. It is not possible to self-study for a NEBOSH qualification.
Our global network of Learning Partners provide excellent learning and support and will help you prepare for your assessments. You can search for Learning Partners in our Where to Study section, and can filter the results by multiple factors, such as location and mode of study.
You should ensure that the Learning Partner you choose offers the qualification in the way you want to study. We recommend that you explore your options before selecting a Learning Partner as it is an important personal choice.
The factors you may wish to consider include:
Mode of Study – Options available include face to face, distance learning, in-company training and eLearning. Has one method of learning been more effective for you in the past?
Course Structure – If you opt for classroom training, would you prefer day or evening classes, block release or a modular course?
Location – Being able to study and sit your examinations locally may be an important consideration for you. NEBOSH examinations are taken in over 130 countries.
On-going support – Will the support provided during your course and in the run up to your assessments match your expectations?
Cost
Each Learning Partner sets their own fees to reflect the service offered. We recommend you contact a number of Learning Partners to establish what their fees are and what is included in the fee. Costs can vary depending on the mode of study, the level of support given, and the inclusion of examination registration fees, for example.
Read more about our Learning Partner Programme and how to choose the right Learning Partner for you: Choosing a NEBOSH Learning Partner.
---
What does it cost and how long does it take?
You should plan your study around a minimum of 7 taught hours and approximately 3 hours of private study.
Course fees are determined by individual Learning Partners and vary depending on the format of the course.
---
Professional recognition and SQA accreditation
Maintaining professional standards
In the UK – and, increasingly, worldwide – regulatory accreditation is recognised as a badge of quality, allowing our qualifications to retain their highly regarded professional status.
UK accredited qualifications provide you with certain guarantees that the qualification:
Meets specific quality criteria that ensure it is fit for its purpose
Includes relevant content
Uses appropriate assessment methodology
Is mapped to relevant National Occupational Standards (NOS)
Is supported by relevant stakeholders including employers
The NEBOSH HSE Certificate in Health and Safety Leadership Excellence is not currently accredited by the SQA, however it is intended to be broadly comparable to Level 6 in the Scottish Credit and Qualifications Framework (SCQF), comparable to RQF/CQFW Level 3 in England, Wales and Northern Ireland.
See the
Qualifications Can Cross Boundaries
chart issued by the UK regulators.
Valued by Employers
NEBOSH qualifications can play an important part in ensuring that the health and safety provision businesses have in place is effective. This may explain why so many organisations choose to include NEBOSH qualifications on their competency matrices.
---
Examinations
Examination registration
Learners must be registered before they can take an examination. All examination registrations must be completed by an accredited learning partner.
Examination dates
All examinations are held on a date chosen by your learning partner. You should contact them for more information.
Examination results
You will receive your results within 24 working days of sitting the examination. Once you have achieved a pass a qualification parchment will be issued. This is normally within 20 working days of the confirmation of the successful unit.
---
What next?
If this is your first NEBOSH Certificate-level qualification, you may be interested in taking another NEBOSH Certificate qualification, such as the NEBOSH National General Certificate in Occupational Health and Safety or the NEBOSH Certificate in Fire Safety. View all NEBOSH Qualifications.
The connections between our qualifications are illustrated in our qualification progression leaflet in the resources below.
---
Resources
This section provides guidance and useful information in support of this qualification.
If you would like any further information please get in touch through our Contact Us page - our Customer Enquiry Team will be happy to help.
Syllabus Guide
This Qualification Guide contains the detailed syllabus, assessment requirements and example question papers for the NEBOSH HSE Certificate in Health and Safety Leadership Excellence.
This Guide remains the copyright of NEBOSH. The information in this publication may be reproduced in support of NEBOSH qualifications. If it is reproduced, NEBOSH should be clearly acknowledged as the source. If it is to be used for any other purpose, written permission must be obtained from NEBOSH.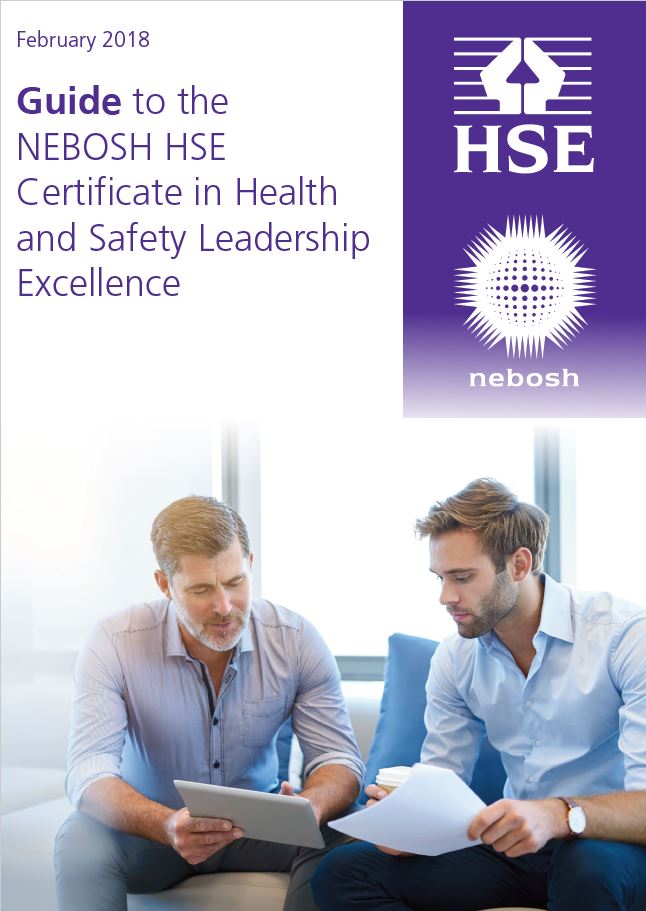 You will need Adobe Acrobat Reader to read this document - available free of charge from www.Adobe.co.uk.
If you would like any further information, please contact the Customer Services team on 0116 2634700 or email info@nebosh.org.uk
NEBOSH HSE Certificate in Health and Safety Leadership Excellence Syllabus Guide
Download the Leaflet
Health and Safety Leadership Excellence Course Book

Health and Safety Leadership Excellence follows the syllabus for the Health and Safety Leadership Excellence qualification. It provides the knowledge you need to help you gain the qualification.
See extract (Edition 1 - July 2018)
The book contains practical activities and examples/case studies and gives definitions for key terminology. It can be used as part of your studies during a taught course or as a study aid for e-learning and distance learning.

Health and Safety Leadership Excellence should help health and safety leaders understand their responsibilities (moral, legal and financial) and their leadership style, as well as giving pointers on building relationships with the workforce. NEBOSH hopes the book will also become a valuable reference source once the leader is back in the workplace.
Unit HSL1: Health and Safety Leadership
Qualification Progression Leaflet
Learner Terms and Conditions
Please see our Learner Terms and Conditions below.
Learner Fees List
The NEBOSH Learner Fees List is available to download:
Please note that these are the fees that NEBOSH charges. Some Learning Partners may incorporate these fees within the overall fee you have paid to them.
For further information please contact your chosen Learning Partner or contact us.