Knowing is not enough
Case Study: Herminder Singh Mandare
"Knowing is not enough; we must apply. Willing is not enough; we must do." Johann Wolfgang von Goethe, Philosopher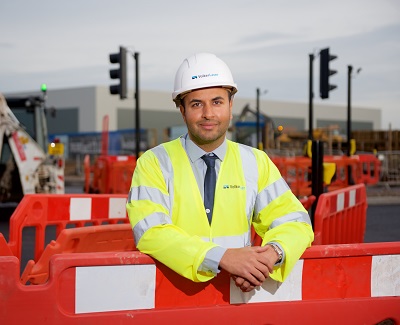 Goethe's words will certainly resonate with many health and safety professionals. Having a strong will and the know-how to save lives and protect people are, of course, hugely important, but they're not enough. We all have to get out there, do the job and apply the things we've learned.
For Herminder Singh Mandare, who has his sights firmly set on a life-long career in health and safety, "applying and doing" has become his mantra. Herminder has a legal background and his initial plan, before he discovered a passion for construction safety, was to go into construction law. His background meant he had a general understanding of rules and regulations; but Herminder recognised gaining safety specific qualifications and construction experience were going to be key if he was to achieve his ambition.
He has already been studying hard. He holds a series of NEBOSH qualifications, including the NEBOSH National General, Construction, Fire, Well-being, HSE Process Safety and HSE Leadership Excellence Certificates, and has now moved on to the NEBOSH Diploma, Oil and Gas Certificate, International General Certificate and Environmental Diploma.
Herminder is combining his studies with construction site experience to ensure he knows how everything works practically. At the present time, Herminder is a construction worker with multi-functional contractor VolkerLaser, part of VolkerWessels UK, whose services include waterproofing, strengthening, repair services, expansion joint and bridge bearing replacement. He sees it as a "terrific learning environment."
"I don't see my current role as an obstacle to a career in safety," said Herminder. "It's the opposite in fact. Combined with my experience and studies it is really helping me understand safety from the workers' point-of-view. It is important, because a critical part of health and safety is understanding how to engage and shape the culture you are working with.
"My on-site experience helps me understand the challenges and needs faced by the operational colleagues I have worked alongside. This empathy will stay with me forever and will help me to develop safety solutions that are practical, reflect the working environment and are therefore more likely to be adopted by the workforce. I believe this is a crucial stage in my development."
It's also why Herminder is a big advocate of the practical element of NEBOSH qualifications. "It's vital to take that learning and then be assessed around its application," he told us. "NEBOSH not only gives you great knowledge but helps massively when it comes to putting things into action. It's why I'm so enthusiastic about continuing my studies to be honest and taking things to the next level."
Herminder's next step, gaining a NEBOSH Diploma, with his "ultimate aim" in mind - achieving Chartered status. However, his studies have taught him something else: "What I have discovered about myself is that I just really love learning. Continually learning, wanting to know stuff, constantly progressing to gain more and more skills. Thanks to NEBOSH, I now feel like I can carry on learning and in health and safety it will never really end."
How has your NEBOSH qualification helped you? Email us with your story: marketing@nebosh.org.uk.