'For employability status, NEBOSH is king'
Case Study: Karl Lancaster - CBRE Global Workplace Solutions
"Sometimes I don't want to answer my phone, because I know it's going to be about another job vacancy." says Karl Lancaster, laughing. "Now how many people can say that?" he adds.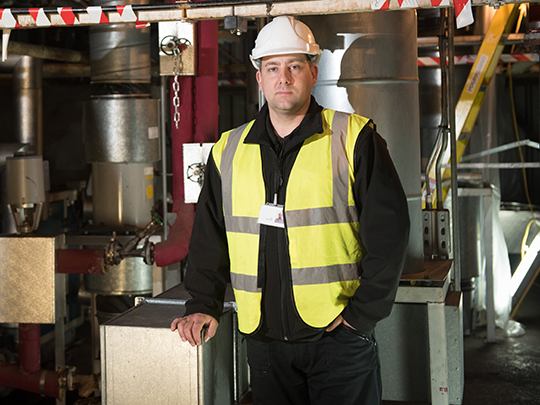 Karl is a a highly energetic, driven and hard working health and safety professional who loves health and safety. For him, life is all about interacting with people and solving problems, so he sees it as his perfect role. His passion for health and safety also relates back to very personal circumstances involving his family. Karl's father was injured at work many years ago - an incident which has affected his mobility long-term.
"My kids, his grandchildren, are now at that age where they want to play a bit of football or whatever and bless him the old fella can't go and kick the ball with them. He's still in pain, and sadly I've seen first hand the long-term impact a workplace accident can have."
It was this incident that inspired Karl to become a union safety representative when working for Royal Mail. In his day-to-day role there in the sorting office he discovered an interest in processes and systems. At the same time he expanded his safety knowledge through training courses with his union. Ultimately, the health and safety side of things became like a full-time role for Karl and he began to realise this was the direction he wanted to take his career.
Fast forward around eleven years to the present and Karl is now a EMEA QHSE Manager at CBRE Global Workplace Solutions which supports occupier clients of all sizes through facilities management, project management and transaction services. He speaks very highly of his employers, who provide him with the flexibility he needs for family-life. Karl has four lively young children, one of whom has Down's syndrome. He and his wife share childcare responsibilities. He's a family man who shows considerable dedication both at home and at work.
Karl is currently working on a transition for CBRE for a new large account and has responsibility for all aspects of account based QHSE. For Karl, health and safety means setting realistic goals and adopting the right soft skills in order to influence colleagues at all levels. He holds Grad IOSH status and is a fully rounded health and safety professional.
The most significant change in his career, according to Karl, was when he took his NEBOSH General Certificate in Occupational Health and Safety back in 2008. Before then he had gained a fair amount of experience through his union involvement, but he knew that for a full-time career in health and safety he would need formal qualifications
"For employability status, NEBOSH is king! I've benefited from that, moving up in my career with each qualification I've taken," said Karl, who not only holds a NEBOSH National General Certificate, but also a NEBOSH National Certificate in Fire Safety and Risk Management and a NEBOSH National Diploma in Occupational Health and Safety. "NEBOSH helps with your career, because the knowledge and understanding it gives you is second to none, and everyone knows that."
Living in Slough places Karl within close commuting distance of London, where there are a significant number of health and safety job opportunities. He says he often ignores his phone to avoid a wave of calls from employment agencies and head-hunters.
"I'm very content at CBRE Global Workplace Solutions, but I have to say all the role offers do give you a sense of security. They stem from the NEBOSH qualifications and professional status. People pick up on you from the likes of Linkedin and it's constant. I get several emails and calls each week."
Karl's is now working towards Chartered Membership of IOSH. "When I get that, my phone is getting switched off!"
How has your NEBOSH qualification helped you? Email us with your story: marketing@nebosh.org.uk.