Collaborate. Educate. Save lives.
NEBOSH endorses competency based, internal learning that contributes to a healthier and safer workplace.
When training doesn't work, learning doesn't happen. People feel less motivated, uninspired and as a result, nothing changes.
When health and safety training doesn't work, it's even worse. People get ill, injured and may even lose their lives. And as an employer you are responsible for that. Your reputation is at stake.
Working alongside you, we can ensure the training you deliver positively impacts on health and safety performance. Not only will we help you measure outcomes, but your internal training will carry our brand, a brand recognised worldwide.
If you are interested in NEBOSH Endorsed please contact us by completing the short form, and a member of the NEBOSH team will be in touch to discuss your requirements: Contact us.
Benefits of having your training program NEBOSH Endorsed?
Ensure your training delivers behavioural and organisational performance improvements
Deliver effective learning in the flow of work
Enhance your reputation
Demonstrate your commitment to health and safety, training, your employees, your stakeholders, and your customers.
Digital certification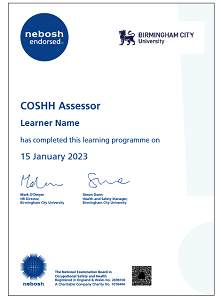 Digital certification offers a variety of benefits that can streamline the certification process. With this approach, employees can access their certificates conveniently and effortlessly, eliminating the need for manual distribution.
It can also help promote your brand as employees can easily share their certificates on social media platforms, showcasing your organisation's commitment to safety and training excellence. This can lead to increased visibility and credibility, positioning your organisation as an industry leader and driving more business opportunities.
What our clients have to say:
"The three new NEBOSH Endorsed courses now link back to the wider vision of dynamic and sensible risk management and ownership. The guidance I received from NEBOSH was that the training had to be part of the bigger picture, linking it to the wider university strategy and brand. I found that invaluable."
Simon Dunn, Health and Safety Manager, Birmingham City University