The NEBOSH Environmental Awareness at Work Qualification provides a useful introduction to environmental issues at work. It highlights the role workers can play in improving organisational environmental performance and will aid understanding of environmental impacts and risk control. It meets the training requirement for organisations implementing ISO 14001.
It is accessible to all. No prior knowledge is required and the content is relevant wherever you work around the world. There is also the option to add content relevant to the environmental impacts and issues faced by a company or sector.
The qualification is an ideal first step towards progressing to the NEBOSH Certificate in Environmental Management, which provides a more extensive and practical understanding of environmental management in the workplace.
Our qualifications are developed based on extensive research with health and safety professionals, employers, professional bodies and regulators to ensure that they remain relevant, rigorous as well as achievable and practical.
You will be assessed on your ability to apply your skills and knowledge to a wide range of issues and how to deliver positive change to a real workplace.
The Environmental Awareness at Work course book has been created by NEBOSH to support the NEBOSH Environmental Awareness at Work Qualification. You can purchase the book via our shop: Environmental Awareness at Work. Learners studying for this qualification may be provided with a copy of this book by their Learning Partner.
---
Who is it for?
Individual
This qualification is for anyone who needs to gain a basic understanding of environmental impacts and risk control. It provides an introduction to implementing ISO 14001.
It is an environmental qualification for learners with no prior knowledge of the subject required.
The qualification has global relevance and covers the principles of environmental management, not UK specific law. It may be particularly relevant for:
Team leaders and supervisors
Facilities managers
Anyone wishing to ensure they work positively with regard to the environment.
"It's an ideal first step. I think it's given everyone a good understanding of how everything fits together, and you can easily relate the program content to your role. It certainly improves general awareness and can be taken by employees at all levels."
Anna Ollier, Food Safety Manager, Cargill (Formerly ADM Cocoa UK )
Employer
This qualification gives you the opportunity to improve your workforce's understanding of environmental management.
By raising awareness of common environmental impacts and highlighting ways to control them, you can improve the environmental culture and performance of your organisation. Your workers should be more conscious of the impact they have on the environment at work as a result, and will be able to apply what they have learned as soon as the course is completed.
The qualification can also be tailored to the needs of your organisation. It is possible to add content to cover issues faced in your industry or sector. You can work with an established course provider to add to the content that is specified in the syllabus. Alternatively you may wish to explore the possibility of your organisation achieving accreditation to deliver this qualification.
It is an environmental qualification for students with no prior knowledge of the subject required.
The qualification, which has global relevance covers the principles of environmental management, not UK specific law. It may be particularly relevant for:
Team leaders and supervisors
Facilities managers
Your team!
Importantly, this qualification will provide your workers with awareness of your organisation's significant environmental aspects which is a requirement for organisations implementing and maintaining the international environmental management standard ISO 14001:2015.
"The idea behind the Environmental Awareness at Work Qualification was to get employees to understand how their job impacts energy usage, our packaging materials waste and so on at the facility. We've immediately seen that our employees are being more proactive. They're also coming forward with ideas of their own. Altogether, it's proving very positive and given everyone a more structured approach."
Greg McCannon, HS&E Coordinator, ADM Cocoa UK
---
What you will learn
What does the course cover?
Normally one day in length, the course covers basic environmental awareness and practices essential in the workplace. Topics include:
The meanings of basic environmental terms
Importance and benefits of sustainable development
The individual's role in a certified Environmental Management System (EMS)
Air, water and land pollution
Dealing with emergencies
The syllabus is mapped to the environmental awareness and management published by Lantra.
Further details can be found in the syllabus guide which can be found in the 'Resources' section below.
How is the qualification assessed?
Learners are assessed by a multiple choice question assessment. The assessment can be completed online.
Read more about online multiple choice question assessments: Online Multiple Choice.
Learners need to be proficient in the language in which they study and complete their assessments.
A qualification parchment will be sent following successful completion of the examination.
---
Entry requirements and exemptions
Entry requirements
There are no formal entry requirements for this qualification, however, it is important that learners are able to understand and articulate the concepts contained in the syllabus in the language that the course delivery and assessment will be completed in.
NEBOSH recommends that learners undertaking this qualification in English should reach a minimum standard of English equivalent to an International English Language Testing System (IELTS) score of 5.0 or higher in IELTS tests.
For further information please consult the IELTS website.
A chart mapping IELTS scores to the Common European Framework for Languages (CEFR) can be found on the British Council and IELTS websites:
Exemptions
There are no exemptions available for this qualification.
---
How to study
Choosing a Learning Partner
Every learner must register with a NEBOSH accredited Learning Partner and undertake the relevant learning before taking an assessment and gaining a qualification. It is not possible to self-study for a NEBOSH qualification.
Our global network of Learning Partners provide excellent learning and support and will help you prepare for your assessments. You can search for Learning Partners in our Where to Study section, and can filter the results by multiple factors, such as location and mode of study.
You should ensure that the Learning Partner you choose offers the qualification in the way you want to study. We recommend that you explore your options before selecting a Learning Partner as it is an important personal choice.
The factors you may wish to consider include:
Mode of Study – Options available include face to face, distance learning, in-company training and eLearning. Has one method of learning been more effective for you in the past?
Course Structure – If you opt for classroom training, would you prefer day or evening classes, block release or a modular course?
Location – Being able to study and sit your examinations locally may be an important consideration for you. NEBOSH examinations are taken in over 130 countries.
On-going support – Will the support provided during your course and in the run up to your assessments match your expectations?
Cost
Each Learning Partner sets their own fees to reflect the service offered. We recommend you contact a number of Learning Partners to establish what their fees are and what is included in the fee. Costs can vary depending on the mode of study, the level of support given, and the inclusion of examination registration fees, for example.
Read more about our Learning Partner Programme and how to choose the right Learning Partner for you: Choosing a NEBOSH Learning Partner.
---
What does it cost and how long does it take?
Course fees are determined by individual learning partners and vary depending on the format of the course.
The required teaching time for this qualification is 6 hours and approximately 1 hour of assessment preparation and assessment time. It is recommended that you also complete 3 hours pre-course reading.
It is therefore anticipated that the course can be taught in one day with the 30 minute multiple-choice examination taken at the end of the day.
Details of learning partners accredited to offer this qualification are available in the Where to Study section.
---
Professional recognition and SQA accreditation
Maintaining professional standards
In the UK – and, increasingly, worldwide – regulatory accreditation is recognised as a badge of quality, allowing our qualifications to retain their highly regarded professional status.
UK accredited qualifications provide you with certain guarantees that the qualification:
Meets specific quality criteria that ensure it is fit for its purpose
Includes relevant content
Uses appropriate assessment methodology
Is mapped to relevant National Occupational Standards (NOS)
Is supported by relevant stakeholders including employers
The NEBOSH Environmental Awareness at Work Qualification has been accredited and credit rated by the Scottish Qualifications Authority (SQA) Accreditation. It sits in the Scottish Credit and Qualifications Framework (SCQF) at SCQF Level 5 with 1 SCQF credit point.
SCQF Level 5 is comparable to RQF/CQFW Level 2 in England, Wales and Northern Ireland.
See the Qualifications Can Cross Boundaries chart issued by the UK regulators.
For UK learners, the SQA Accreditation logo will appear on certificates awarded for this qualification. The SCQF logo, credit and level information will appear on the result transcript. Please click here for further information on SCQF credit and levels.
Valued by Employers
NEBOSH qualifications can play an important part in ensuring that the health and safety provision businesses have in place is effective. This may explain why so many organisations choose to include NEBOSH qualifications on their competency matrices.
---
Examinations
Examination registration
Learners must be registered before they can take an examination. All examination registrations must be completed by an accredited learning partner.
Examination entry confirmation
Once your learning partner has registered you to an examination, they will send you an Examination Entry Confirmation that includes your learner number, and important information relating to your examination and results process. Please ensure that you check your name is spelt correctly and report this to your learning partner and NEBOSH if any changes are required.
The Examination Entry Confirmation is essential to gain entry to the examination room, you will need to show a form of photographic identification to the invigilator and then sign the Examination Entry Confirmation. Please contact your learning partner if you have not received your Examination Entry Confirmation.
Examination dates
EAW1 - multiple-choice question assessment.
This assessment is now be completed online, see Multiple Choice Question Assessments page for more information and available assessment dates.
Examination results
You will receive your results within 15 working days of sitting the examination. Once you have achieved a pass a qualification parchment will be issued. This is normally within 20 working days of the confirmation of the successful unit.
---
What next?
The qualification provides a basic introduction to environmental management at work. If you want to progress after completing it, a further option would be the:
This qualification provides a more extensive and practical understanding of environmental management in the workplace.
Alternatively, if you want to gain a basic understanding of health and safety issues to complement the knowledge obtained from this qualification another option would be the:
The connections between our qualifications are illustrated in more detail in the Qualifications Progression Leaflet found in the Resources section below.
---
Resources
This section provides guidance and useful information in support of this qualification.
If you would like any further information please get in touch through our Contact Us page - our Customer Enquiry Team will be happy to help.
Syllabus Guide
This Qualification Guide contains the detailed syllabus, assessment requirements and example question papers for the NEBOSH Environmental Awareness at Work Qualification.
This Guide remains the copyright of NEBOSH. The information in this publication may be reproduced in support of NEBOSH qualifications. If it is reproduced, NEBOSH should be clearly acknowledged as the source. If it is to be used for any other purpose, written permission must be obtained from NEBOSH.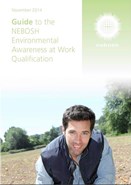 You will need Adobe Acrobat Reader to read this document - available free of charge from www.Adobe.co.uk.
If you would like any further information, please contact the Customer Services team on 0116 2634700 or email info@nebosh.org.uk
NEBOSH Environmental Awareness at Work Qualification Guide (November 2014 Specification)
Download the Leaflet
NEBOSH Environmental Awareness at Work Course Book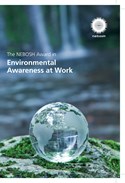 NEBOSH Environmental Awareness at Work Course Book
The course book has been designed as a study aid for students undertaking the Environmental Awareness at Work Qualification. Matched to the syllabus and written in simple English, each chapter is supported by sample questions and activities.
Copies of the book can be purchased from our shop for £17, and a 15% discount will be applied to orders for 20 or more.
Key Features
Includes what you need to know to achieve this qualification
Each syllabus element is covered in one dedicated chapter
Sample questions and activities
Produced by NEBOSH
Contents
Foundations of environmental awareness
The meaning of environment, habitats, ecosystems, pollution and sustainability
The importance and benefits of sustainable development
Environmental Management Systems (EMS)
Pollution, impact assessments and emergencies
Principles and practice of impact (risk) assessments
The main sources, types, controls and impacts of air pollution
The main sources, controls and impacts of water pollution
The main sources, controls and impacts of environmental noise
Types of waste
Waste management
Dealing with environmental emergencies
Qualification Progression Leaflet
---
---