When You Discover Your Favourite Chocolate in the Box
Case Study: David Fitz-Patrick - Thorntons
For some people, finding the right job can be a bit like munching through a box of chocolates. Some you will like more than others. And then eventually, with a bit of luck, you come across one that's just right for you.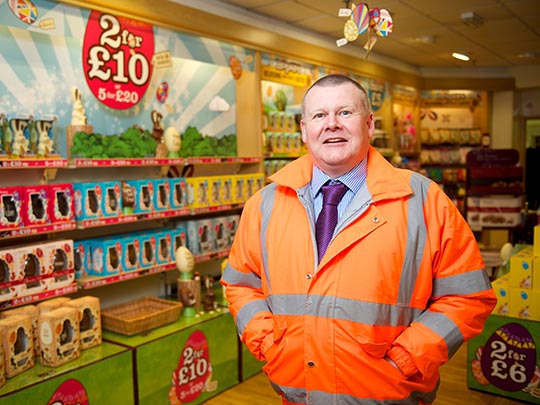 David Fitz-Patrick's career has been a bit like that. He has tried quite a few different jobs, been happy in some and less so in others. But now he has found one that is the perfect blend of everything he really enjoys - a job in Health, Safety and Fire Risk Management.
Rather appropriately, David, 53, works at renowned chocolate makers Thorntons at their large factory in Alfreton, Derbyshire. He has been there for 21 years and worked in almost every position imaginable. During his time on the shop floor at Thorntons he was also a Safety Rep. However, this was not the first time he developed skills that would assist him into his career in health and safety.
David also served in the Army. He was full-time in the beginning when he left school, and later as a reserve he served in Iraq. He is proud of his time in the military and keeps in touch with former colleagues, several of whom have also later found a career in health and safety.
However, most of David's working life has been spent at Thorntons, which he says has always been a good place to work and where he has always been "well looked after".
Around four years ago, the safety team at the Thorntons factory found itself a little short-staffed. Because of David's broad knowledge of operations there, and his experience as a Safety Rep, they asked him to fill in. At the same time, David took his NEBOSH National General Certificate in Occupational Safety and Health. He enjoys studying, having previously completed a legal qualification as well as several others in his time. These include a Level 4 Diploma Award in Management and Leadership and a Certificate in Teaching in the Lifelong Learning Sector. He also holds the Institute of Leadership & Management qualification Level 5 Certificate in Coaching & Mentoring in Management.
On passing his NEBOSH National General Certificate, David was offered his current role at Thorntons as Safety, Health & Environment (SHE) Officer.
He really loves his job and enjoys it even more since passing his NEBOSH Certificate in Fire Safety and Risk Management. Doing this within 5 years meant that David didn't need to sit the first part of the exam (NGC1) because several NEBOSH Certificate level qualifications have common units. He looks after all aspects of fire safety at the factory now.
David now feels that everything he has learned and the skills he has developed over time have all come together for his current role at Thorntons. The 'getting things done' discipline he learnt in the Army comes into its own when procedures and processes need to be implemented. His teaching qualification has also helped when it comes to training, a key aspect of health and safety in any organisation.
He adds that the missing element in his job title, the 'E' in 'SHE' for environment, is now being filled in through further NEBOSH studies. David has just passed his NEBOSH Award in Environmental Awareness at Work and is planning to take his NEBOSH Environmental Certificate in the near future.
Good luck with that, and in your future career David. We're delighted you found your 'Strawberry Dream' (or is it the 'Viennese Truffle?').
---