Blog: Interview with NEBOSH Alumnus, Jacques Krog
Thursday, 19 March 2020
As part of NEBOSH's Do Something Great careers campaign, we asked a series of successful health and safety professionals to tell us about their careers and companies.
Jacques Krog, a NEBOSH Diploma holder, Champion and Alumni member from South Africa, shares his experience...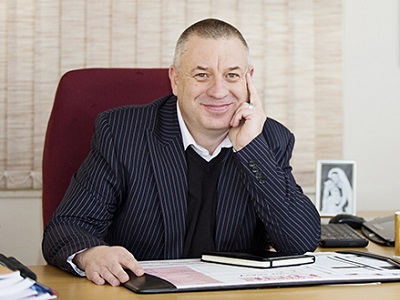 Can you first tell us a little about your current job?
I'm Group Safety, Health, Environmental and Quality Manager at Refraline, a specialist refractory and corrosion company. We're based in South Africa but are also involved in projects in Africa, Israel, Malaysia and South America – there's a lot of travel for our people.
I've been here for 6 years and am responsible for the health and safety of approximately 400 employees who are working in various companies – including 4 manufacturing/installation businesses. I obviously don't do this alone; I'm supported by a team of 20 health and safety professionals and safety representatives
How did you start out in a health and safety career?
I started in health and safety 25 years ago, first working as a paramedic. I then moved into quality – the focus in South Africa then was more on quality. But as legislation grew so did the importance of health and safety and so I moved in that direction.
It was while I was working in an early role that I noticed a lot of avoidable accidents taking place. I thought 'I need to do something about this'. That's when I decided this was the career for me. I don't think that's unusual; most health and safety people have a different outlook from everyone else; they have a passion – it's almost a calling.
What's it like working in health and safety in South Africa?
Lots of people here may see it as a soft option - a cushy admin job, an easy way to climb the corporate ladder. It really isn't. You need to be prepared to constantly develop and refresh your skills and knowledge – and stay abreast of world developments. It's a big responsibility. Peoples' lives and well-being depend on you. You can't take a qualification and then rest on your laurels for five years. Things change so fast and you need to keep up.
For instance, I started out first with a basic certificate course, I then got lots of experience in different roles, taking a myriad of other short courses along the way. I then wanted a qualification that was recognised internationally so I took the NEBOSH Diplomas both in Environmental Management and in Occupational Health and Safety. But there's always more to know. I've taken courses in things such as legal compliance, ergonomic assessments and management. This career is a lifelong commitment to learning and that's what makes it so interesting.
It's no different for those in my team. In fact, all our health and safety team do at least one course per year. That's why we partner a lot with NEBOSH.
Your job title and role extends beyond health and safety to include environment and quality, why is that?
In South Africa companies tend to lump together quality, health, safety and environment. It's easy to see why; they're often closely connected and they're all risk based. Companies the world over are moving away from strictly defined roles and are looking at business in terms of total risk – and managing that risk. That's why people looking for a career in health and safety need to be prepared to also think about quality, risk and environmental management.
It sounds like a fascinating and varied role. Is it a career you'd recommend to young people?
Well, put it this way, my daughter came to me saying 'Dad what should I do as a career?'. I said, 'Do you want just a job or to do something that's going to change the world?'. She wanted the latter, so she's now studying environmental management through NEBOSH; she's done the certificate and is now on the Diploma.
HSEQ is one of those jobs where you know you are making a difference; if you do it well you are adding a lot of value, which is fantastic. And it's never dull - it involves so many things such as law, finance, psychology, organisational structure, health and engineering . You also need to stay abreast of world developments. For instance, my team has had to work at the cutting edge of the Coronavirus outbreak, thinking about how it affects our people, their wellbeing, ways of working, travel and the impact on the business.
In addition to it being varied, interesting and very rewarding, you will always find a job – after all any company has people, and any company affects the environment, so there's always work to be done. But as I said before, health and safety has got to be a passion – and a lifelong one. I eat, sleep, walk and talk it! When I hire people, I look for the passion; we can train people, we can send them on courses, but you can't teach passion.
What are the health and safety career opportunities like at Refraline?
I have 15 health and safety professionals in my team and recruit one intern every year. We are also looking to take on more women as greater diversity brings advantages in terms of different views, experiences and skills.
To become a safety officer in the South African construction sector you must be registered, and to register you need to have completed some basic safety courses and then get five years of work experience. After this it's a combination of training and experience on the job which will see you rise through the ranks.
Refraline has safety officers for each site, people who co-ordinate these officers in each company and a manager who oversees the co-ordinators. All of them report to me and we put a huge emphasis on training - five people are taking the NEBOSH Certificate at the moment.
To be honest, there's no shortcut to the top. It's important to go through all of these steps – starting out as a safety officer, or even a safety representative, and then progressing up. To be good at health and safety it's important to be able to identify with and talk to all workers as well as be able to deal with the senior team.
---
This blog is part of our Do Something Great: Your Health and Safety Career series. Find out more about the campaign and download your free career guide today.