Blog: Could health and safety be your passport to international success?
Thursday, 18 June 2020
Mazhar Hussain is Health, Safety & Environment Officer at DP World, a major company in the seaport industry in Dubai. He outlines why he chose a health and safety career and how he got to where he is today.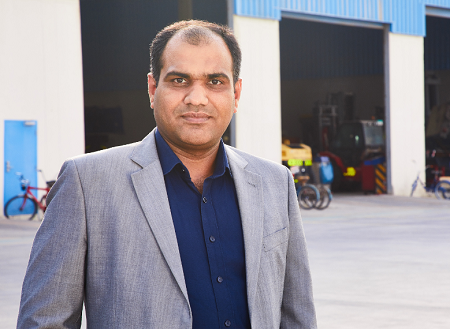 Choosing a career in health and safety
My involvement in health and safety began a number of years ago while I was working for the emergency services in Pakistan. This involved community awareness & training, dealing with many types of emergencies and disasters – major road traffic incidents, floods, earthquakes, medical emergencies – you name it!
This gave me an incredible breadth of experience but, more profoundly, it highlighted that my driving passion is to save peoples' lives.
So, I decided to pursue a health and safety career, but I also wanted to work in the United Arab Emirates (UAE). On the Health & Safety qualification front, that meant first taking the NEBOSH International General Certificate in Occupational Health and Safety (IGC).
How I got my role in the UAE
Even though I had the qualification, some highly relevant experience from my job in Pakistan, and had done a lot of research and preparation, it was not an easy task searching for my first job in the Middle East.
In fact, once I'd completed very thorough desk research into type of industries where there might be health and safety opportunities, I decided to move to the Middle East for 90 days. I felt it would be better to be based there when job hunting.
Once there, I enrolled with well-known online job sites and responded to all of the relevant job notifications. I regularly checked and applied to job ads in newspapers, I contacted third party hiring consultants, attended walk in-interviews and distributed my CV (resume). I even spoke to other people who were also attending interviews to get their advice and experience.
When applying for roles, I researched companies thoroughly online, continuously updating my resume so that it mentioned any information required by a potential employer.
I didn't simply rely on applying for jobs which were advertised. I knew the industries and the list of companies who could possibly hire me, their location, where their health and safety department's based, and the contact numbers. I contacted them, where possible visiting them personally to drop in my CV and speak with the relevant person.
During the day I was making visits, at night I was researching online and planning for the next day. I also attended relevant workshops and seminars to improve my networking, connected with people on LinkedIn and had discussions with health and safety professionals already working in Middle East.
Doing so much activity meant I had to keep great records of my applications, but more than this, I followed-up with people. I always feel you can't rely on others to bring things to you - you've got to be proactive – and that's certainly the case when trying to get your first break.
While doing this, I also enhanced my knowledge by learning about Middle East health and safety rules and regulations and taking local courses to further improve my employability.
It was a lot of work, but every day I spent looking for that first job, was a learning opportunity. I gained more insights into what companies were looking for, so day by day I improved in job interviews.
Soon I was called for an interview for a construction site. Here I demonstrated my international and local health and safety knowledge, and, after a successful interview, I got my first health and safety job.
Benefits of the health and safety profession
Today I'm working for DP World, a fantastic global company in a profession which is growing. There are more opportunities and greater scope for advancement than many other careers. For instance, if you think about a construction site, each person working there is specialised and responsible for their particular field such as electrics, civil engineering and so forth. However, a health and safety professional looks after all types of hazards and areas; they work across multiple disciplines and have the opportunity to collaborate with many other professionals.
In my current role at DP World, I've done everything from investigating incidents, devising and implementing emergency procedures, delivering health and safety awareness training and campaigns through to identifying hazards, evaluating risk, conducting audits, and getting involved in vessel operation.
In my experience, to be effective in health and safety, you need to focus on peoples' behaviour. You need to encourage them understand the value of life, why health and safety is important, and their role in the company's overall health and safety. If you get people to 'buy into it' like this, they start reporting unsafe things and coming up with ways to correct them. It's tremendously exciting and rewarding when that starts to happen.
Health and safety has given me the opportunity to move from Pakistan to the UAE, but whenever I travel I try to take the opportunity to learn. For example, while visiting Canada I completed both a Health and Safety in Construction and HSE Committee member course.
But it's not just the international opportunities, the variety and the sense of achievement which make health and safety so attractive – it's financially rewarding too.
However, you've got to be prepared to work hard to enjoy these benefits. The learning never stops; I followed up my initial NEBOSH General Certificate with the NEBOSH International Diploma.
In addition, I've completed many other further qualifications and courses – everything from fire rescue, work cage safety, hazardous materials and waste operations and emergency response, through to incident investigation, risk assessment and collapsed structure search and rehabilitation. I've also had to keep ahead of local and international rules and regulations.
My words of advice
If a young person in Pakistan was keen to follow my path with a career in health and safety in the Middle East, I would definitely advise them to go for it. Take an appropriate qualification, such as the NEBOSH IGC to start with. Do masses of research and be prepared to be incredibly tenacious to get that first job. Just focus on starting your career; even if the role is a junior one it will be a start. Get all the required qualifications for that country, gain experience, and enhance your skills in areas such as language, communication and dealing with multi-national workforces. Join professional bodies, network and always be on the lookout for next level of your career.
Think of it like a wall that you've got to break through, it's worth doing as a great future awaits you on the other side.
---
This blog is part of our Do Something Great: Your Health and Safety Career series. Find out more about the campaign and download your free career guide today.