Blog: The wellbeing addition
Monday, 27 April 2020
Maria Anderson is Group Head of Health, Safety and Wellbeing at Cambridge Assessment. We asked Maria to tell us more about her career and give us an insight into the wellbeing techniques she's implemented in her workplace…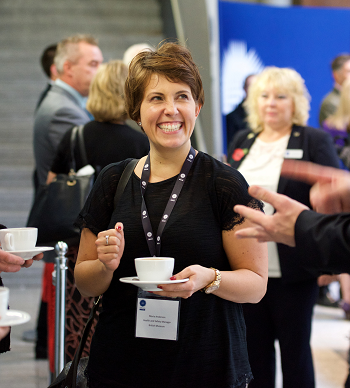 Did you always plan to have a health and safety career?
Not at all, I have a Masters degree in Chemical Engineering and so expected to do something with that, probably in the petrochemical industry, which is really big in Colombia, where I come from. But that all changed when I came to the UK on a trip as a student. During the trip I met my husband, decided to stay and got a job up in Liverpool working as a lab manager. It was while I was doing this job that I got my first introduction to health and safety, and realised it was an area that really interested me. I haven't looked back since.
What's been your career path since then?
That was back in 2001, and since then I've worked as a health and safety consultant and trainer and as health and safety manager at The British Museum. That's the joy of this job, the opportunities are so varied, though obviously I have had to do a lot of training along the way too.
What health and safety training have you done?
Whilst I was in my first role in the UK, managing a lab, I studied the NEBOSH National General Certificate in Occupational Health and Safety. Once I decided this was really going to be the career area for me, I stepped things up and advanced to the NEBOSH National Diploma in Occupational Health and Safety. This helped me secure my consultancy role. As a consultant I was not only advising companies and conducting audits, but I was developing and providing training too – and working across so many industries. I obviously had to ensure my knowledge and skills were up to date. So, during this time I took both the NEBOSH Construction and the NEBOSH Fire Safety and Risk Management Certificates. There's always more to learn.
Tell us about your current job?
I moved to Cambridge Assessment in 2017. The company employs 2,900 staff in 29 countries. My role not only encompasses the traditional areas of health and safety, setting a strategy for the group, helping the company's 700 managers identify and manage risk, empowering, advising and supporting them, but it also focuses on wellbeing – an area I'm incredibly passionate about.
What does your work around wellbeing involve?
A lot of health and safety can feel very restrictive, transactional and rule driven. For instance, if you are working in facilities you are in a regulated industry focused on buildings, asbestos and so forth. In construction you're thinking about high risk like working at heights and exposure to substances. Of course, all of this is important in my role, but at Cambridge Assessment I'm thinking more about wellbeing – it's an area which is becoming increasingly vital in the health and safety field. In fact, that's why I took the job here - I wanted more experience in this area.
My role is completely people focused. So much so that my three direct reports and I are part of the HR function. Our work relies heavily on communication and being proactive. So, of course I'm working with people to make sure they're doing the right things but I'm not waiting until someone feels stressed and then sending them on a stress management course. We are putting things in place to prevent the stress in the first place.
As part of this, we have a wellbeing programme called 'Healthy You' which is based on the five ways to wellbeing promoted by the NHS, it is about helping our staff have a healthy mind, body and community. On the body and community side, this includes yoga and fitness classes and there are lots of groups we support – for sewing, litter picking, chess, disabilities and book clubs to name a few!
I'm incredibly proud of the strides we have already made in this area. For example, when I first joined Cambridge Assessment, we had just 0.6% engagement in our groups. Now we are up to 12-15%! We have 400 people regularly engaging in our programme - whereas before we perhaps had 20 - and we routinely have 50 people litter picking. Such community activities are so valuable to peoples' overall sense of wellbeing – and people who feel well, are much more likely to perform well at work.
Staff wellbeing was also central to the company's thinking when we moved to a new building. Again, I've been fortunate to be involved in the implementation and move to the new offices; the new building has lots of collaboration areas, a dedicated wellbeing space, gardens and three multipurpose rooms that are perfect for meditation. It's such a lovely environment that's designed with staff needs firmly in mind.
Beyond this, we are also doing a huge amount of work directly around mental health as part of the 'healthy mind' strand of the programme. We offer counselling and regularly run a company-wide mental health awareness campaign. This is really fascinating, ground-breaking work, in such an important area.
It's a great feeling to be making such a difference. I've had an incredible career in health and safety so far, and by adding wellbeing to my role, it's become even more rewarding.
---
This blog is part of our Do Something Great: Your Health and Safety Career series. Find out more about the campaign and download your free career guide today.