Blog: A safety career across borders
Monday, 26 October 2020
Originally from Pakistan, Umer Changaiz's safety career has taken him to many countries. Now QHSE Supervisor in Saudi Arabia for SNC-Lavalin, a global engineering company, Umer shares his experience of getting started in the profession and working in different countries.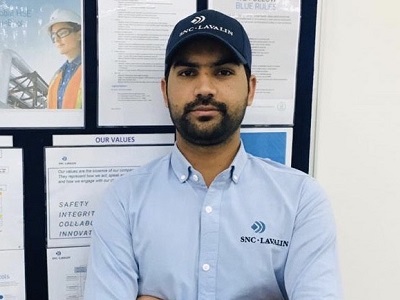 Getting started
I was working for a geotechnical company in Pakistan when I was invited to work on a project with health and safety requirements. This is where my safety career started; I was curious about what was involved and wanted to know more so I spoke to the project manager who agreed to send me on some basic training and gave me additional responsibilities such as site monitoring and PPE enforcement. This is when I became motivated to become a full-time health and safety professional - I really enjoyed working to protect other people from harm and ill-health.
Although my employer at the time provided basic training, I wanted to learn more and decided to study more recognised qualifications such as NEBOSH (I now have two certificates and a Diploma). I went on to work in various safety positions in Abu Dhabi and the United Arab Emirates before moving to Saudi Arabia where I work now.
Build your network
I strongly believe in networking. I am involved in many platforms such as IOSH, IIRSM and the NEBOSH Alumni which have all helped me to nourish my skills set and talk to seasoned health and safety professionals whenever I have a question or need their expertise.
I have also been lucky to be mentored by Bilal Ahmed Shah who was my NEBOSH IGC trainer– he has always been one call away whenever I have needed advice throughout my career.
Crossing borders
Networking has really helped me to progress my career. I make full use of LinkedIn to increase my connections with relevant industry professionals and hiring managers. In my experience I have two things that have helped me appeal to hiring managers in all countries – holding a NEBOSH International Diploma and having hands-on industry experience.
In my current job I saw an advertisement on LinkedIn and applied. I was shortlisted and went through a panel interview. Then, when the company decided to hire me, they made arrangements for me to move.
From my experience of working in different countries the most beneficial part is that you will gain diverse experience and be challenged by different health and safety cultures. There's a lot to learn and that's the good thing about health and safety; education has no full stop, we must keep learning and keep growing.
If I was giving advice to people looking for a safety position in another country, I would say to keep a diverse network across borders. Connect with industry professionals and follow target companies on LinkedIn, then set a daily job notification with target position names and locations – sooner or later you will get an opportunity.
---
This blog is part of our Do Something Great: Your Health and Safety Career series. Find out more about the campaign and download your free career guide today.