Making the most of the talent you already have
Case Study: Wayne Charlton and Adam Rabey - The Zoological Society of London
Maximising the potential in an organisation can really help to ensure that health and safety protocols are successfully implemented. ZSL (Zoological Society of London) has recently adopted an innovative approach, using NEBOSH, to make the most of the talent it already has…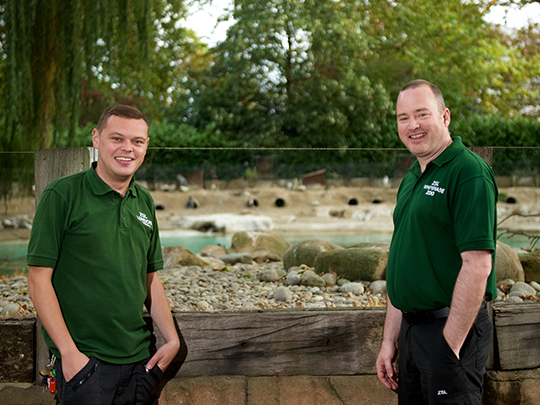 As part of its transformation health and safety strategy, ZSL, which operates both ZSL London Zoo and ZSL Whipsnade Zoo in Bedfordshire, identified an opportunity– to expand health and safety skills and know-how to frontline staff.
Ian Stacey, Head of Health, Safety and Security at ZSL explained: "We have a hugely capable and well qualified central health and safety team, but we really felt we would benefit from having extra support that were part of ZSL's day-to-day public facing operations. The idea was that they could operate as our eyes and ears if you like, but we'd make sure they also had a solid foundation in health and safety."
There was already suitable talent at both ZSL London and Whipsnade Zoos that could be readily developed. Wayne Charlton and Adam Rabey are both First Aiders. Wayne has worked at ZSL London Zoo for many years, having developed a passion for First Aid at school, while Adam, who was previously employed by the East of England Ambulance service, is a recent addition to the ZSL Whipsnade Zoo team.
"We are on hand throughout the year to help members of the public, or any colleagues, who may fall ill or need first aid," said Adam. "Both of ZSL's zoos are open to the public every day except for Christmas Day, so we're busy all year round, but our peak visitor season is the summer. It was a natural suggestion that we provide additional health and safety support in the quieter winter months in particular."
Strategically, Ian Stacey concluded it made perfect business sense to develop Adam and Wayne into capable health and safety practitioners. Both already had an excellent knowledge of ZSL's operation and were keen to expand their role and responsibilities. For the idea to work, Adam and Wayne needed to increase their knowledge of the subject and the NEBOSH General Certificate in Occupational Health and Safety was identified as the best way to achieve this. After completing the qualification they were better equipped to support ZSL's audit programme, contractor management, risk assessments and incident investigation activity.
"Taking the Certificate has given me an in-depth understanding of health and safety and a new outlook on lots of work we do every day." said Adam. "I understand the technical language now and it's really brought everything together for us both. We feel more confident, especially when people ask 'why do we need to do that?'"
Wayne agrees: "When I mentioned to people outside of the Zoo I was taking the NEBOSH General Certificate, they all said to me 'yes, NEBOSH, that's the one you want'. It's kind of a badge that says you know what you're talking about and that you're qualified, and of course it puts you on the safety career ladder too."
For more about ZSL's transformational health and safety approach, read our ZSL corporate case study here
How has your NEBOSH qualification helped you? Email us with your story: marketing@nebosh.org.uk