NEBOSH helping ZSL deliver its transformational strategy
Case Study: Ian Stacey - Zoological Society of London
When Ian Stacey joined ZSL(Zoological Society of London) as Head of Health, Safety and Security a little over three years ago, he set himself an aspirational goal. He wanted to not only improve on the organisation's occupational health and safety standards, but for ZSL to become a beacon of excellence in an industry that works in unique and challenging environments.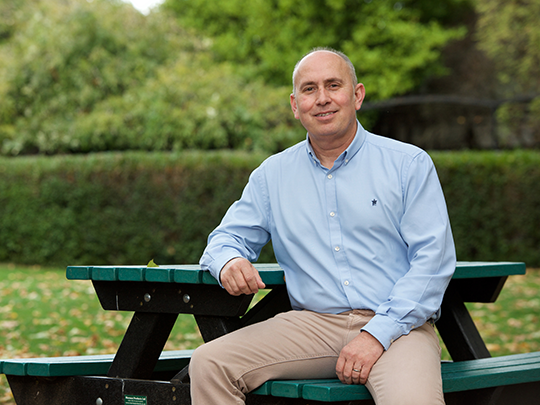 Ian set about developing a programme of continuous health and safety improvement. He first secured the backing of ZSL's leadership team for his forward-thinking strategy; before embarking on a programme of significant organisational and cultural change.
International conservation charity ZSL is 192 years old. While its high-profile ZSL London Zoo and ZSL Whipsnade Zoo visitor attractions form a big part of its overall operation, it also carries out work across the world as a conservation, science and research organisation. Funds raised through ticket sales and donations support fighting illegal wildlife trade, saving critically endangered species and their habitats and improving wildlife health around the world.
A significant part of Ian's transformational strategy has been to examine core competences around safety within the health and safety team and beyond. Health and safety managers have been encouraged to take professional level qualifications, like the NEBOSH National Diploma in Occupational Health and Safety. To broaden safety competence and confidence, other ZSL team members, including public-facing first aiders at both ZSL London and Whipsnade Zoos, have completed the NEBOSH National General Certificate in Occupational Health and Safety. These team members are now able to help complete ZSL's internal audits, contractor management and risk assessments.
"Health and safety has always played a prominent role at ZSL, but in recent years its importance and relevance has been put in the spotlight, with all staff being encouraged to play their part." explained Ian. "We've played a huge role in that culture shift, and our team has a real appetite for continuous improvement - NEBOSH qualifications have made a big difference. Not only does the training give individuals more knowledge and confidence, it recognises their skill sets and makes them feel more valued."
"In our unique working environment, people in all departments have really varied expertise and get to use lots of different skills everyday - this is such a positive, as long as everyone is clear on their areas of responsibility. The NEBOSH General Certificate helps to clarify this and has to be seen as the foundation to becoming a practitioner in the broadest sense. I remember working for the NEBOSH General Certificate myself, and so I was confident of the output it would give us here in improving competency."
"In the last three years we've made significant developments but I wanted this to be verified independently." said Ian "I therefore commissioned RoSPA to carry out a comprehensive health and safety audit. I was really pleased with the report which confirmed the progress that ZSL has made – it was a great result. I believe from this strong platform we can support the future-proofing of our industry, whether it's through leading the rewrite of HSE's HSG 219 guidance for "managing safety in zoos" or advising on overseas travel risk management, which is an area our team has considerable experience in."
It's safe to say that Ian is delivering on the aspirational goals he set himself and ZSL when he was appointed to the role three years ago.
How has your NEBOSH qualification helped you? Email us with your story: marketing@nebosh.org.uk