Want to push yourself to the next level?
Case Study: Simon Cooling - Balfour Beatty
When you look after the health and safety management system of the UK's biggest construction company* you have to be at the top of your game.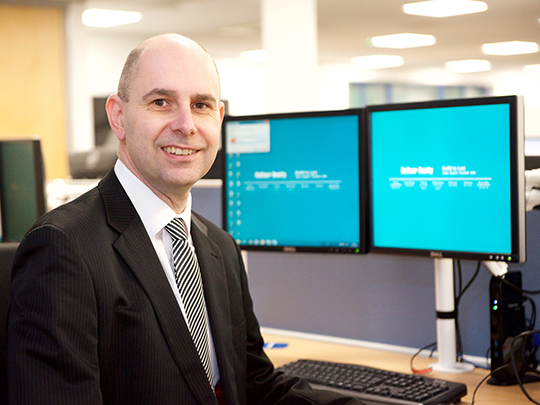 Simon Cooling, Health and Safety Systems Manager at Balfour Beatty, is a Chartered Health and Safety Practitioner who has recently taken his NEBOSH Diploma level qualifications a step further by gaining a Master of Research (MRes) Degree in Occupational Safety and Health Management.
His Masters, which he took at the University of Hull in partnership with NEBOSH, was a natural next step for Simon who is keen to push himself to the highest level possible. He takes his responsibility at Balfour Beatty incredibly seriously. Around 30,000 employees depend on his rigorous attention to detail to safety procedures, documentation and standards at the company.
However, Simon, who is 48 years old, has not always been quite so academic. When he left school aged 16 he had no GCSE equivalent qualifications. He found work putting motor insurance quotations together at a broker's office. He jokes it was a long time ago now, describing how halfway through taking information over the phone he would have to remove a floppy disk from his computer and replace it with another to finish the quote!
Later, when working as an administration assistant at a steelworks, Simon showed interest in accident rates and statistics, which led to his employers offering him a role as a Safety and Quality Officer. "This was in 1998 and it was on condition that I took the NEBOSH National General Certificate in Occupational Health and Safety," said Simon. "I remember thinking it would be difficult for me to pass, but I came through it and it was real eye opener in terms of the level of knowledge required in this type of work."
As his career progressed he gained the NEBOSH National Diploma in Occupational Health and Safety and the NEBOSH Diploma in Environmental Management, as well as a BSc is Safety and Environmental Management. "My NEBOSH qualifications certainly helped give me the skills I needed for this profession and also the confidence to push myself further," said Simon. "Balfour Beatty are strong on being the best in practice and pushing the boundaries of what they do. After completing my NEBOSH Diplomas I felt a degree in research would help me further in my role."
As part of his MRes, which he completed in 2017, Simon explored near miss reporting and people's attitudes and behaviours around the subject. "I tend to thrive on linking things together and it's useful to understand why people behave in certain ways whenever you're developing processes.
"I would definitely encourage others to take a University of Hull and NEBOSH Masters, if they feel they can. There is certainly a great sense of achievement in doing that."
Simon, who now has his eyes on a PhD, believes it is also important to be part of a robust network of experienced peers to share information and best practice with. As such, he is a big advocate of the NEBOSH Alumni for Diploma holders.
"A strong network is something I've been fortunate to have access to as part of Balfour Beatty, which employs many highly skilled health and safety professionals. So I'm really behind the Alumni, especially for anyone who doesn't work for such a large organisation. It's a great way to keep in touch with your peers and also lets you add something back to your profession."
* Construction Global (2018)
How has your NEBOSH qualification helped you? Email us with your story: marketing@nebosh.org.uk