Two professional dreams become reality through hard work and commitment!
Case Study: David Bell
In our latest interview, we spoke to ex professional footballer, David Bell. David explains how he built a new career in Health and Safety after an injury forced him to retire from football.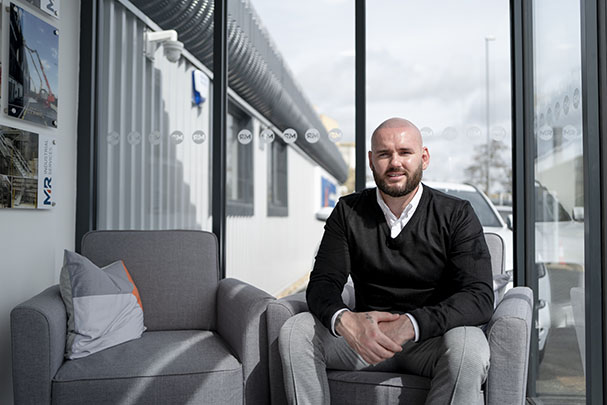 I can see that H&S is your second career. Can you tell us about your first career and why it came to an end?
When I was growing up, all I ever dreamed of was becoming a professional footballer. I am one of the fortunate ones who made this dream a reality.
For thirteen years I got to play professionally for teams including Leicester City, Norwich City, Coventry City, Luton Town, Notts County and Rushden and Diamonds.
Unfortunately, my career was cut short due to injury. I sustained a hip injury from a tackle playing for Coventry City against Leicester City. To try and correct the problem, I had my fifth operation in four years but unfortunately it was not a complete success, and I was forced to retire from the sport I loved.
When did you decide that you wanted health and safety to be your new focus?
One of my first jobs away from football was working for a roofing company on a large construction site. The on-site Health and Safety Manager made life very difficult for everyone as his approach was to block activity and punish.
Even back then I felt that there must be a better, more effective way to get things done safely.
I decided it was a role I would like to have a go at some day, but I would take the time to build relationships and explain how activities should be done safely and why.
How did you get your first role in the industry?
I gained my first health and safety experience when I was promoted to a supervisor role within the construction industry. I started to get involved in monthly safety meetings, delivering toolbox talks, carrying out safety audits and conducting risk assessments.
The client we were working for reached out to my boss and said how impressed they were with me and the culture within our team on site. As a result of this feedback, my boss asked me if I would like to enhance my health and safety knowledge further by getting some qualifications behind me. I jumped at the chance and this led to me securing my first Health and Safety Advisor role.
Which NEBOSH qualification did you take first and why and how did it help you?
I took the NEBOSH National General Certificate first and it was a fantastic learning experience. It gave me confidence and a great health and safety foundation which allowed me to build on the knowledge and practical experience I had already gained from my job. I think gaining this mix of qualifications and practical experience is key to building your competence.
Many of the companies you have worked for have been in the construction industry. Did the content in the NEBOSH Construction Certificate help you?
The NEBOSH Construction Certificate is a leading health and safety qualification for the construction industry. I have always wanted to be the best at everything I have done, which means I want to learn from the best too. I suppose it is a legacy of my footballing days! I wanted to take the NEBOSH qualification that was focussed specifically on construction. This qualification gave me the skills to manage health and safety on a construction site and took my knowledge to the next level.
In 2018, you took your NEBOSH Diploma. Can you explain your motivation and what you gained from the qualification?
When I signed up for the Diploma, my long-term goal was to become a senior safety leader. I knew that to achieve this, my technical skills needed to be impeccable. I thought the NEBOSH diploma would help me achieve this because for me it is the gold standard in health and safety and is recognised around the world.
Gaining this qualification really built my confidence in my capabilities and has helped me be an enabler on site. Consequently, I hope I challenge the misconceptions that health and safety is about creating barriers. I think maybe those whose default position is to block or say no, do so because they do not have the competence to assess and mitigate risks effectively. For me this is what I gained through my NEBOSH qualifications and I hope, through my work and positive attitude, I can help change how our profession is viewed by some.
Can you tell us about your current role?
My current role is Health and Safety Director for MR Industrial services. MR Industrial services are one of the largest secondary steel and architectural steel suppliers and installers in the UK. We design, manufacture and install structural steel work, secondary steel work, architectural metal work and complete secondary industrial fit outs.
I recently took the role after meeting with the Directors of the business. They demonstrated to me that their vision for the company and passion for Health and Safety is aligned with mine and I am extremely proud to be a part of the MR team.
For me, securing this role means I have achieved the goal I set myself when I signed up to the NEBOSH Diploma. This is the senior safety leader I have been aspiring to achieve!
Just before you started this role you were one of the first to complete the new NEBOSH Working with Wellbeing course. How did you find it?
I thought it was a great course, which will help me to continue to implement and enhance wellbeing strategies in the workplace. It was so good to speak to peers from other industries during the course and share ideas that have worked for them. We have all exchanged numbers and are going to keep in touch so we can keep sharing ideas and supporting each other.
Are there any similarities between a career in football and health and safety?
There are lots of similarities between professional sport and health and safety. The biggest attributes I gained from my football career that help me now are resilience, character, and people skills. In health and safety, you must be able to connect with and influence colleagues at all levels as safety applies to all.
What advice would you give to someone who wants to get into health and safety?
Look for an opportunity within a business where you can get hands on experience as that is where you will learn the most. If that is not available, gain experience through volunteering as this will show your commitment, which should help you secure a Health and Safety role in the future.
Trust your gut as if it looks wrong, it generally is! I would also say stay true to your beliefs and go into every meeting as yourself.
What do you enjoy most about your HSE career?
I enjoy making a difference, building relationships with people and being a positive influencer of change.
I am extremely passionate about protecting people's physical and mental wellbeing. It is my mission to raise awareness and treat Health, Safety and Wellbeing with the same respect, time, and resource they all deserve.
I also enjoy the continued learning and personal development side of HSEW. I have now completed five NEBOSH qualifications and they have also helped me to improve my skills and knowledge. Since retiring from football, health and safety and NEBOSH specifically has literally changed my life. I now have a purpose and a place in society that I am extremely proud of. Thank you to everyone that has supported me so far in this incredible journey and I am excited about what the future holds!