NEBOSH qualifications key to keeping 7 million visitors safe
Case Study: NEC Group
Every year more than 7 million people come together to enjoy over 750 different events at NEC Group venues. While the group is focused on providing visitors with amazing experiences, it is also committed to keeping everyone safe.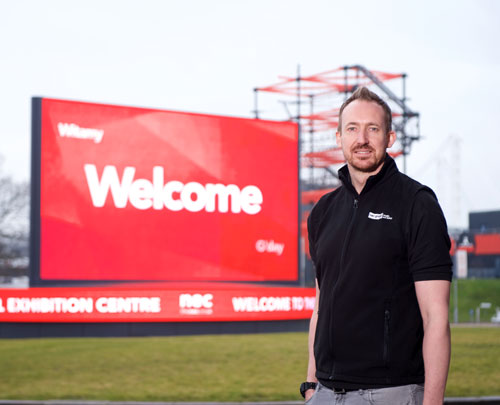 One of its key strategies is ensuring those responsible for delivering engaging live content at places like the National Exhibition Centre (NEC) and the International Convention Centre (ICC) in Birmingham, UK have strong health and safety skills and capabilities.
It is why NEC Group turned to NEBOSH in 2011, to develop an effective and efficient way of training a large number of event organisers and other operational employees. Rather than simply relying on outside agencies, the Group decided to go one stage further and gain accreditation to deliver NEBOSH Certificate level qualifications.
""The safety and welfare of our visitors, staff and business partners is our top priority," said Julie Fletcher, Health and Safety Training Manager, who developed what has become NEC's Oncourse Health and Safety brand.
"As well as aspiring to be the leader in the live events market, we also want to be the same in all aspects of safety and welfare through a culture in which all staff and business partners actively engage in identifying and eliminating hazards."
NEBOSH Certificate courses are not only taken by NEC Group employees, but also by contractors and external agencies. This means that Oncourse effectively funds the NEC Group's health and safety training programme.
"It's a really efficient way of getting everybody up to a high standard internally," said Julie. "Events now falls within the realm of CDM regulations, so our Event Managers for example, really do need high-level health and safety capability. So now we accrue all of the benefits of their knowledge, skills and ultimately good safety performance, without any overheads. It's not just a good health and safety model, it's a good business model."
Julie added: "NEBOSH enables people here to do their job and fully understand their roles and responsibilities around health and safety. It raises their competency, whether they are a rigging manager, a rigging tech, an event manager or a catering or hospitality supervisor.
"For our employees, a NEBOSH certificate is a great qualification to have on their CV and the business benefits from having a highly qualified safety team here to support them."
Tasha Bray, Events Manager at NEC Group who took the NEBOSH General and Fire and Risk Management Certificates in 2017, told us: "With so many activities to facilitate in this role and different people to work with, it is always useful to be able to speak confidently about health and safety matters. My NEBOSH qualifications have been a massive help, especially when faced with the kind of weird and wonderful things that go on here. I'd recommend NEBOSH 100% to anyone involved in our industry."
You can read more about Tasha, her role and her NEBOSH experience here.