The show must go on (safely)
Case Study: Tasha Bray - NEC Group
Does the fun really have to stop with health and safety? Not in Tasha Brays' world, whose role it is to make sure all kinds of 'weird and wonderful' things are enjoyed by thousands of people as safely as possible.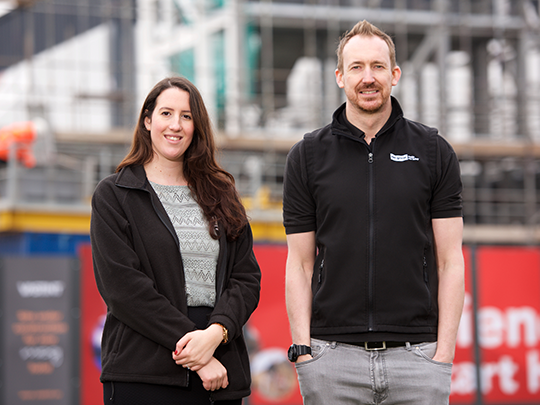 Tasha is an Event Manager at NEC in Birmingham, one of Britain's top venues hosting over 500 shows and exhibitions each year. There is literally a show for everything there, from gaming and genealogy to quilts and collectables! One of the stand out events for Tasha recently was 'The Vape Expo' which featured almost 300 exhibitors and attracted thousands of e-cigarette smokers.
Although not strictly illegal, vaping tends to be banned in most workplaces in-line with smoking regulations, so the event presented Tasha with a whole new angle to explore. "Once inside the actual show space, visitors were allowed to vape. The risks, not only from a health perspective, but also fire, needed to be understood and properly managed while also allowing people to participate in what the event was all about. That's generally how it works here and it's why I love my role so much, because there's always something unusual to deal with."
With 186,000 square metres of indoor space, 20 interconnecting halls, 34 specialist conference and meetings suites and a huge arena on site, many thousands of people, employees included, occupy the NEC's space on a daily basis. Their safety is paramount. So, like most of the NEC's Event Managers, Tasha has taken both the NEBOSH National General Certificate in Occupational Health and Safety and NEBOSH National Certificate in Fire Safety and Risk Management.
"With so many activities to facilitate in this role and different people to work with, it is always useful to be able to speak confidently about health and safety matters," said Tasha. "My NEBOSH qualifications have been a massive help, especially when faced with the kind of weird and wonderful things that go on here. I'd recommend NEBOSH 100% to anyone involved in our industry."
Although an experienced Event Manager, Tasha did not take her NEBOSH Certificates until she joined the NEC Group in 2016. The Group provides training to employees through its own NEBOSH accredited brand known as Oncourse.
"NEBOSH is definitely something that would have helped in my earlier career. So much of what we do is quite rightly health and safety related. I now understand my role and responsibilities much more and I feel that makes me a better Event Manager. Because of the nature of the role we're probably exposed to more different kinds of risk than a health and safety manager might ever face in a lifetime, so the knowledge and tools NEBOSH gives us are essential."
Discover more about the NEC Group's approach to NEBOSH training here.