NEBOSH and HSE together! 'Now that's exciting'
Case Study: George Achatoh - Meggitt Airframe Systems
When George Achatoh heard that NEBOSH and the UK's Health and Safety Executive (HSE) were working together on a new qualification he simply couldn't wait to do it.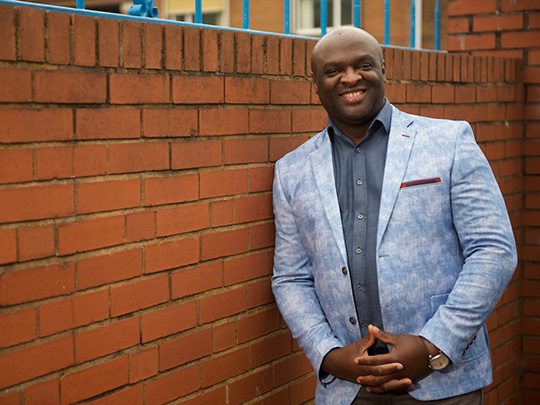 "The timing was perfect. I'd just moved from a health and safety job at a food manufacturer to work at a large independent manufacturer of fine chemical and rubber accelerators and even though I have a background in chemistry and physics, I really wanted to extend my knowledge of process safety in my new role." explained George.
"When I discovered that the Certificate in Process Safety Management was being launched, the fact that it was from both NEBOSH and HSE got me really excited. As a Senior Health and Safety Officer my responsibilities included delivering training to others. I knew if I took the new Certificate I could feel really confident in the information I was passing on to my colleagues. Who better as a source of health and safety information and knowledge than HSE and NEBOSH?"
As well as giving him confidence, George says the qualification gave him excellent insight into process safety hazard control. "I reviewed the audit and inspection forms that we were using in the plant environment after the course, for example, and we made changes to reflect the way the risks ought to be viewed and managed. I'm really happy I took this course. It's helped me become more of a specialist."
This is not the first NEBOSH qualification that George, who is 40, has taken and passed. In 2016 he gained a NEBOSH National General Certificate in Occupational Health and Safety after a few years back in Cameroon, West Africa, where he was born and originally educated. In fact it was during this brief time back in Africa that George actually became interested in health and safety.
"I first moved to the UK in 2007 to take a degree in Financial Mathematics at Coventry University," said George. "I then found work here as an investment reviewer, but because of the financial crisis around that time things didn't really work out. I went back to Cameroon to finance manage an agricultural programme there and rather ironically the Compliance Officer didn't turn up!
"As a result, I ended up taking on the safety side of things and that's where my interest really began to grow. On my return to the UK the first thing I did was take the NEBOSH National General Certificate to kick-start a new career here. It worked out well, as I soon found a job as a Health and Safety Assistant with Coca Cola and also started an online postgraduate qualification in health and safety. Things developed from there."
George has just taken on a new role as an HSE Specialist at Meggitt Airframe Systems, supporting the business with health, environmental and process safety risk assessments and control measures at a new state of the art site. He feels he's found his niche in process safety and is now looking to take a second NEBOSH and HSE joint qualification; the Certificate in Health and Safety Leadership Excellence.
"I see the next stage in my career journey as moving towards management, so l want to enhance my skills in that area, especially around influencing and leadership and the more strategic side of things. I'm really looking forward to taking my next NEBOSH HSE qualification."
National General Certificate in Occupational Health and Safety
NEBOSH HSE Certificate in Process Safety Management