NEBOSH: A new way to the top in South Africa
Case Study: Jacques Krog - Refraline
Nelson Mandela once famously said: "After climbing a great hill one only finds that there are many more hills to climb." His wise words were not meant to be negative, but were simply a message that in order to fully achieve in life we must continuously learn, adapt and grow, even if it feels like we've already reached the top.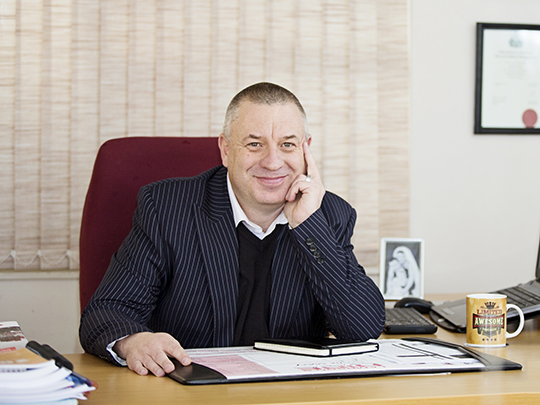 It's a message that Jacques Krog completely understands. Around 20 years ago Jacques followed in his father's footsteps and embarked on a career in health and safety, in South Africa. He built up his experience and knowledge through various roles to the point where he was a well-paid and highly respected Safety, Health, Environmental and Quality (SHEQ) Manager. However, despite his achievements and senior role, Jacques felt that something was still missing.
"One of the things I really believe in is that to be a good health and safety practitioner or specialist you need to have a broad in-depth knowledge of various disciplines, because the health and safety field has become so incredibly technical. It involves medicine, health, engineering, law and so many different aspects and as a result it can be very difficult to find the right training to complement all of those things."
Jacques, like his father before him, built up his knowledge in the workplace. "I'd done many different short courses and training programmes here in South Africa, but I found myself looking for something more intense at a far higher level. Nothing here impressed to be honest, so I began to look further afield, which is when I came across NEBOSH qualifications, which seemed to fit perfectly."
With years of experience Jacques decided to skip the usual Certificate route and go straight for the NEBOSH International Diploma in Occupational Health and Safety. "It took me a little while to adjust to the level of study having not taken a formal qualification for a number of years, but after a while I began to settle into it," he told us.
Now 45 years old, Jacques has passed the International Diploma and has now moved on to the NEBOSH Environmental Diploma to carry on his learning. He said: "NEBOSH elevates your technical knowledge immensely. It makes you think of things differently and I have found the Diploma to be very valuable. It's like nothing else that is available in South Africa."
"It is great to see that recently more and more of my peers are asking about my NEBOSH qualifications, finding out about them and giving them a try. A few years ago NEBOSH was largely unknown here, but now it is starting to gain recognition and more recruiters and employers are asking for it."
After starting his Diploma, Jacques was head-hunted by Refraline, a group of companies operating in South Africa, Namibia, the Democratic Republic of the Congo and Malaysia. It specialises in the design, installation, repair and maintenance of refractory and corrosion solutions for a wide range of industries including ferrous and non-ferrous metals, chemical, petrochemical, power generation and mining. Projects have also been completed as far afield as Israel, Zambia and now South America.
Jacques is Group SHEQ Manager there and his role has given him a new lease of life. "I love it here. I'm very passionate about what I do, and I've started mentoring as well. I'm actually taking someone else down the NEBOSH path here."
He added: "In South Africa we have a huge skills gap and skills shortage and have problems with internationally recognised health and safety qualifications, but NEBOSH is professionally managed and as such has the kind of prestige and recognition that is really important to us as an international company operating out of South Africa."
How has your NEBOSH qualification helped you? Email us with your story: marketing@nebosh.org.uk.
International Diploma in Occupational Health and Safety
National Diploma in Environmental Management