Learning organisations perform better (and that includes safety)
Case Study: Emirates Global Aluminium (EGA)
Just how strong is the link between an organisation's level of commitment to learning and development and its overall performance?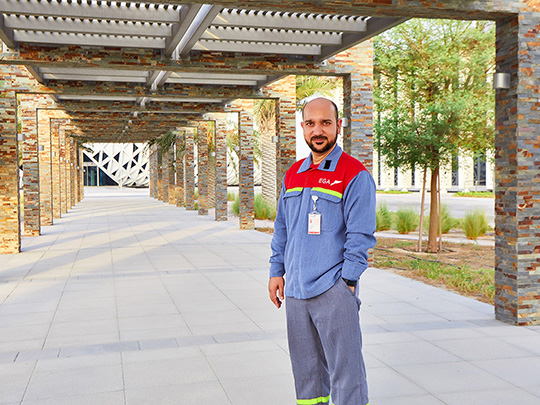 A recent study by analysts Towards Maturity has shown that organisations which embrace learning achieve greater growth and profitability and are better at enabling business transformation, increasing productivity and performance by 24% on average.
Dedication to learning and development is one of the key reasons why Emirates Global Aluminium (EGA) has risen to become the world's largest 'premium aluminium' producer and the biggest industrial company in the United Arab Emirates outside of oil and gas.
"Our success is driven by continuous improvement, so because of that we focus strongly on training and developing our people and retaining them for the long term," explained EGA's Senior Vice President of Corporate Affairs, Simon Buerk. "Of our 8,000 employees, 600 have worked here for 25 years or more and out of the eleven on our executive committee, seven joined us as graduates and have been with us for a combined total of more than 200 years."
Simon went on to tell us that EGA's commitment to training and development encompassed the organisation's "first priority" of safety. EGA's training centre is accredited to deliver NEBOSH courses and 117 supervisory level employees now hold the NEBOSH International General Certificate in Occupational Health and Safety. Over 600 operational staff have also achieved the NEBOSH Health and Safety at Work qualification.
EGA Safety Manager, Zubair Majeed, who is a tutor for NEBOSH courses at the centre and who is studying for a NEBOSH International Diploma in Occupational Health and Safety, said: "We have many different high risk activities here, from molten metals and other dangerous substances to electrical hazards and working in confined spaces. Having qualified personnel, including managers and shop-floor workers who are not full-time safety practitioners, is a vitally important part of successfully managing these risks."
Its approach has meant that EGA's safety performance compares favourably to global industry benchmarks and continues to improve. Its Total Recordable Injury Frequency (TRIF) rate in 2020 was 1.34 per million hours worked, compared to 1.53 in 2017. The global average TRIF rate for members of the International Aluminium Institute in 2020 was 2.8 per million hours worked. "Of course we can never be satisfied until we have achieved zero harm." Simon Buerk added.
A further benefit of embedding NEBOSH as part of EGA's overall safety culture is its certification to Occupational Health and Safety Abu Dhabi (OHSAD). "OHSAD Certification is mandatory and cannot be achieved without having a Grade A Occupational Health and Safety Practitioner," explained Zubair Majeed. "Grade A would not have been possible without my NEBOSH qualifications and experience."
You can read more about Zubair Majeed's career, qualifications and his thoughts about safety here.