'You will love this job; it's more who you are'
Case Study: Zubair Majeed
Choosing the right path of study and route to employment can be difficult. At an early age in particular we're influenced by so many different things, which do not always lead us towards the best choices.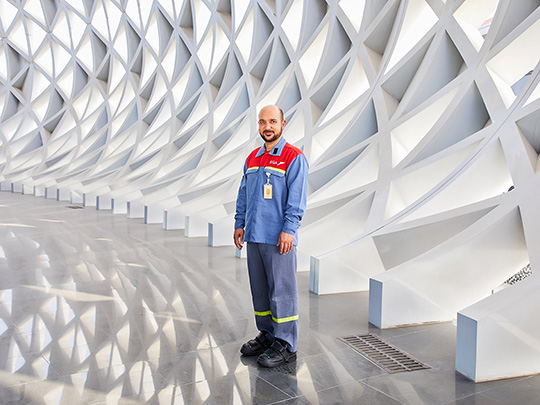 For his final two years of schooling in Pakistan between 1997 and 1999, Zubair Majeed had decided to study for a Higher Secondary School Certificate in Business and Commerce. His plan was to become a banker, but he ended up having a change of heart.
"I spoke to my family and friends and they all said banking wasn't really me. They said I should do something that was more compassionate, something that would contribute to society in a humane way. One friend suggested safety. 'You will love this job; it's more who you are' is what he said to me, and so I decided to get into the profession and it's what I've done ever since."
Now in his forties, Zubair lives and works in Abu Dhabi in the United Arab Emirates. He is a Safety Manager for Emirates Global Aluminium (EGA), the world's largest 'premium aluminium' producer and biggest industrial company in the UAE outside of oil and gas. He moved to the region in 2005, working first for an engineering company and then a construction business in safety officer roles. His career with EGA really took off in 2013 when he took and passed the NEBOSH International General Certificate in Occupational Health and Safety. He was promoted to a Senior Health and Safety Specialist role and over the next two years progressed to Superintendent and Senior Superintendent positions.

"I saw my career grow and so naturally I looked to the next stage," said Zubair. "That's why I started the NEBOSH Diploma and went on to become Safety Manager. The more I learned with NEBOSH the more safety knowledge I gained and the more I enjoyed what I was doing. For me NEBOSH are the only qualifications to go for as they tell us everything we need to know, make us better professionals and also help us to think outside the box."
EGA is committed to learning and development in all areas and has become an accredited NEBOSH Learning Partner. Zubair is now an in-company tutor of NEBOSH qualifications for his colleagues, extending his contribution to safety throughout the huge plant where he works. Over 100 supervisory-level employees now hold the NEBOSH International General Certificate in Occupational Health and Safety and over 600 operational staff have achieved the NEBOSH Health and Safety at Work qualification.
EGA benchmarks its safety performance against the rest of the industry and consistently outperforms it. A further benefit of embedding NEBOSH as part of EGA's overall safety culture is its certification to Occupational Health and Safety Abu Dhabi (OHSAD). "OHSAD Certification is mandatory and cannot be achieved without having a Grade A Occupational Health and Safety Practitioner," explained Zubair. "Grade A would not have been possible without my NEBOSH qualifications and experience."
He added: "I'm so proud to be part of what I believe is a respectful profession, advising and guiding people so they can perform their activities safely. This is my passion. I want to support people, I want to help people, I want to educate them and protect them from harm on site."
Zubair now has a NEBOSH Environmental Diploma and possibly a Masters in mind: "NEBOSH has helped me get this far and now I don't want the learning process to stop."