Second Diploma Tops the Table for NEBOSH Diplomate
Case Study: Jason Jones - GE Healthcare
43 year old Jason Jones from Wales recently added another NEBOSH string to his bow by gaining the highest mark in the NEBOSH National Diploma in Environmental Management, which was recognised at this year's Graduation and Awards ceremony.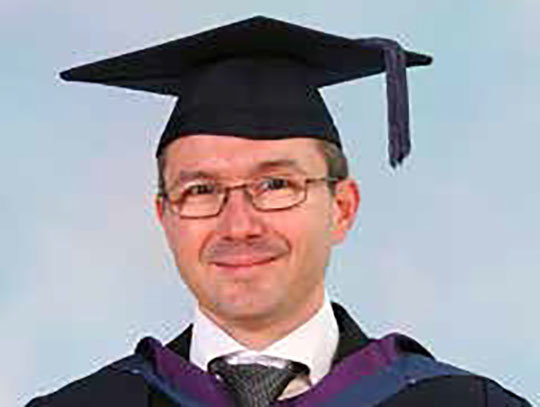 Already a holder of the NEBOSH National Diploma in Health and Safety, Jason was offered the chance to return to learning and jumped at the chance to gain another NEBOSH qualification.
Jason, who works for GE Healthcare said, "Earlier this year I was promoted and saw an increase in my environmental responsibilities and was offered the opportunity to gain a further qualification to help me in this specific area. They were very pleased that I opted to take another qualification with NEBOSH because they are so well recognised in the industry for professional qualifications."
Jason fought off tough competition from others taking the NEBOSH National Diploma in Environmental Management to get the title of top candidate.
He said, "My employer was absolutely delighted that I gained the highest mark. They rewarded me with a bonus and will be featuring me in their company newsletter too."
As an Environmental, Health and Safety Leader, Jason guides a team of three and together they look after approximately 450 employees' HSE interests.
Jason added, "I studied with Cambio in a three week block course and it was structured very well indeed. The different units were split into separate sections and doing it this way made it a lot easier to learn. The course provides you with the realities of the global environmental crisis. I have gained a real appreciation of the impact that my company has on the environment, as well as an increased passion for keeping this to a minimum."
NEBOSH Chief Executive Teresa Budworth comments, "I'm thrilled that Jason has gone on to achieve his second diploma with NEBOSH - and with such a high mark too."
"Our environmental diploma helps businesses manage environmental risks and is recognised by CIWEM, a leading chartered environmental professional body. Well done Jason."
How has your NEBOSH qualification helped you? Email us with your story: marketing@nebosh.org.uk.