If like Glenn OSH is your passion, why not do a Masters?
Case Study: Glenn Silburn - Associated British Ports
Glenn Silburn is really no different from many people who have a full-time role in health and safety management. He is a Chartered professional with an impressive collection of relevant qualifications, including a Masters degree, and he describes OSH as his true passion. "It's simply what I love doing," he says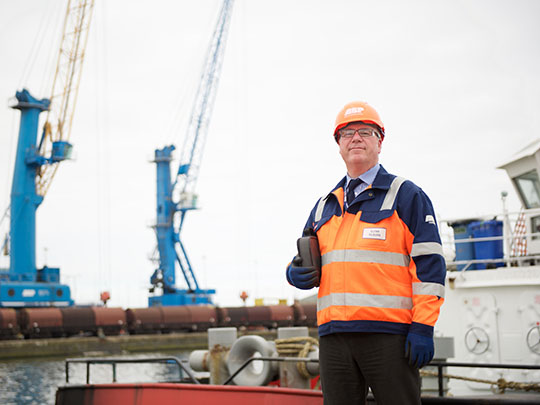 However, what makes Glenn a little different is that he is not what most of us would think of as a full-time health and safety manager. Instead, Glenn works for Associated British Ports (ABP) as a Maintenance Manager. So how exactly does that work?
Perhaps it is best to begin by explaining what being a Maintenance Manager at ABP actually involves. Glenn heads up a team of 58 engineering staff, who basically maintain the entire infrastructure at Hull and Goole ports on the Humber. Together, the two ports handle around 1 million ferry passengers and 12 million tonnes of cargo every year. So for Glenn and his team that means looking after anything from cranes and buildings to lock-gates and high voltage networks. It's a big job, with a lot of hazards.
"If I'm honest, I probably deal as much with health and safety on a daily basis, as I would if I was a health and safety manager."
So what about Glenn's qualifications? The list is impressive. As well as the NEBOSH National General Certificate in Occupational Health and Safety, he has both the NEBOSH National Diploma in Environmental Management and the NEBOSH National Diploma in Occupational Health and Safety, and most recently he gained a Master of Research (MRes) degree, offered by the University of Hull in partnership with NEBOSH.
Glenn's response to why he is so well qualified is simple. He explains: "People naturally think that I work directly in safety because of my qualifications. But to me everyone works in safety as we all have a responsibility to keep each other safe. Personally, I have a direct responsibility for my men who are working in a place which has the potential to be dangerous and I need to be aware of every hazard."
However, there is also another side to it. Glenn admits that health and safety is his "true passion". He told us: "I left school at 16 and became an electrician by trade. Of course, safety has always been a big part of my work and I reached a point, aged 30, where I thought a NEBOSH Certificate might be interesting and so I self-funded that.
"From there I carried on purely because I enjoyed it. I'm keen to constantly improve my skill set and that's why I've just continued to learn and gain further qualifications," he added.
With regards to the Masters, Glenn has some useful advice. His first recommendation is for anyone with a NEBOSH Diploma who is thinking about an MRes with the University of Hull, to "definitely go ahead and do it if you are really passionate about OSH."
He added: "My real area of interest is safety culture. It was great to research this subject in depth, and of course the MRes is all about gaining those advanced research skills. The benefits also extend to the workplace, because it will sharpen up your management skills. It will put you in a better place to write that report you're scratching your head about and will help you put together a well researched case to back your thinking."
Glenn's employers, ABP also valued him taking his MRes as they supported him in his studies. Clearly ABP also fully appreciate how "everybody is in safety" and that OSH is a thoroughly worthwhile investment, whatever your position.
How has your NEBOSH qualification helped you? Email us with your story: marketing@nebosh.org.uk.