Health and safety 'is about serving humankind'
Case Study: Mian Tariq
For some people health and safety is just a job, a task among others to be carried out in the workplace. However, for Mian Tariq, health and safety is something "deeply philosophical", something which "serves humanity."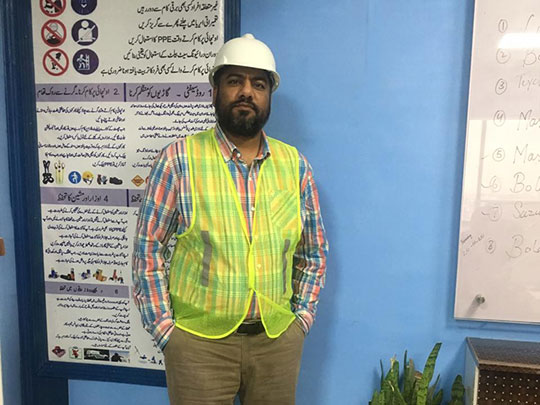 Mian has worked in Human Resource Management (HRM) for almost 20 years, so it's hardly surprising he sees people as of primary importance. He sums this up in an interesting way, telling us: "Imagine the most awesome luxury car on the road. It may appear incredible, but if the driver is unwell, unhealthy and therefore physically or mentally not up to the task of driving, then the vehicle itself becomes inconsequential. It is the driver, the human element, which is always most important and this applies in every organisation, every nation and in every society."
Mian is General Manager HR and EHS Compliance for Safaa Engineering, based in Islamabad, Pakistan, a company which employs over 500 people and provides electrical, mechanical and civil engineering services within the telecoms sector. Through his training, standards and compliance programmes, Mian has had a significant cultural influence within the organisation, which now lists safety as its first core value.
"While my professional field has always been HRM, my passion for health and safety came to the fore around six years ago while working within the Ministry of Textiles, as a Human Resource Development professional here in Pakistan," explained Mian. "I'm originally from a place called Faisalabad, which is our country's main Textiles Industry cluster.
"So, I grew up surrounded by this industry, an industry that is hugely important to my country and which employs around one third of the population. It struck me while working at the Ministry that if we could improve the health and safety of people working in textiles, this would not only improve productivity, but would serve a far greater national cause. It would improve the lives of millions of people and have a positive impact on the image of Pakistan within global community of nations."
It was this thinking that led Mian to convince his employers he should study for the NEBOSH International General Certificate in Occupational Health and Safety and embark on a broad programme of training and education.
"I feel I have fully utilised this qualification to not only spread the message of health and safety across the textile industry, but also across other sectors I have worked in since. For me there is no greater tool than education and no greater cause than the health and safety of people. Knowledge is priceless and when I look at NEBOSH I see an organisation that is serving humanity that is serving humankind."
Mian is particularly excited about NEBOSH's latest three-days course, Safety Simplified, which is an ideal introduction to health and safety designed for almost anyone. "I see this as a great way of introducing our graduates to the field of health and safety and encouraging them along this career path. I believe there is a bright future in the safety profession here in Pakistan, and health and safety professionals would be a key player in the economic and social development of my country Pakistan.
"We are all brothers and sisters and our destination are the same, so we must join hands to eradicate ill-health and suffering everywhere. Health and safety is about way more than it is sometimes seen. It's about showing our love and respect for all human beings."
International General Certificate in Occupational Health and Safety