'Get your NEBOSH and see where it takes you'
Case Study: Tom Wike - The FA
"Imagine working here! It's incredible for someone like me - and who would have thought health and safety could open such doors?"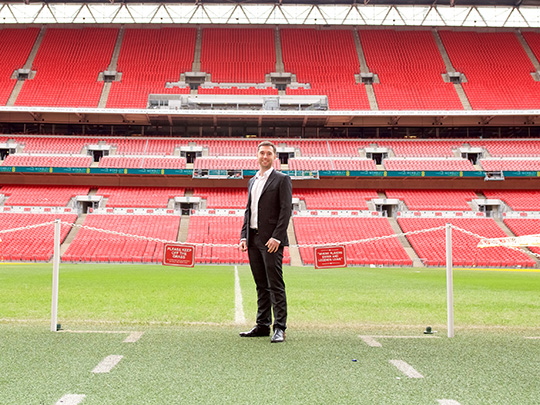 Almost every day Tom Wike literally has to stop and pinch himself. He is a huge football fan, so the renowned Wembley Stadium and the English Football Association's world class football facilities at St George's Park are quite simply places he "could only ever dream of working."
The path to his role as a Health, Safety & Risk Advisor at The FA started out with a conversation he had a few years ago with his uncle about a career change. Tom had worked in various sales and operations positions and although he had risen to management level, he felt he had reached a glass ceiling. Tom's uncle's life seemed a whole lot more interesting. Since leaving the army his career in health and safety had taken him all over the world, most recently working on the Thailand and Taiwanese high speed rail projects.
"I asked my uncle whether he thought health and safety would be a good career for me and how I could get into it and I remember his answer quite clearly. He told me 'go and do your NEBOSH Certificate and see where it takes you. If you make a career of it great! If you don't, well it's only a few weeks out of your life and you'll still have learned something useful'. So I followed his advice and now here I am."
After completing his NEBOSH National General Certificate in Occupational Health and Safety, Tom had developed such an enthusiasm for health and safety that he went on to take the NEBOSH National Diploma in Occupational Health and Safety, which he passed within just 18 months. At his job interview, The FA said they were particularly impressed by "his clear commitment to the profession" and offered him the role there and then.
"My interview was in one of the executive boxes overlooking the pitch at Wembley. I remember having to force myself not to get distracted and just stare out of the window! It's magnificent, but I have to say that while most people still think of here when it comes to English football, there is far more to The FA than just Wembley."
St George's Park is a £105m facility set in 330-acres of Staffordshire countryside and is the home to England's 28 national football teams. With 13 outdoor pitches, a full-size indoor 3G pitch and a suite of rehabilitation and sports science areas, the centre provides world-class facilities for all England teams ahead of international fixtures. Tom spends a great deal of his time there and has been involved in several important projects. "St George's is expanding all of the time, so I took my NEBOSH National Certificate in Construction Health and Safety, which has really helped me to link up with contractors and develop better understanding of the hazards and required control measures."
"I also recently took the NEBOSH HSE Certificate in Health and Safety Leadership Excellence as part of The FA's leadership development initiative. It contained a really good mix of health and safety 'need-to-knows' and leadership tools that I can use in everyday situations going forward."

In addition, Tom and his colleagues provide essential support to many of The FA's employees, volunteers and 'Health and Safety Champions' across England who are involved in football coaching and community activities.
Tom added: "There is no way I would be here without NEBOSH. It may sound a little clichéd, but the amount of doors it has opened for me has been fantastic. If anyone was to ask me about a career in health and safety I would say exactly what my uncle said to me; get your NEBOSH and see where it takes you."
How has your NEBOSH qualification helped you? Email us with your story: marketing@nebosh.org.uk