Environmental Diploma pays off for 'go-to-guy'
Case Study: Andres Drexel II B. Roque - Maintenance LLC
Back in 2011, Andres Drexel II B. Roque already had a Masters degree in Environmental Management, plus around 10 years of experience of managing health, safety, environment and quality. So why did he choose to also take a NEBOSH National Diploma in Environmental Management?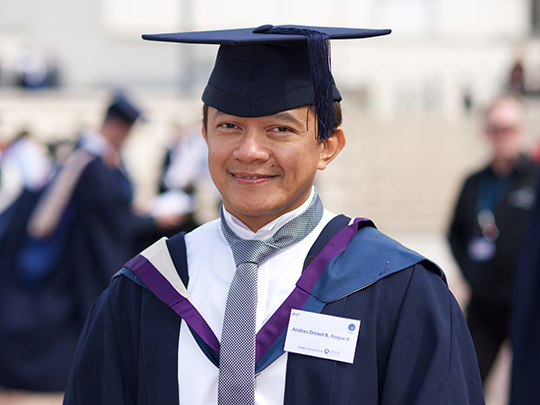 Andres simply wanted to "expand on his qualifications and competency." However, when you look at the impact his Environmental Diploma has had on his career prospects, outside of his home country, the benefits become clearer.
Until 2009, Andres had worked in the Philippines where he was born and educated. His career started in a position within the Philippine government, where he was carrying out environmental impact assessments, monitoring and complying with them. His role was largely regulatory, so in order to "grow professionally" he completed his MSc in Environmental Management in 2000. This academic success prompted a career change with Andres initialling moving into engineering and environmental consultancy before securing a variety of health, safety, environment and quality roles.
It was then, in 2009, that Andres decided to join around 200,000 of his fellow Filipinos by finding work in Qatar in the Middle East. He was keen to sample the challenge of working internationally and admits that it was the opportunities in terms of both career development and rewards that attracted him. His health, safety, environment and quality background made him a good candidate and he was able to secure a position with an aluminium producer in Doha.
While his Masters degree was recognised and helped him secure his first role in the Middle East, Andres began to realise that other qualifications were often highlighted and recognised by employers in the region. Andres therefore decided to take the NEBOSH National Diploma in Environmental Management to compliment his MSc. He passed the Diploma in 2014 and attended the NEBOSH graduation at the University of Warwick.
He has recently been appointed to the role of HSEQ Process Manager at Facilities Management and Maintenance L.C.C(FMM), working at Hamad International Airport in Doha.
"The NEBOSH Environmental Diploma helped me to do more than just get interviews, it actually helped land me a great job" he told us. "Not only are my employers benefiting from the skills and knowledge I have gained, the company is also able to demonstrate that it has employed someone who is NEBOSH qualified when tendering for contracts to secure new business."
Andres is thoroughly enjoying his new role: "I can make a real difference in terms of company operations relative to health, safety, environment and quality fields. I am able to apply technical know-how in different aspects of operations and my role is spread across different disciplines like engineering, project management, procurement, general management and more."
"Having a NEBOSH Environmental Diploma has made me more confident and has given me additional skills and knowledge to perform my day-to-day duties. It has also added leverage through more recognition. I have become the go-to-guy for health, safety, quality and environmental issues."
In further recognition of the strong reputation NEBOSH has in the Middle East region, Andres is now also studying the NEBOSH International Diploma in Occupational Health and Safety. We wish him luck and hope it brings him further career success.
How has your NEBOSH qualification helped you? Email us with your story: marketing@nebosh.org.uk.