Dual Diplomas help to fast-track career switch
Case Study: Bill Alhadad - AstraZeneca
Changing careers midway through life is never easy. It can be even more difficult if your heart is set on joining a profession that is made up of highly competent and experienced practitioners.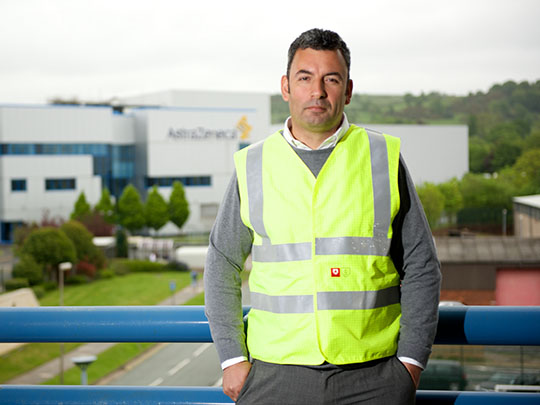 Back in 2012 Bill Alhadad was determined to switch careers - from maintenance technician to Safety, Health and Environmental (SHE) professional. To achieve his goal, Bill knew he would have to do something that would "set him apart". So he came up with a five year plan; to not just gain the NEBOSH National Diploma in Occupational Health and Safety, but also the NEBOSH Diploma in Environmental Management and a relevant Masters degree.
"I realised I was working somewhere unique that would allow me to develop a wide range of skills," explained Bill. "However, I needed to quickly gain some high-level and wide-ranging knowledge to stand out."
At this time he worked for pharmaceutical giants AstraZeneca and was based at their Macclesfield manufacturing site; a lower tier COMAH site undergoing constant development. It is also the company's European centre for packaging, and up until 2012 when he hatched his career change plan, Bill provided engineering project support and helped train others to NVQ levels 2 and 3 in engineering maintenance.
Throughout his working life Bill has been interested in safety, and was often given responsibilities concerning permits to work and risk assessments. "I already had the health and safety bug and because I'd spent a lot of time developing others on the engineering side, I decided it was time to develop myself. Engineering provides a good background for health and safety and I realised that where I worked offered the perfect opportunity to apply almost all aspects of SHE knowledge. I just needed to start learning."
His employers agreed to support him with his NEBOSH National Diploma in Occupational Health and Safety and appointed him as a site SHE Facilitator. However, Bill took matters further by immediately enrolling for the NEBOSH Diploma in Environmental Management as well.
"Sometimes I think environmental just gets tagged on to health and safety, but it's a highly specialist discipline in its own right. It's a lot different to health and safety, with the regulatory framework not being so well structured. There's a lot you need to know, which is why I took both Diplomas at the same time."
Bill was one of only three students to collect a double Diploma award in 2015 and his qualifications immediately paid off. An opportunity arose at AstraZeneca to take on the role of a SHE Advisor specialising in environmental management just as Bill was waiting for his results. As the position was also advertised externally, he knew he would be up against more experienced candidates. Bill applied and while his NEBOSH National Diploma in Occupational Health and Safety proved to be crucial, he believes it was the NEBOSH Environmental Diploma that really sealed it for him.
"It got me the job and I was able to gain the experience I really needed. Both Diplomas have been massively important. As well as giving me knowledge and teaching me how to apply it in a practical sense, NEBOSH is internationally recognised and is the benchmark. It's what employers look for when they are recruiting."
Things didn't stop there, as Bill went on to complete his Masters in 2017, and in January 2018 he successfully applied for a SHE Manager role that was advertised at the Liverpool AstraZeneca biologics site.
"I am 100% convinced that my range of NEBOSH qualifications set me apart from the other candidates. My final MRes thesis was based on a study of the safety climate at a large pharmaceutical site; having that knowledge was invaluable during the interview process and it definitely supported my achievement of the role.
I am now working in the biologics function of the business, which produces flu vaccines. With this comes significant SHE complexities, but completing the MRes has given me the confidence to take on the challenge.
My new role is a busy and varied one, but is exactly where I envisaged I wanted to be when I started my NEBOSH studies in 2012. The NEBOSH journey has definitely been a stretch of my abilities, but I am now reaping the rewards and would recommend studying beyond the Diploma to any SHE professional."
National Diploma in Occupational Health and Safety
National Diploma in Environmental Management
NEBOSH Master of Research (MRes) degrees