Because There's 'Health' in 'Health and Safety'
Case Study: Caroline Brown - Renolit
In health and safety it can sometimes feel like health is overlooked. Take Caroline Brown's job title for instance. She's a Safety and Environmental Coordinator. No mention of 'Health'. But despite the omission, Caroline and her employers Renolit could never be accused of turning their backs on health. Far from it!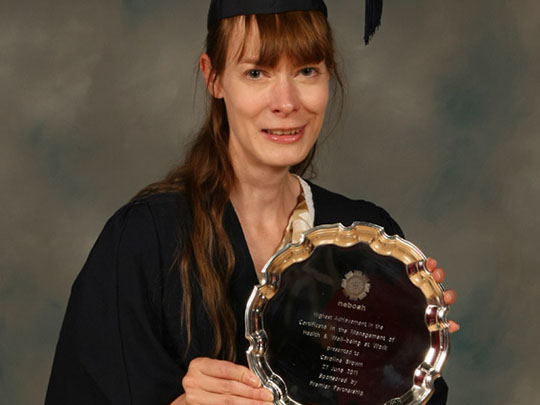 Caroline herself is passionate about health issues. She suffered ill-health herself as a child, so she understands the impact this can have on people's lives. Away from work, she also recently qualified in a range of holistic therapies.
The background to her career in health and safety also leans more towards health matters. Her bachelor's degree from Durham University was in Biological Sciences and she later went on to take a master's course in Occupational Hygiene.
This led Caroline into health and safety. She began working with a consultancy in the South of England, but became homesick. She also felt that consultancy work meant she never quite followed a project through to completion or built long-lasting relationships. So Caroline found a job at a manufacturer back in the North East. From there she moved to Renolit, to their factory north of Newcastle, for a role which combined health, safety and environmental skills.
One of the things that attracted Caroline to Renolit was the approach to health there. The site manufactures plastic films, has a relatively elderly workforce and has some obvious health hazards, such as manual handling. They employ a doctor and physiotherapist part-time. As well as Caroline, they also have a full-time occupational health technician. In addition, staff are offered well-being medicals and regular health clinics.
Despite all these proactive health initiatives, one thing Renolit didn't have was a fully integrated health and well-being management system. It was something Caroline was keen to introduce.
As a General Certificate holder, Caroline was already familiar with NEBOSH. So when in 2010 she heard that NEBOSH had introduced a new qualification, the National Certificate in the Management of Health and Well-being at Work, she decided she was "adamant about doing it." Fortunately her employers were equally enthusiastic and supported both Caroline and her occupational health technician colleague in taking the course.
They both found it extremely helpful. "The course matched a lot of what we were already trying to achieve," she said. "It validated what we were already doing and added so much more. For example, it helped us look more closely at issues such as stress and mental health. These are things line-managers can be uncomfortable with, but we've been given some additional guidelines to help tackle this issue. It's helped with rehabilitation issues as well."
Quite simply, the knowledge gained is now helping Caroline and her colleagues build the formal health and well-being management system they've been seeking to introduce.
Caroline's passion and enthusiasm for managing health and improving people's lives is probably what lies behind her achievement as NEBOSH's 'Top Candidate'. She thoroughly enjoyed her course and was prepared to commit the kind of time and effort needed to achieve the highest mark in the year.
"I could just see how it was going to support us in what we were doing and how useful it was going to be," she explained.
Well done Caroline!
How has your NEBOSH qualification helped you? Email us with your story: marketing@nebosh.org.uk.