Award winning HSEQ manager shares his tips for success!
Case Study: Robert Jukes - HSEQ Manager - Northwood Tissue (Lancaster)
In this interview we spoke to Robert Jukes, who explains how he got his first opportunity in our profession and shares his advice for those with similar aspirations.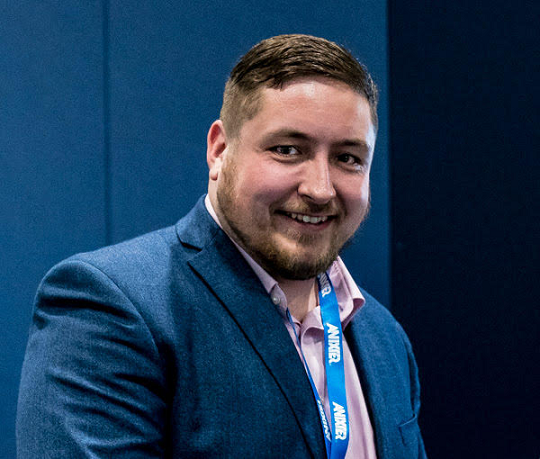 Your health and safety career began when you were seconded into the health and safety department whilst working at BAE Systems. Can you tell us how this happened and what made you decide this was the career for you?
I became interested in health and safety whilst working as agency staff at one of BAE Systems' boat building sites. I got involved in the investigation of an accident I had suffered and found the process interesting and the team who conducted it inspiring and helpful.
I found myself at a crossroads. I had secured a role in the police force and had passed my medical but was now drawn to health and safety. I decided to defer joining the police by a year to give me time to explore my options further. I applied for a few health and safety roles but received rejections because I had no relevant qualifications or experience. To change this, I decided to start saving to take a health and safety qualification and offer my support to local businesses, initially on a voluntary basis. I also spoke to a senior manager at BAE Systems about my aspirations and the difficulties I was having. A few days later, I was called up from the shopfloor to his office. I feared I had done something wrong, but he explained he had been liaising with my line manager and the HSE department to arrange a secondment to help me gain the experience I was after. I could not believe how fortunate I was and will be forever grateful to him, BAE Systems and everyone involved.
The secondment taught me what good health and safety is and how it should be managed. Over time, my competence grew, and I was desperate to become a permanent health and safety advisor at BAE Systems. Unfortunately, the timing wasn't great as a company restructure made this very unlikely. So, when I was offered a health and safety advisor role elsewhere, I took it. In hindsight, perhaps I should have been more patient as I feel this was an opportunity missed. I understood the challenges there, connected with the workforce and feel I could have had a significant impact. Perhaps the stars will align one day.
During this time you completed the NEBOSH General Certificate. Why did you pick this qualification and what did you gain from doing it?
I picked this qualification because it was (and still is) specified in many health and safety job adverts. I know there are other qualifications available, but I feel employers ask for it specifically because it's a great indicator that a candidate has a good foundation in the subject.
The NEBOSH General Certificate gave me an excellent grounding and helped me build my knowledge in areas that I had no practical experience of yet. Having worked in a heavy engineering environment, I felt I understood hazards such as confined spaces, lifting equipment, hot work and working with chemicals. I was less familiar with noise, hand arm vibration and manual handling. Taking this qualification helped me identify areas what my development plan should focus on.
In 2018 you secured your first HSEQ officer role. Did your NEBOSH General Certificate help you secure this role?
Without my NEBOSH General Certificate, I would not have got an interview, never mind the role as it was specified as an essential requirement in the job description. I think it also helped me perform at my best in the interview too. I was confident because I knew I had both the experience and the qualification I needed to be successful. The role was in the construction industry, and I have always found its operatives and senior management alike respect NEBOSH qualifications.
You went onto complete the NEBOSH Construction Certificate in 2019. Why did you choose to take this specialist qualification in particular?
I thought that however my career developed, this qualification would be beneficial. Most organisations undertake construction work at one point or another, so I wanted to gain this specialist knowledge before I embarked on the NEBOSH Diploma.
In April 2019, you secured your first HSE Manager role with Wax Lyrical. Do you think your NEBOSH qualifications helped you get this job?
Definitely. The NEBOSH General Certificate was a requirement and having or working towards the NEBOSH National Diploma was listed as a desirable. I had already started my Diploma studies by then, so I met both the qualification requirements.
I spoke to my training provider, who I had begun to consider as a trusted mentor, to get his view on whether I should apply. He knew the hiring manager and felt they would be an excellent person to learn from and I would be a good fit for the organisation. I decided to apply and was successful.
What did you gain from completing the NEBOSH Diploma?
I developed a greater knowledge of the health and safety profession right across the board. I learned more about chemicals, HSG65, the technical application of control measures, fault tree analysis and fishtail investigation techniques. I also gained a better understanding of the correlation between health and safety management and improved health and safety performance. I found my confidence grew massively too as not only had I enhanced my technical knowledge, but the depth of understanding meant I could apply it in my workplace too.
You clearly have a love for learning as you completed a Masters in Occupational Health, Safety and Environment at the same time as your NEBOSH Diploma! How do you manage to fit it all in?
I think being organised was the key. When I was studying for these qualifications, I was also working full time as a HSE Manager. I often had to use holiday, take unpaid leave, or work hours back to attend university. I didn't mind making these sacrifices as I was focused on my long-term goals.
It was hard to balance everything, especially when I tried to undertake Jiujitsu at the same time. I had to be disciplined and focussed, which sometimes meant I owed my partner a weekend away to make up for those periods where I had to focus on revising or doing assignments.
I think it helped that the MSc and Diploma complimented each other nicely too.
Why do you think health and safety is a good choice for young professionals?
There are many things that make health and safety a great career choice Firstly, it is very rewarding. Yes, there are bad days, but our roles are essential, and the positive effect we have is hard to quantify. We help ensure the health, safety and wellbeing of our colleagues and there is nothing more gratifying than that!
It's a profession that offers variety as every day is different. Investigating near misses, delivering training, conducting site inspections, providing advice to colleagues, and reporting to senior management are a few examples of what we do. The varied work means we get to develop a wide range of technical, soft and leadership skills which collectively help us keep people safe. Health and Safety professionals work with literally every team in every department. Not only is this a good experience, but it also helps you gain a deep understanding of your business as a whole and make connections which can aide future career progression.
The profession is a very friendly one with most peers being happy to offer others support and advice. If you are in any doubt, reach out, and you will be surprised by how helpful people will be.
Almost every organisation requires health and safety advice whether this is from an external consultant or an in-house dedicated advisor; so, it offers security too. I anticipate demand will increase further after COVID-19, as it has highlighted the value of having health and safety expertise.
As well as being rewarding, varied, exciting, challenging and providing relative job security, it also pays relatively well too. I discovered research that indicates that in the UK, an entry level role pays £24,000 to £32,000, senior health and safety advisers can earn £40,000 to £55,000 and heads of and senior managers can earn £70,000 to £80,000.
Do you have any hints or advice for those wanting to make Health and Safety their career?
I think my personal experience shows that you need to be tenacious. Reach out to people, make connections, attend industry events, invest in your own development, and seek out opportunities to get experience including voluntary roles to develop your skills. When I was trying to kickstart my safety career I did all these things and worked overtime to fund my NEBOSH courses.
Be self-aware, reflect on your thoughts and actions, and visualise your goals. This has always helped me and has made me a better leader as I recognise my preferences and tendencies.
Last year I was asked to contribute to the NEBOSH Health and Safety Career Guide. It contains lots of great advice from recruiters and others professionals so I would recommend reading this too.
You have won two Rising Star Awards, recognising what you have achieved so far in your career. Congratulations! What you think has helped you be successful?
I think my success reflects my consistent hard work, persistence, attitude and focus on my goals. These attributes are what persuaded the senior manager at BAE Systems to take a chance on me. Yes, I have had lucky breaks, but there has always been hard work behind the scenes that has helped make these happen.
I have been fortunate to meet and speak to industry leaders, entrepreneurs, and sports stars and they all have similar stories of making sacrifices to achieve their goals. We have all heard of sports stars who put extra hours in at training to reach the top, entrepreneurs who put everything on the line to launch their own company and industry leaders who are singularly focussed to deliver a project ahead of their rivals.
For me this means working overtime to fund my development, using holiday or unpaid leave to attend my university course, and devoting most of my spare time to my personal development. Not everyone will be willing to do this. Some will give it a try and then give up, but you must keep going to be successful.
I also make time to network as you can meet similar-minded people who can help you and who you can help.
It is doing what most people will not do or are not prepared to do that has fuelled my success.
I know that you also volunteer your time to help others whose health and safety careers are in their infancy. Can you tell us a little bit about this?
I have volunteered in the profession for almost as long as I have been in it! I enjoy it and feel that as so many supported me, it is only right that I do the same!
Last year I was on the IOSH Future Leaders Steering Group and this year I am part of the IIRSM Emerging Risk Leaders Network Steering Group. I believe it is vital that we help others coming through to ensure we have suitable qualified and competent people in our profession who can help support its evolution.
Making time to network and mentor have helped improve my own personal skills and help keep me up to date. If you network well, you can get insight from more experienced professionals, fresh thinking from those who are new, insight into alternative approaches adopted in other sectors and updates on industry initiatives. It's a great way to remain up to date with the profession.
I can see that you have recently secured a new role as HSEQ Manager for Northwood Tissue (Lancaster)? Can you tell us about your new role and what attracted you to it?
Yes, I have been very fortunate to do so. Northwood Associated companies is an exciting organisation, and this move is the right one for me at this stage of my career development. Having looked at a few organisations, Northwood Associated companies stood out and matched my ambitions. The role offered more development and responsibility with a larger organisation with exciting growth potential. Its sustainability and environmental performance aligned with my aspirations too which was important to me. For every 30,000 tonnes of paper we recycle, 1,000 football pitches worth of forest are preserved. When I was considering this role, it ticked every box, including supporting my own personal development.
Having done it a few times now, how easy is it for health and safety professionals to switch between industries?
I am perhaps naïve, but I believe a good health and safety professional should be able to switch between industries. The knowledge required in some areas may differ and the approach may vary, but fundamentally, the tools and techniques are the same.
I find the challenge is getting to understand the different technical aspects, understanding the industry and how it works and making the connections. These are not unsurmountable and it's important to remember that you can add value after switching by applying new ideas from your experience.
When I think about the health and safety leaders I look up to, they have all swapped industries, sectors, and countries. As a result, they have a better understanding of themselves, have broader experience and I think this gives them an advantage over those who have stayed within one industry.
The key to being successful when changing a role or industry is to be a sponge and soak everything up. You need to understand the challenges faced, how the organisation operates and what developments are coming.
What do you enjoy most about being part of the health and safety profession?
I think it is the helpfulness of everyone. You can reach out to industry leaders, and they will make time to support you themselves or suggest someone who can.
I also enjoy the variability our roles offer and how we end up doing different things every day to ensure that the workforce remains healthy and safe.
What is next for you in terms of your own professional development?
I would eventually like to oversee health and safety in different countries as I feel this adds another dimension to the challenge. Those who have managed health and safety internationally seem to gain new skills and it enhances their understanding, so this appeals to me.
Academically, I am currently completing a CMI Level 7 Diploma in Strategic Management and Leadership. I plan to undertake the BRC Lead Auditors course in August and complete my Chartered Membership of IOSH. After that, I plan to complete the Nebosh Fire Certificate, a few ISO Lead Auditors qualifications and then embark on a PhD. I love learning as you can tell!
If you want it hard enough, you will put the effort in, and it will pay off in the end.