Airport health and safety team flying high!
Case Study: Birmingham Airport
Birmingham Airport is one of the UK's busiest airports. Before the pandemic, around 13 million passengers used the airport each year with 50 airlines operating 140 direct routes. We interviewed Simon Toseland the airport's Head of Health, Safety and Fire to find out about the organisation's pursuit of safety excellence.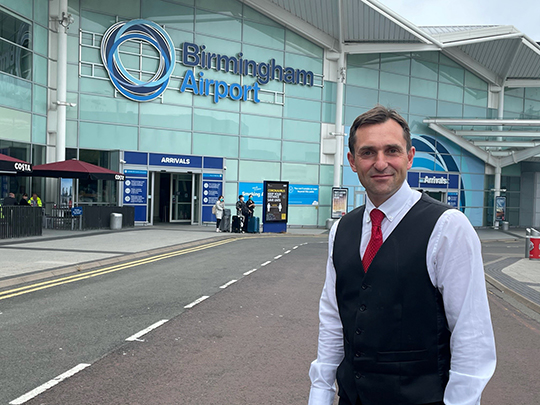 Simon, you joined Birmingham Airport in 2019, 12 months before the first COVID-19 lockdown. The last 18 months has been challenging for everyone, but the aviation industry has been particularly hard hit. What has the impact been for you and the health and safety team?
Health and safety forms one of the airport's key strategic pillars so it has always been of high importance here. Personally, I think that it is essential for the modern health and safety practitioner to be able to adapt and respond to situations. The airport's management system and emergency preparedness command structure both support this approach and have allowed us to adapt and change throughout the pandemic to ensure we keep our airport, staff and visitors, safe and healthy.
COVID obviously changed our focus but even through these incredibly challenging times, opportunities have still presented themselves.
We have started to deliver more blended training and E-learning for example. To get things started we worked closely with our IT and IT security colleagues and once this preparatory work had been done, we have seen real benefits. I suppose you could say this will be one of our COVID keeps.
We have also worked very closely with our support service colleagues in HR, communications, and procurement to facilitate the transition to homeworking. This change and the impacts of COVID-19 more generally, created worry and concern for some, so we also worked together to enhance our mental health provision.
It has been critical to ensure communication has been effective and well managed throughout the pandemic.
I understand that the pandemic has not stopped you from rolling out a programme of health and safety training to the workforce. Can you tell us a little bit about the programme and its purpose?
The management of our health and safety training matrix forms a vital component of our occupational health and safety management system. The training we are delivering aims to improve safety attitudes and behaviours, which helps embed our health and safety culture and support its continued maturity.
Although there are costs associated with training, the business recognises the positive impacts that follow. Training is not only an investment in our people but a chance to boost our productivity and reputation. A well-trained employee will recognise health and safety hazards when they occur and prevent accidents by making that early intervention or call for assistance.
We have a close relationship with our safety partners who really understand our business and can therefore produce bespoke or tailored training. I think this is so important as, by making it relevant, we get better engagement and buy-in from our delegates.
Birmingham Airport was one of the first organisations to experience the new NEBOSH HSE Managing Risks and Risk Assessment qualification. Can you tell us:
Why this subject matter is particularly relevant to your business?
There are a wide variety of hazards and risks associated with a dynamic environment such as an airport. We therefore felt it would be beneficial for our teams to enhance their knowledge of risks and how they should be assessed and managed.
Why did you choose the NEBOSH HSE Managing Risks and Risk Assessment qualification in particular?
Having reviewed the content, we felt this course would provide our teams with the all-round knowledge base we were looking for.
The fact that it was developed by NEBOSH in partnership with the Health and Safety Executive gave us assurance of its quality.
We also like that this course gives our workforce the opportunity to gain a formal qualification.
Which staff groups have been given the opportunity to take part and why?
Initially this training has been rolled out to our team of airfield technicians. By the nature of their work, these colleagues can be asked to operate in high hazard environments. It's important for us to equip them with the core aspects of health and safety and being able to assess risk and take appropriate action is a key part of this.
Did the participants find the course, which was delivered by NEBOSH Gold learning partner Safety Rocks, useful and enjoyable?
We have had tremendous feedback from our colleagues who have attended the course so far. Safety Rocks clearly took the time to understand our industry and our people, and this is always appreciated by our team. The overall service we receive is exceptional. Our delegates have enjoyed the course and found the content useful and relevant to their work.
It is early days but how has offering this qualification benefited your organisation so far?
Definitely. The colleagues who participated in the first courses have a much stronger understanding of root cause. They know that things can go wrong and there can be serious consequences even when it is a relatively simple task. Having this awareness means they are more likely to flag concerns or take action to manage the risk. This will help to keep them and others safe.
It is clear you are very focussed on achieving safety excellence. Do you have any hints and tips you can share with others who have the same aspiration for their business?
The three I would highlight are:
Engagement is crucial – To achieve safety excellence you need to get buy in from colleagues at all levels of your business. Everyone needs to understand what you are striving for and buy in to its importance. For me, being a great communicator is a key skill that health and safety professionals should have in their armoury. You need to be able to listen to what people are saying to you and adapt your message, so it resonates. If you do this, your colleagues are more likely to engage with you and this will help you achieve your goals.
Celebrate your successes – In health and safety as with most things, it is important to recognise and celebrate success. As a profession, we have always encouraged colleagues to analyse adverse events to learn lessons, but we can learn lessons when things go well too! If you make improvements or achieve success, it is important to celebrate and share this with others.
Make sure your safety training reflects the needs of your target audience - We have consistently found that ensuring the training we deliver is accessible and relevant to our workforce improves its effectiveness. Use examples from industries or situations your team recognise, and you are more likely to achieve the 'light bulb' moments you strive. If your audience can relate to the example you use to illustrate your point, they are more likely to get it!