Watch now! Health and safety careers roundtable now online
Thursday, 14 May 2020
As part of our Do Something Great careers campaign we teamed up with four expert guests from the health and safety industry to record a careers roundtable video.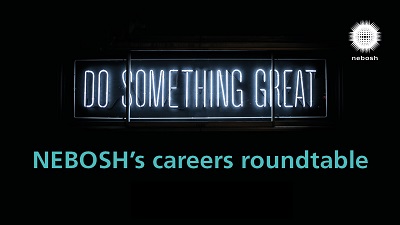 From getting started in health and safety, soft skills, CV do's and don't's to mentors, interview questions and women in health and safety, our experts cover a huge range of topics to help budding professionals.
Follow the link below to hear from:
Crystal Danbury
Safety Director, Openreach
Robert Jukes
Health, Safety & Environment Manager, Wax Lyrical
Shermin Shali
QOHSE Manager, Bilfinger Tebodin Middle East
Laura Aucott
Brand Manager, HSE Recruitment
---
The careers roundtable is part of our Do Something Great: Your Health and Safety Career series. Find out more about the campaign and download your free career guide today.