NEBOSH celebrates Safety Groups UK Awards
Tuesday, 12 February 2019
NEBOSH was delighted to be invited to be part of the judging panel for this years' Safety Groups UK awards.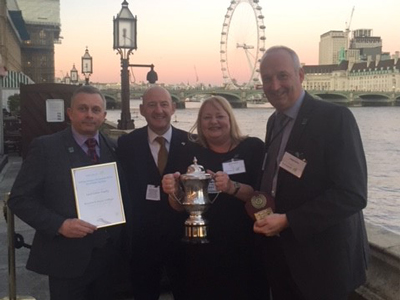 Paul Clegg, NEBOSH Head of Assessment, was a member of the judging panel and travelled to London recently to celebrate with the winners at the House of Lords.
The Awards recognise the innovative work done to raise standards of health and safety and is open to all organisations based or operating in the UK.
The 2019 winner was Dundee and Angus College which was awarded the Lord Cullen Trophy for Innovation for its creation of an asbestos awareness raising film. It was created by Health & Safety Officer Andy Cathro, a group of the College's Princes Trust students and Team Leaders Jason Beresford and Kerry Hastie. The film focuses on the dangers of asbestos and was originally created as part of the LOcHER Project which is designed to raise risk awareness in a creative and interactive way.
Paul Clegg said "It was a privilege to be part of this years' judging panel. We saw some fantastic, innovative campaigns and every entrant is playing an important part in communicating important health and safety messages.
"It was fitting that our 2019 winner is also involved with a LOcHER project, an initiative on which NEBOSH is part of the steering group."
Watch Dundee and Angus College's winning film on YouTube at: https://www.youtube.com/watch?v=2qVs9hDwKuU
Pictured: Jason Beresford, Paul Clegg, Kerry Hastie and Andy Cathro