RNLI lifesaver is 175,000th NEBOSH Certificate holder
Monday, 12 October 2015
The 175,000th candidate to pass the NEBOSH General Certificate is a lifesaver who provides support to many heroic volunteers every day.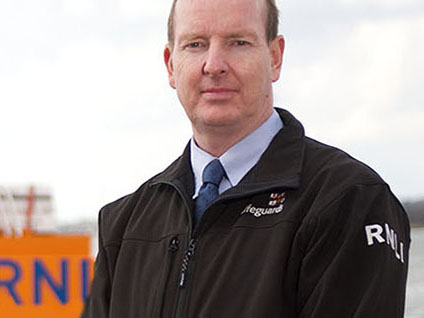 Peter Dawes is the RNLI's (Royal National Lifeboat Institution) Lifesaving Services Manager. The RNLI is a charity providing an on call 24-hour lifeboat search and rescue service around the UK and Ireland, and a seasonal lifeguard service.
Its team of volunteer rescuers save many lives every year, responding to 23 lifeboat call-outs every day. The RNLI's services include flood rescue and providing safety advice, and to operate effectively it depends on many fundraisers. It has 237 lifeboat stations, protects more than 200 beaches and has over 30,000 volunteers. This infrastructure requires all kinds of support, from training to providing the right kind of equipment. Of course, as in all workplaces, people need to be kept safe and healthy. It is with this overall support where Peter Dawes and his team come in.
Peter first came to the UK from Australia around 10 years ago to demonstrate how jet skis could be used in rescue situations by the RNLI. At the time he worked for Surf Life Saving Queensland, which provides lifeguarding services. After volunteering for the organisation at just 13 years of age, Peter went on to enjoy a career of high octane sea rescues, involving speedboats, jet skis and even helicopters.
Now aged 54, Peter has been using his experience at the RNLI to provide coastal volunteers and flood teams with "resilience and assurance."
"We make sure the teams get the support they need, have the tools to do their job, and also that things function how they should," he explained.
From a health and safety point of view, this has included Peter and his team all taking their NEBOSH National General Certificate in Occupational Health and Safety. Being trained and qualified "to do a job appropriately" is something that Peter "strongly believes in."
Peter became the 175,000th person to pass the qualification. Modestly, he sets this achievement in the context of all others who have passed before him. "It is something that is good for all industries," he said. "175,000 is an awful lot of people who have been better trained at looking after their colleagues and the companies they work for."
Peter was presented with a Silver Salver to commemorate the occasion by NEBOSH Chairman Sir Bill Callaghan. Peter was accompanied by fellow RNLI colleagues who also passed their NEBOSH Certificate, at the ceremony at the RNLI College in Poole, Dorset.
Sir Bill, who is himself an offshore member of the RNLI, commented: "Peter and his team play a tremendous role in supporting the frontline of this invaluable organisation. I congratulate them all on achieving our General Certificate qualification and hope the qualification and knowledge gained serves them well in ensuring the safety of all those who work for RNLI."