Research shows culture can be a barrier to health and safety success in India
Friday, 17 November 2017
Creating a positive health and safety culture is a big challenge for businesses in India, according to a recent survey conducted by NEBOSH.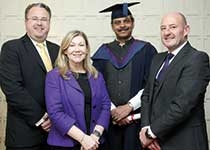 Amongst its qualification holders in the country, more than 60% of practitioners said that organisational culture was a barrier to implementing good health and safety practice.
Furthermore, 55% of people felt the benefits of good health and safety practice were underestimated and 68% felt that production targets took priority; indicators that, for some organisations, health and safety is not given the priority it deserves.
Yet, good health and safety practice can have huge implications for business success. It can help achieve efficiency savings, boost profitability and secure contracts with larger companies. Importantly, by caring for staff, companies can also retain skilled and valuable workers.
A key step in creating a positive health and safety culture can be to make people aware of risks and how they can be managed. Training can play an important role in providing workers with this knowledge; this could be on-the-job or via formal qualifications such as those offered by NEBOSH.
Thousands of people in India take a NEBOSH qualification each year. One of the most popular is the NEBOSH International General Certificate in Occupational Health and Safety, a qualification designed to give students an understanding of health and safety best practice.
Debasis Guha (pictured second from right), Departmental Head of Corporate Safety at UltraTech Cement Ltd, India's largest cement manufacturer, holds both the NEBOSH International General Certificate and the NEBOSH International Diploma in Occupational Health and Safety.
He said: "India is a country that's really eager to learn and many companies are now beginning to adopt best safety practices. UltraTech Cement is one of those companies; we expect our employees to follow the safety rules so health and safety training becomes of utmost importance."
"When people are trained they begin to understand what control measures they need to take on board to mitigate risks. Behavioural safety training also has a great impact; as people begin to understand that unsafe acts can harm others, they start to take care of fellow workers."
The priority and investment that UltraTech Cement has given to training has paid off; by using training to create a better health and safety culture the company has reduced fatalities by one third and LTIFR (Lost Time Injury Frequency Rate) by one fourth.