Remarkable people receive NEBOSH Honorary Diplomas
Tuesday, 12 September 2023
Two inspiring individuals were announced as recipients of an Honorary Diploma at NEBOSH's Graduation Ceremony this week.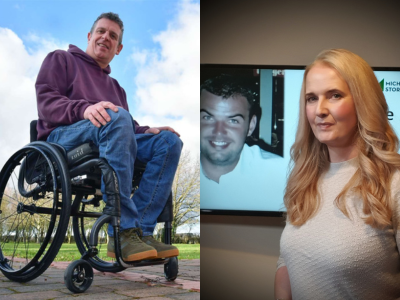 Jason Anker MBE and Louise Adamson have both been recognised for their contributions to the health and safety profession and the impact they have had on health and safety awareness and education.
Jason Anker MBE
Thirty years ago, aged 24, Jason fell from a ladder at work, fracturing his back and leaving him paralysed from the waist down.
In 2009 Jason became a motivational safety and resilience speaker, speaking powerfully about the impact his workplace accident had on himself, his family and friends to make people change their attitude to safety.
Jason spent over a decade travelling all over the UK and abroad, delivering safety presentations to companies which tell his personal story, and those of others, to make people change their attitude to safety and help organisations on their safety journeys.
Jason shares his experience and advice to highlight the importance of safety in the hope that he can prevent anyone else going through what he has suffered. His engaging delivery means even the most hardened workers connect with him and take on board the important message he has to share.
In 2014 Jason was awarded an MBE for services to health and safety in the construction industry and in 2017 received the RoSPA Archangel Award.
Jason said: "I was completely blown away to be recognised as a NEBOSH Honorary Diplomate and beyond honoured to have shared a stage with this year's NEBOSH Diplomates. They are a shining example of what can be achieved through hard work and dedication. Their commitment to keeping others safe is inspiring, and I know they will continue to make a difference in the world. Congratulations on your achievement!"
Louise Adamson
Louise had a successful career as an employment lawyer, working for a top Scottish legal firm, before her little brother's death in a preventable workplace incident turned her focus to the world of health and safety.
Louise is now a workplace safety speaker working hard to educate people and raise awareness. She combines the skills learned as a lawyer with the strong voice she discovered as part of campaign and support group Families Against Corporate Killers, to seek to ensure workers are able to head home safe to their loved ones at the end of each and every shift.
Louise is also a trustee of health and safety charity Scottish Hazards. She supports other bereaved family members as they navigate the investigation and prosecution processes and works to secure long-term funding for the preventative health and safety advice, training, and support services Scottish Hazards provides to workers and communities. Her primary aim in all she does is to stop anyone else from losing their life or their loved one in a preventable workplace incident.
Louise has been recognised across the SHE industry for her inspirational work, winning the SHP Award Most Influential in 2018 and receiving the REHIS Meritorious Endeavours Award 2019. She is also a valued NEBOSH Ambassador, promoting NEBOSH initiatives and charitable work, including the Michael Adamson NEBOSH Diploma Scholarship offered since 2021 in honour of her brother.
Louise said: "Having not had to make the sacrifices the Diplomates have in pursuit of their studies, I don't feel worthy of this. So I'm accepting on two conditions. First, that I will cross that stage in future, this time having completed my own studies. And secondly, that I accept this Honorary Diploma not as my own, but on behalf of every loved one who ever had a family member leave for work and not come home. Because it's the collective strength I draw from them, which powers me to do what I do in my wee brother's name and memory. Thank you to all Diplomates for everything you do day-in day-out to keep loved ones healthy and safe. "