New HSE inspectors celebrate success at NEBOSH Graduation
Wednesday, 27 July 2016
The first new UK Health and Safety Executive (HSE) inspectors awarded the NEBOSH Diploma in Regulatory Occupational Health and Safety celebrated their achievement at the NEBOSH Graduation Ceremony held at the University of Warwick recently.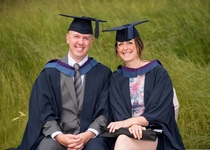 The inspectors gained a brand new vocational Diploma designed solely for HSE inspectors. Dame Judith Hackitt DBE, former Chair of HSE, congratulated the diplomates in her role as Guest of Honour.
During his address, NEBOSH Chair Sir Bill Callaghan also praised the work done by the HSE: "I am sure everyone here today is aware of the huge difference HSE inspectors make to health and safety in Britain. NEBOSH is delighted to have been selected to develop an accredited Diploma qualification for all new HSE inspectors and we are very proud to welcome the first of you to achieve this."
The event was attended by over 230 diplomates from around the world, including safety, health and environmental professionals from Bahrain, Ghana, India, Italy, Malaysia, Nigeria, Norway, Qatar, Russian Federation, South Africa and the United Arab Emirates, as well as the United Kingdom.
Sir Bill continued: "Your qualification is highly valued. Employers, in particular, feel reassured that the knowledge you have gained and, crucially, your ability to apply this knowledge, has been thoroughly put to the test."