NEBOSH wins at e-Assessment Awards 2022
Wednesday, 22 June 2022
The Best International Implementation Award went to NEBOSH at this year's e-Assessment Awards 2022 celebrations in London.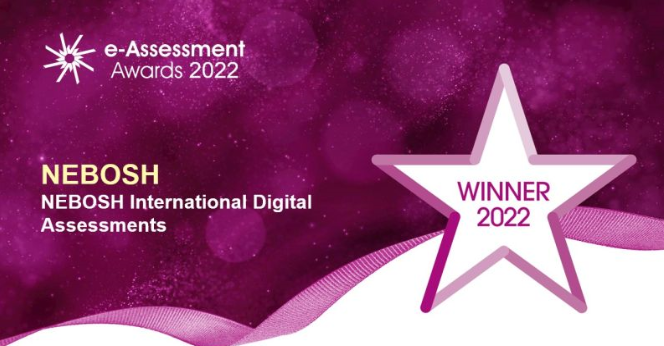 The e-Assessment Awards showcase globally the very best practice, research and innovation in testing and assessment, where the use of technology has enabled transformation, improved outcomes and enhanced learning and teaching.
Now in its 6th year, the Awards dinner was held at the end of the first day of the International e-Assessment Conference, on 21 June in London.
April Chaplin, Head of Regulatory Compliance accepted the award on behalf of the NEBOSH team whilst Dee Arp, NEBOSH Chief Commercial Officer, attended online. Dee said: "NEBOSH has a significant international presence, we have learners based in countries all around the world. Ongoing innovation – accelerated by the COVID-19 pandemic – in our assessments is crucial to ensure we deliver the very best assessment methodology in a way that makes our learning and qualifications accessible, wherever a learner is based.
"To win this award is a wonderful achievement and recognition of the dedication and expertise from all of us at NEBOSH to deliver great qualifications with learning at their heart. Our assessment for learning approach encapsulates this and our technological developments ensure health, safety, risk, environmental and wellbeing learning is accessible to all.
You can watch Dee talk about NEBOSH's nomination, along with all of the nominees, in this video (Dee features from 14minutes 58seconds): https://youtu.be/Gd3RWK3VDvY