NEBOSH to honour International Workers' Memorial Day
Thursday, 25 April 2019
NEBOSH is pleased to support International Workers' Memorial Day (IWMD) on 28 April 2019.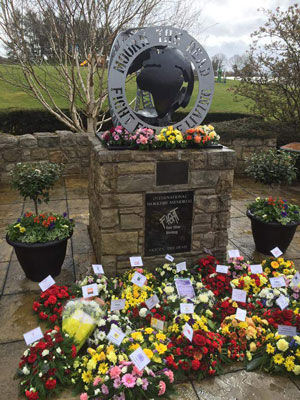 IWMD is a significant occasion across the world, inspiring colleagues, friends and families to remember those unfortunate enough to be killed due to work-related incidents or illness. The day is based on the premise 'remember the dead: fight for the living'. It brings the families of those who have lost loved ones together to both commemorate and also find ways to ensure these workplace tragedies are not repeated.
We are pleased to welcome Louise Taggart – one of the day's keen promoters – as our guest speaker to the 2019 NEBOSH Graduation later this year. IWMD is an important day for Louise and her family after a preventable electrical incident at work prematurely ended the life of her brother, Michael Adamson, in 2005.
Louise has used the unfortunate events of family bereavement to inspire greater awareness towards health and safety, and to tell Michael's story. She now travels across the UK as a Workplace Safety Speaker, drawing strength from having joined Families Against Corporate Killers (FACK) in the aftermath of her brother's death. FACK is a campaign and support organisation for those whose loved ones have died as a result of work-related activities.
Louise said "My brother should have celebrated his 40th birthday last month. He was denied the opportunity to celebrate that day. In seeking ways to mark what should have been a milestone in our lives, we are looking to encourage 40 organisations to mark IWMD in some way, shape or form, and we're incredibly grateful to NEBOSH for leading the way."
To mark IWMD, NEBOSH employees will wear purple forget-me-knot ribbons to remember the lives lost.
If you would like to help support IWMD, please visit: https://www.michaels-story.net/iwmd