NEBOSH recently hosted two focus group meetings in London and Dubai which could lead to a new international standard in OSH leadership and governance.
Monday, 22 July 2019
Thought-leaders Dr Waddah Ghanem and Bob Arnold presented an outline of the proposed standard to a gathering of health, safety, risk and legal experts, seeking their feedback and support.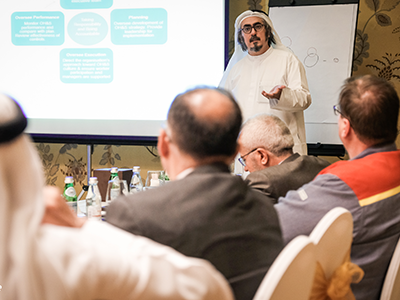 Dr Ghanem is Senior Director Sustainability, Operational and Business Excellence at Emirates National Oil Company (ENOC). Bob Arnold is Chair SHEQ, Canada, Europe and Middle East. Multiplex Construction. Both are renowned authors and speakers in the OSH field and are passionate advocates of ISO 45001.
Towards the end of 2018 the pair produced a White Paper proposing an assurance standard 'Effective OH&S Leadership and Governance in Organisations' designed to maximise the impact of ISO 45001 from a 'Top Management' perspective. In essence, the standard they are hoping to create would provide a leadership model for OSH, offering executives and non-executives a common framework to drive organisations towards high-reliability.
Dr Ghanem explained the purpose of the NEBOSH focus groups: "We're looking to develop something that board directors and executive management can use to help them navigate their way through the risks their business face. We're hoping to involve a range of stakeholders, not only practitioners and organisations such as NEBOSH, but also leadership groups, those who are involved in developing directors and top management."
Bob Arnold added: "We believe it would be helpful to directors if ISO 45001 was spelt out in more detail and if some kind of system was in place which gave them confidence in meeting its requirements. The purpose of these focus groups was to check we are on the right track, allowing people to critique our work so far."
NEBOSH Alumni member and Head of H&S and Wellbeing at Cambridge Assessment, Maria Anderson, who took part in the London session commented: "Leadership is a hot topic and sharing ideas with different professionals and peers today has been quite an eye opener. I'm really behind the idea of this new standard."
Health, safety and corporate governance legal specialist, Gerard Forlin QC, a barrister who has acted in some of the most high profile regulatory and health and safety cases of the past 10 years, also took part in the event. He too voiced his support for the proposed framework: "This new standard certainly has the potential to give boards and executives something they can work to and measure themselves against, as well as a way for international organisations to harmonise thinking across their global operations."
Barry Wilkes, NEBOSH Director of Strategy, said: "NEBOSH is delighted to have facilitated these events. They meet what we are here to do, which is to improve health, safety and the environment worldwide."
Dr Ghanem and Mr Arnold are now planning additional stakeholder focus groups in various parts of the world.
Access the videos here: