NEBOSH Masters students celebrate graduation
Wednesday, 19 July 2017
Students from the NEBOSH and University of Hull Master's qualifications marked their graduation recently.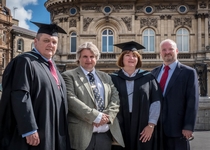 Celebrating alongside hundreds of other graduates, our Master of Science and Master of Research students were presented with their degree. They were joined by Honorary Graduate Helen Sharman, the first ever British astronaut.
This was the first year that students have graduated from the Master of Science programme – a course now already fully subscribed for 2017/18 entry.
Two of this year's graduates had previously completed a BSc in Safety and Environment Management with the University – a course which has both the NEBOSH's National Diploma in Occupational Health and Safety and Diploma in Environmental Management embedded within its syllabus – before moving on to the Masters.
Matthew Powell-Howard, NEBOSH Qualifications Development Manager, said: "These degrees give Safety, Health and Environmental (SHE) professionals the opportunity to gain a higher level qualification that directly complements their career. This year's graduates have worked incredibly hard and leave with advanced skills they can use to create even safer and healthier working environments for their respective organisations and colleagues."
The degrees have been specifically designed to be flexible to the needs of the working practitioner. The degrees last two years and are studied part-time via distance learning, making them ideal for both UK-based and international candidates. Students can choose to focus solely on health and safety or environmental management – or both – depending upon their chosen area of focus.
For more information visit: http://beta.www.hull.ac.uk/Study/PGT/occ-health-safety-mgmt.aspx