NEBOSH Graduation postponed until 2022
Friday, 22 January 2021
The NEBOSH Graduation is always a day filled with joy, as diplomates come together to celebrate their success with family and friends.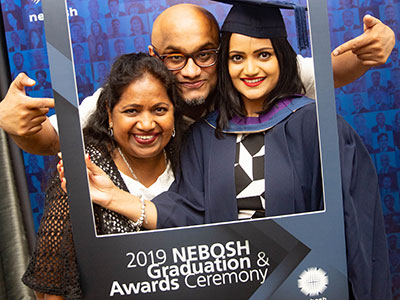 Unfortunately, last year's ceremony had to be postponed because of the COVID-19 pandemic. When we rescheduled it, we picked the 28 June 2021, hoping the situation would have improved sufficiently for the event to take place. However, given the current scenario, it is unclear whether travel restrictions and social distancing measures will be fully lifted in the UK by June.
We have therefore decided that it is in everyone interests to make the decision now to postpone the Graduation until 2022. We have rebooked the Symphony Hall in Birmingham for the 6 April 2022. We hope that by this date, the vaccine rollout will make mass social gatherings a possibility once again!
When the invitations are sent out for the 2022 Graduation, we will ensure everyone who has completed their Diploma qualification since the 2019 ceremony receives an invite.
If you have any questions about this update, please contact graduation@nebosh.org.uk.
We hope that you all continue to keep safe at this difficult time.