NEBOSH Diploma scholarship returns for 2022 with even more opportunities to learn
Tuesday, 3 May 2022
NEBOSH has opened applications for its 2022 scholarship programme and this year it's offering even more opportunities for aspiring health and safety professionals!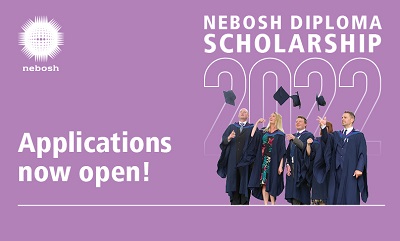 After attracting more than 500 applicants in its first year, the 2022 programme will now award ten scholarships to study for a NEBOSH Diploma. Three National (UK) and seven International learners will be awarded paid-for online study for the NEBOSH National or International Diploma for Occupational Health and Safety Management Professionals.
The Michael Adamson NEBOSH Diploma Scholarship is named in memory of Michael Adamson who lost his life in a preventable workplace incident. The Diploma and scholarship are designed to help learners develop the knowledge and practical skills they need to succeed in the workplace, advance their careers and keep people safe from harm.
Tran Duy Thanh Truc works for Oxford University Clinical Research Unit Vietnam as Health and Safety Manager and is one of the winners of the 2021 scholarship. She says: "This is a great opportunity to improve your health and safety competencies. NEBOSH is offering us the chance to create better workplaces in the world, not only in the rich countries but for everyone. All workers in the world have the right to access better working conditions – the scholarship can help you to progress your education and help make safer workplaces."
Applications are open from 3-24 May 2022 and must be submitted through a form on NEBOSH's website. Those who meet the minimum criteria will be reviewed by an expert judging panel who will select the lucky winners. Judges include two NEBOSH Diploma holders, two NEBOSH employees (themselves Diploma holders) and Louise Adamson, Michael's sister and NEBOSH Ambassador.
Visit www.nebosh.org.uk/scholarship for full details and guidance on how to apply.